NBA
The Thunder's Record-Breaking Sunday Night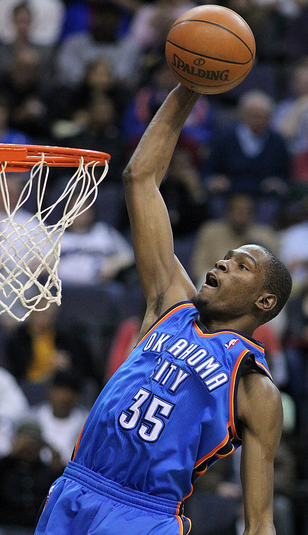 The Oklahoma City Thunder defeated the Denver Nuggets in overtime Sunday behind historic performances by Kevin Durant, Russell Westbrook and Serge Ibaka. These three players boast a combined age of 68. Ibaka is a mere 22 years old, whereas Durant and Westbrook are old men at 23 years apiece.
Durant has earned two NBA scoring titles over the course of his career, but he had never scored 50 points in a game. He had scored 40 points or more on 17 different occasions during his four-year career, but never the big 5-0. On Sunday night, he finally did. The 6-foot-9 forward dropped 51 points on just 28 field goal attempts. He made five of six three-point attempts and eight of 10 from the charity stripe.
The small forward's running mate, Westbrook, also turned in an unforgettable performance. The former UCLA Bruin recorded 40 points, including three conversions from beyond the arc.
The Thunder trailed the Nuggets by five points (111-106) with 30 seconds left when Durant single-handedly forced the game into overtime. First, Durant nailed a three-pointer. Then, as soon as Denver's Ty Lawson missed a game-clinching three, Oklahoma City corralled the rebound and called a timeout. Durant then drove for a dunk to tie the game at 111. Lawson promptly missed a makeable 14-footer, which meant that the high-scoring affair would continue into overtime.
In overtime, Durant and Westbrook combined to score all 13 of the Thunder's points, while the entire Nuggets could only manage seven.
Durant and Westbrook became the first teammates since the Bulls' Michael Jordan and Scottie Pippen (in 1996) to score at least 40 points apiece in the same game. Kiki Vandeweghe and Alex English of the Nuggets (ironically enough) were the last duo to score 50 and 40 points, respectively, and that performance came in a triple-overtime game in 1983. Durant and Westbrook only needed one overtime to accomplish the remarkable feat.
On Sunday night, Westbrook was not only scoring; he was dishing as well. The point guard logged nine assists to go along with just two turnovers. This season, Westbrook has averaged a much worse ratio than 4.5 assists for every one turnover. In fact, because of Westbrook's shoot-first style of play, his season assists to turnover ratio is 1.28 (5.5 assists/4.3 TOs), considerably lower than that of most point guards around the league.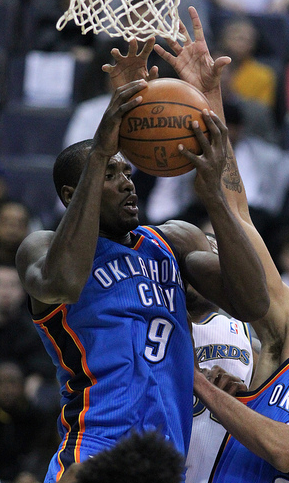 If Durant and Westbrook's scoring spree was not enough, teammate Serge Ibaka helped the team make history, as well. The third-year big man recorded a rare triple-double by earning double-digits in points, rebounds and blocks. This was the 6-foot-10 Congo native's third 10-block game in February, with four more games remaining in the month. With Ibaka's monstrous performance, the Thunder trio did something that had never been done in NBA history: Durant, Westbrook, and Ibaka scored 50 points, added 40 points, and recorded a triple-double, respectively.
Who knew Ibaka liked to party so much? He's been throwing block parties seemingly all February. For the month, Ibaka has blocked 4.9 shots per game. On the season, he easily ranks first in the league with 3.3 blocks per game, and the Thunder lead all teams with 7.8 rejections per night.
James Harden, who is usually the team's third-leading scorer, struggled Sunday night, but did enjoy the show. "Unbelievable. That's probably one of the best regular-season games that I've played in since I've been here, or the best."
"It's unreal, man," Westbrook added. "Tonight was a nice, epic game."
Durant's parents were in attendance on the night that their son scored a career-high and willed his team to victory.
"To score 50 points with them on the sideline at the highest level of basketball is a dream come true and a blessing," said the humble star.
Durant, who currently ranks third in the league in scoring, has scored 19 points or more in 30 of the Thunder's 31 games this season. If that's not consistency, what is?
While it was an exciting, historic night, the Thunder cannot reasonably expect this kind of production (or even close to it) from Durant, Westbrook and Ibaka every single night. The team's supporting cast must play better than it did Sunday night.
Harden scored 10 points, but missed 10 of 12 shots. Excluding Durant, Westbrook and Ibaka, the Thunder made just five of 30 field goal attempts. If you didn't already calculate that in your head, that's 16.7 percent. Ouch!
Regardless, Sunday night's performance will be remembered forever, and absolutely nothing can take that away - even this writer's complaining.
---
Reach Aaron by email or follow him on Twitter.