National
Three Skiers Killed In Washington Avalanche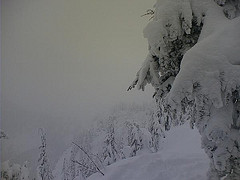 Three people were killed by an avalanche near a ski resort in Washington state Sunday, a spokeswoman for the King County Sheriff's Office told
CNN
. About 12 others were buried and escaped by digging themselves out.
The avalanche occurred on Stevens Pass in the Cascade Mountains northeast of Seattle. TIME reported that the deaths occurred "in an out-of-bounds area" near a popular ski resort.
According to The Associated Press and USA Today, those killed were experienced skiers and all others who were initially missing have now been found:

All were buried to some extent, but the men who died were swept about 1,500 feet down a chute in the Tunnel Creek Canyon area, King County Sheriff's Sgt. Katie Larson said.
Most of the other skiers, all well-equipped, were able to free themselves and rushed to dig out the victims. They performed CPR on the three men to no avail, Larson said.
The fourth skier who was swept far down the mountain, a woman, appeared to avoid a similar fate because of the avalanche safety device she was wearing, Larson said. Larson didn't immediately have other details about the device.
TIME also reported that this winter has been a particularly dangerous one in the Washington mountains:

Four people disappeared in vicious storms while hiking and climbing on Mount Rainier last month. (They remain missing).
Across the West, there had been 13 avalanche deaths this season as of Feb. 16, according to the Colorado Avalanche Information Center, which tracks avalanche deaths in the U.S.