Health
STD Tests Online Fuel Demand For Better Testing Kits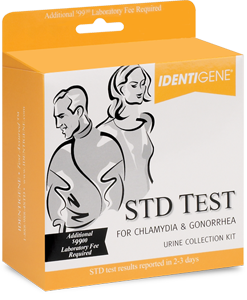 In the late 1980s, marketing and healthcare entrepreneur Tracey Powell created a system to anonymously share medical test results with a patient over the phone. He wanted to use the system in a noble business venture.
In the late 1990s, Johns Hopkins University researcher Charlotte Gaydos worried about how few Baltimore teenagers were being tested for sexually transmitted diseases. She wanted a way to reach out to them.
Today, the services that Powell and Gaydos separately would go on to start are among those feeding a rise in STD testing. The growing demand for testing kits is fueling a race among manufacturers such as Gen-Probe and Abbott to build simple and effective tests for a greater range of diseases.
"The more testing options out there, the more control people have of their own health and the more likely they are to be tested," said Steven Smith, executive director of Identigene, which markets a $120 home test for chlamydia and gonorrhea.
Like many other STDs, chlamydia and gonorrhea often show few symptoms before they lead to painful consequences such as a diseased baby or infertility. The key is to make sure members of the most susceptible populations undergo tests early and often. The Centers for Disease Control reported in November that still less than half of the people who should be screened for STDs do get tested.
The success a few companies and public health agencies have had in focusing on privacy and convenience to stimulate more testing highlights approaches likely to be seen more and more as part of the federal government's push to provide better healthcare at lower costs to more Americans.
Powell founded Home Access Health, the first-and-only company to receive Food and Drug Administration approval to distribute an HIV test that can be done at home. Gaydos created Iwantthekit.org, an online portal where residents of a few states can request a free home-test for chlamydia and gonorrhea.
The county of Los Angeles adapted Gaydos' program to target teenagers and young women in South L.A., offering tests by mail after an online or phone order. By early 2012, testing kits should also be found at kiosks at a handful of pharmacies and community events.
"There's a lot of barriers keeping people from going to a clinic," said Harlan Rotblatt, the project director for L.A. County Public Health Department's STD program. "The whole idea of the program is to remove those barriers."
Individuals take a swab of their DNA wherever they feel comfortable doing so, mail the sample to a lab in a pre-stamped envelope and are notified by text or email to retrieve the results either online or over the phone from a health educator.
Rotblatt said people are reluctant to walk into one of the county's 11 free STD clinics because of negative stigma they carry, a lack of access to transportation or a worry that results won't be kept confidential. The Internet-based efforts to deliver more privacy are attracting a few thousand people each year to order tests. Those figures keep the program competitive with turnout at individual clinics, Rotblatt said.
The testing kit for chlamydia and gonorrhea used by L.A. County is made by publicly traded Gen-Probe. The online-mail program has brought the kit to a much larger audience.
Identigene also uses Gen-Probe's test, and Smith said he hopes the FDA formally allows the small privately held company to market the test over the counter at drug stores such as CVS and Rite-Aid this year.
" We just have to make sure what's happening at homes is the same as what's happening at clinics," he said.
Right now, the kits are sold at a chain of independent pharmacies and WalMart.com. Smith wouldn't disclose how many tests had been sold in the program's first year, but noted that the company had sold more than 500,000 paternity tests over three-plus years.
"We're seeing good response and good growth," he said of the STD tests.
Some of that growth has filtered down. Gen-Probe reported spikes of 16 percent and 18 percent during the past two quarters in year-over-year sales of medical diagnostics. Moringstar analyst Lauren Migliore wrote that the double-digit growth should continue in the long run. After adjusting for exchange rates, Abbott saw medical diagnostic sales grow 4.4 percent in the last quarter year-over-year.
Kalorama analyst Shara Rosen wrote in mid-2011 that the way healthcare is delivered is changing, requiring more innovation in medical tests.
"This new era requires...sophisticated, sensitive [tests that also] should be user-friendly and very cost effective," she said. "This bodes well for miniaturized molecular test platforms."
In general, sales of home-testing kits, except for pregnancy-related tests, have grown just under 8 percent in the last year, a retail industry expert told Drug Store News in October. 

Now, other companies are looking to see if they can either develop or improve molecular tests for diseases such as syphilis, Hepatitis and HIV.
Gen-Probe, Bio-Rad, Abbott, Avioq and Monogram Biosciences are among those involved in improving testing and screenings for HIV. The CDC, the British government, Phoenix Airmid, Siemens and Quest Diagnostics have been involved with other STDs.
To make over-the-counter STD tests as ubiquitous as pregnancy tests will require companies to step up and do expensive clinical trials, Gaydos said.
If they do, products could grow to be so simple that someone could order a test online and drop it off at a pharmacy counter like they might drop off film at a photo center.
The next generation of products would deliver results within seconds or minutes without the need for the sample to pass through a lab. While some products already do this, their accuracy isn't lauded by experts.
Home Access Health choose to market a lab test rather than one of the faster at-home alternatives because it provides a definitive answer rather than an indication, company President Mary Vogt said.
Going forward, Vogt said she hopes to expand Home Access Health's 35-person operation into Europe.
Gaydos said she hopes her program, which is funded on federal grants, receives a grant next year to add an HIV home-test into the mix.
All of the federally approved companies and organizations face stiff competition from Internet start-ups that can be found on Google selling tests. A study by Gaydos found that many of the pop-up operations are unreliable.
"The entrepreneurial person has said we can make money in this testing business," Gaydos said. "The FDA is watching them. Right now, they just don't have to way to control them."
Despite the market clutter, Rotblatt remains excited by the expanded access to simple STD tests.
"We want to capture those STD cases that we would have missed," Rotblatt said. "To do this (online) augmentation, you reach a lot more people than if you just open another clinic."
Like reporter Paresh Dave on Facebook, follow him on Twitter, circle him on Google+ or send him an e-mail.