Los Angeles
Volunteer Health And Nutrition Pros Take On L.A.'s Food Deserts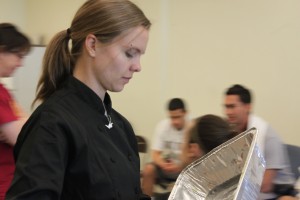 On a recent sunny Saturday morning, a group of children and parents from the surrounding community are gathered outside at the Hazard Park's recreation center to perform exercises guided by health experts and volunteers. Inside, their chef and nutritionist Sara Train has started preparing for the cooking class that would follow.

Train has brought blood oranges, cabbage, walnuts, mint and olive oil with her today to make a salad, another example of the kinds of healthy meals her students could make for themselves.

Train's classes are part of a free health program run by USC, called FIT Families, which helps offers health evaluations and assessments, group exercise activities and nutrition counseling. Train, a health educator of 10 years, began her stint as their nutritionist about a year and a half ago.

Most of the families she works with live in what she calls "food deserts," where fresh produce is hard to come by and fast-food restaurants are just around the corner.

Dr. Cheryl Resnik, a USC professor in charge of the program, said its goal is to prevent the health problems found in at-risk communities. Because of obstacles like lacking access and low income, these families are more likely to consume processed foods, putting them at higher risks for obesity, diabetes and hypertension, she said.

"I think there is a lot of combination: It's not having access to fresh produce, it's having a different lifestyle," Resnick said. "Some of the families might have to have two or three jobs. That makes it really hard to prioritize your health."

She also said these families are often misinformed when it comes to diet and nutrition. Train's classes aim to fix that.

At around 11 a.m., the children come in sweating, eager to learn what they would do this time. Their parents chat with Train about recipes.

"What do oranges have that is good for your health? Yes, vitamin C. Why it is good?" Sara asks the children in English. She then repeats the question in Spanish for their parents. All the families participating in the day's class were Hispanic, many of whom were immigrants who knew little English.

According to Resnik, studies show Hispanic families are at a higher risk for developing diabetes.

"You could see, I'm a little bigger than I should be," said Miguel Gomeasy, who joins his wife and son for the healthy programming each week. "My kid's a little bit overweight, and a lot of my family. That's because of the same reason. We don't have good food around the neighborhood."

"You've seen a national crisis we have with weight gain," Resnik said as she pulled out an "obesity map."

The map showed that in 1998, most states had an obesity rate of 15 to 19 percent. By 2007, it had shot up between 20 and 29 percent.

"What I've noticed is that the food system in the U.S.—areas of food deserts, the meat packaging industry, monocropping, agriculture, all of it—is systematically set against people having a healthy life," Train said. "So it does take an extra effort, and it is important to recognize when families are making that effort."

So Train works with her cooking class attendees to start changing that system on a small scale. Meanwhile, she gets the added bonus of time to work on her culinary skills.

"She has a passion about this topic," Resnik said. "Healthy food, healthy kids—bringing that to the community that we have here."

Resnik also has a map of the neighborhood adjacent to USC's Health Science Campus, where many of the families in the program live.

According to the professor, it's a typical food desert. Except for a mom-and-pop store and a food truck, there are few food options for members of the community. The nearest grocery stores are a good six miles away, and some families don't have access to cars.

"It's a long way to go. It's a long way to carry heavy groceries. A gallon of milk weighs about seven pounds," Resnik said. "I'm sure you wouldn't want to carry that two miles."

Train said that leads to a lack of exposure to good nutrition. "There are children that grow up thinking that chicken is actually a chicken patty, or understand it to be just Chicken McNuggets," she said. "And you ask them what a vegetable is—it's French fries."

Some members of the community know they face a greater challenge when it comes to staying healthy. "It's hard because a lot of people don't realize it since they've lived in this condition their whole life," 19-year-old Angelica Reyes. "Once you start talking about it, they start to realize it's true."

Train certainly hopes so. She said the biggest challenge is making good habits accessible and sustainable. Part of that is getting the families to really connect with their food.

"Food not only makes us feel more connected to other people, but is something that is shared in lots of different cultures. So it teaches us of our history, it teaches us of where we are, and it allows us to interact with each other, and also with things around us," she said.

Train said the most exciting part of her work is seeing kids feel accomplished with cooking their own meals, using ingredients they might never have even known existed.

But many of the families she works with still feel ignored. Reyes said as a student in high school, she worked on a caimpaign to draw full-service grocery stores into the neighborhood. They presented a request to their local council members, and local government did ask grocery stores to come. But nothing changed, Reyes said.

"It's discrimination within the system of grocery stores," Reyes said, "because you have a lot of grocery stores in West L.A., but grocery stores still want to move to West L.A. But when you ask them 'why you don't come to East L.A.? We have a large community who is willing to buy your things,' they don't want to."

Sit in on one of Train's cooking classes below:

Reach Staff Reporter Kay Chinn here.