Politics
Santorum's CPAC Sprint Is a Romney Marathon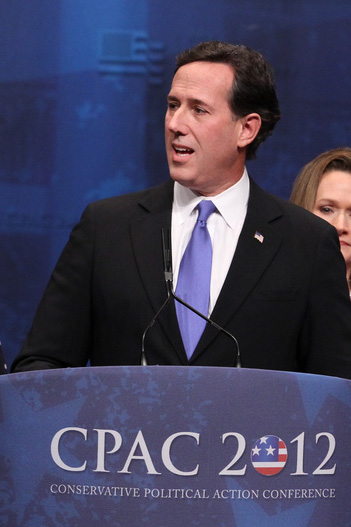 Learning to love yourself, the late Whitney Houston once boomed, is the greatest love of all.
To bring a wrenching, inelegant bridge from one of this weekend's big stories--Houston's passing--to the other--the annual Conservative Political Action Committee meeting--they do share the pursuit of self-love.
While the all-too-soon departed diva may never have truly loved herself enough to prevent her tragic end, there are certainly no Republicans on display at CPAC lacking in that regard (or self-regard).
The love from others, however, that's an area where Houston was rich and the GOP candidates keep searching.
Mitt Romney comes to CPAC on the heels of an embarrassing week. He lost, badly, in three state primaries and the longstanding distrust between himself and the party's conservatives has not improved.
It is, one could say, the pre-existing condition that the GOP base refuses to treat.
Romney's speech in front of the mostly young and male crowds of CPAC was his own severe form of therapy. "Severe," by the way, was his word to describe his conservative outlook. It was, as many others pointed out during the weekend a very strange, and foreign way to depict his natural proclivities.
The amount of sheer effort that he expended to convince the audience he was their guy was apparent. He used some form of the word "conservative" 25 times in his 26 minutes speech, according to official counts.
It's difficult to say whether this energy paid off. All things considered it was a good weekend for Romney, winning the tiny caucus in Maine and then eking a straw-poll victory at CPAC.
The latter accolade, which has previously been taken by Ron Paul, didn't impress the surging Rick Santorum. Though never outright claiming it had been rigged, the most powerful non-Romney intimated that stacking the deck with paid shills wasn't hard for a deep-pocketed candidate.
Santorum--who never will have issues defending his severe conservatism--can no longer consider himself the plucky low-cash fighter. Money has been pouring in since last week and his campaign has was literally at the convention floor taking recruits.
The Obama administration's kerfuffle over contraception at Catholic hospitals was manna to the uber-family values candidate. "It's not about contraception, it's about freedom of religion," he preened to a very receptive crowd.
Not that he needs any pointers on that level, but the more religion stays in the news the stronger his candidacy looks. Weeks have passed since a major cycle included Romney's Mormonism, yet to think that it isn't a backdrop to his lukewarm GOP reception is to be willfully ignorant.
Speaking of--Gingrich perhaps had the worst weekend of all. His presence was thoroughly unappreciated at CPAC. South Carolina fades deeper into the ether, the money is dwindling and his last best friend could be the media. The free airtime and coverage would undoubtedly help the flagging campaign, and he refrained from any "mainstream media" canards that he's so fond of.
The ultimate slap in the face, though, came when Santorum turned his "two-man race" line against him. In the past week that statement becomes more and more true and to the detriment of the former speaker.
It would be impossible to run-down the CPAC dais without mentioning the resurfacing of Sarah Palin. To say she stole the show is to say Whitney Houston's death got some media coverage Saturday night.
There wasn't too much new material here, mostly touching on her previous harpings on "hope-y" "channge-y" referring to Obama's two-year old State of the Union call to Win The Future as his "WTF" plan. It was like Andrew Dice Clay ripping off his dirty nursery rhymes. But like the Diceman at his peak, Palin harnessed the energy into a true spectacle.
Romney must have watched the performance from the sidelines with a furious envy. Here there was a woman who conservatives had repeatedly said should never, under any circumstances, be their candidate, doing everything that he couldn't.
But as the many college-aged conservatives could explain, what seemed like a good idea during the weekend doesn't always pan out come Monday.
Romney, ever the safe choice you'd bring home to mom, is counting on it.
----
Reach Tom here