National
Top 10: Santorum's Most Controversial Quotes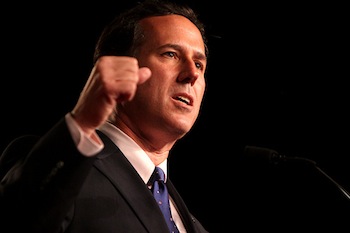 Despite making a number of controversial comments lately, Rick Santorum continues to surge in the polls leading into tonight's GOP debate in Arizona.
With the growing momentum, more and more of his words are under closer scrutiny, including takes on homosexuality, contraception and women's rights. But, to those who have followed Santorum before the GOP race, polarizing statements are nothing new from the former Pennsylvania senator.
Here's a look at 10 of his more outlandish statements:
"Santorum's Satan Warning"
On Tuesday, the Drudge Report dug up quotes from one of Santorum's 2008 speeches at Ave Maria University in Florida.
Referring to America's fight against Satan as "a spiritual war," Santorum espoused on good and evil, and how "the Father of Lies" has his sights set on America.
Santorum defended himself on Tuesday, pledging to "tell you the truth about what's going on in this country."
Here are some of the comments from that 4-year-old speech:
"Satan has his sights on the United States of America!"
"Satan is attacking the great institutions of America, using those great vices of pride, vanity, and sensuality as the root to attack all of the strong plants that has so deeply rooted in the American tradition."
"This is a spiritual war. And the Father of Lies has his sights on what you would think the Father of Lies would have his sights on: a good, decent, powerful, influential country - the United States of America. If you were Satan, who would you attack in this day and age?"
"He attacks all of us and he attacks all of our institutions."
Obama and his "phony theology"
At an Ohio Christian Alliance event over the weekend, Santorum called into question Obama's Christian faith.
On Obama's agenda, he said it's "not about you. It's not about your quality of life. It's not about your jobs. It's about some phony ideal, some phony theology. Oh, not a theology based on the Bible, a different theology, but no less a theology."
He continued:
"The Catholic church has a theology that says this is wrong, and he's saying no I've got a different, I've got a different – you may want to call it a theology, you may want to call it secular values, whatever you want to call it, it's a different moral values. And the president of the United States is exercising his values and trumping the values of the church."
Following up Santorum's remarks, a spokesman for the presidential candidate said Santorum was referring to Obama's "radical Islamic policies" when calling the president's agenda "phony theology."
She immediately called MSNBC post-interview to say she misspoke.
Santorum on women in combat
Santorum has also stirred up debate with some statements he's made concerning the role of women in society, including his belief they should not serve at the front line of combat in the military.
In an interview with CNN's John King, referring to women in combat, Santorum said: "I think that could be a very compromising situation where people naturally may do things that may not be in the interest of the mission because of other types of emotions that are involved."
In a more recent ABC News interview, he clarified his comments:
"Women have served and do serve and do wonderful things within the military and . . . they do have opportunities to serve in very dangerous positions. I mean, they serve in very dangerous positions. And I certainly understand that and respect that and admire women for doing so, but I think on the front line of combat is not the best place and it's not maximizing what they can bring to the table."
Children born from rape: "A gift in a very broken way"
In early 2012, CNN's Piers Morgan really put Santorum on the hotseat regarding his belief that abortion should be illegal in all circumstances, including rape and incest.
Morgan posed a hypothetical to Santorum: What would he do if one of his two daughters came to him after getting raped, and was pregnant? What if she wanted to get an abortion? "Would you really be able to look her in the eye and say, no, as her father?" Morgan asked.
Here's a portion of Santorum's answer:
"Well, you can make the argument that if she doesn't have this baby, if she kills her child, that that, too, could ruin her life. And this is not an easy choice, I understand that. As horrible as the way that that son or daughter was created, it still is her child. And whether she has that child or doesn't, it will always be her child. And she will always know that. And so to embrace her and to love her and to support her and get her through this very difficult time, I've always, you know, I believe and I think the right approach is to accept this horribly created — in the sense of rape — but nevertheless a gift in a very broken way, the gift of human life, and accept what God has given to you."
Obama and Hitler
"The World War II metaphor is one I've used 100 times in my career."
That was Santorum's response to reporters as to whether he was comparing Obama to Hitler.
Judge for yourself. Speaking to a megachurch, Santorum said Sunday:
"Your country needs you. It's not as clear a challenge. Obviously, World War II was pretty obvious. At some point, they knew. But remember, the Greatest Generation, for a year and a half, sat on the sidelines while Europe was under darkness, where our closest ally, Britain, was being bombed and leveled, while Japan was spreading its cancer all throughout Southeast Asia. America sat from 1940, when France fell, to December of '41, and did almost nothing.
"Why? Because we're a hopeful people. We think, 'Well, you know, he'll get better. You know, he's a nice guy. I mean, it won't be near as bad as what we think. This'll be okay.' Oh yeah, maybe he's not the best guy, and after a while, you found out things about this guy over in Europe, and he's not so good of a guy after all. But you know what? Why do we need to be involved? We'll just take care of our own problems. Just get our families off to work and our kids off to school, and we'll be okay.
"It's sort of the optimistic spirit of America but sometimes, sometimes it's not okay. It's going to be harder for this generation to figure this out. There's no cataclysmic event. It's going to be hard."
Abortion and slavery
In what has become a common occurrence, Santorum might have made things worse when trying to put prior comments into context.
Invoking Obama's race, Santorum linked abortion to slavery in an interview with CNSNews.
"The question is, and this is what Barack Obama didn't want to answer—is that human life a person under the Constitution and Barack Obama says no," Santorum said on a conservative talk show. "Well if that human life is not a person then I find it almost remarkable for a black man to say 'now we are going to decide who are people and who are not people.'"
Here's part of the interview:
Bible proves climate change is "an absolute travesty of scientific research"
Mixing his faith with government yet again, Santorum took on climate change in early February.
Santorum cited the Bible as evidence that "the science-accepting crowd has it all wrong," according to Talking Points Memo.
"We were put on this Earth as creatures of God to have dominion over the Earth, to use it wisely and steward it wisely, but for our benefit not for the Earth's benefit," Santorum told a Colorado crowd.
He went on to call climate change "an absolute travesty of scientific research that was motivated by those who, in my opinion, saw this as an opportunity to create a panic and a crisis for government to be able to step in and even more greatly control your life."
Santorum on homosexuality
Speaking on homosexuality, Santorum argued during a 2003 interview that he has "absolutely nothing against anyone who's homosexual," only "the person's actions."
The Associated Press then countered with "So if somebody is homosexual, you would argue that they should not have sex?"
Santorum's response:
"Every society in the history of man has upheld the institution of marriage as a bond between a man and a woman. Why? Because society is based on one thing: that society is based on the future of the society. And that's what? Children. Monogamous relationships. In every society, the definition of marriage has not ever to my knowledge included homosexuality. That's not to pick on homosexuality. It's not, you know, man on child, man on dog, or whatever the case may be. It is one thing. And when you destroy that you have a dramatic impact on the quality."
Obama "may go to Indonesia and bow to more Muslims"
While appearing on Greta Van Susteren's show in March 2010, Santorum again connected Obama to the Muslim faith, saying:
"I think the Democrats are actually worried he [Obama] may go to Indonesia and bow to more Muslims."
"There is no 'Palestinian'"
Reminiscent of remarks Newt Gingrich made during a recent debate, Santorum talked about the Israeli control of the West Bank:
"If they want to negotiate with Israelis, and all the people who live in the West Bank are Israelis, they're not Palestinians. There is no 'Palestinian.' This is Israeli land."