Santorum Bites Back Over Earmarks, Questions Obama's Faith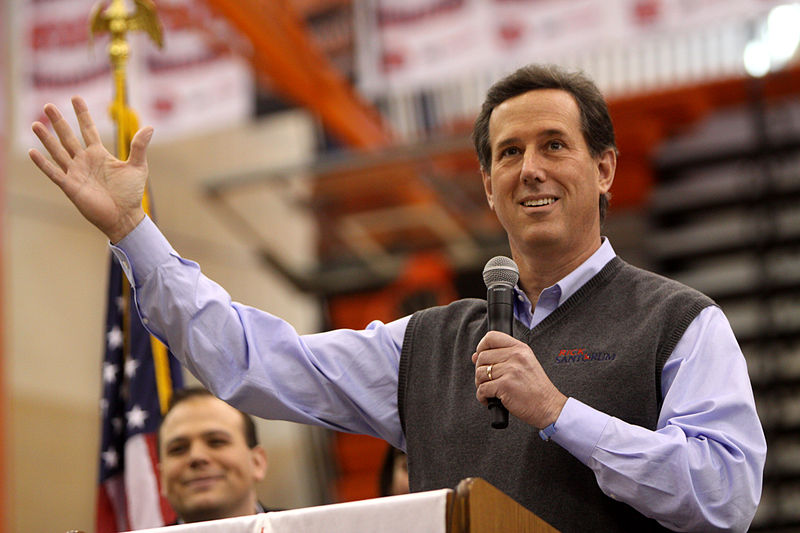 Rick Santorum is on the defensive, first criticizing GOP opponent Mitt Romney's use of earmarks while governor and later attacking President Obama's Christianity during a campaign stop in Ohio.
Politico reported Santorum mocked Romney for "heroically going to Congress and asking them for tens of millions of dollars to bail out the (2002 Winter Olympic) Salt Lake games — in an earmark."
Romney's campaign and super PAC have called Santorum out for his own earmarks. At a rally in Boise, Idaho, Romney pointed out Santorum had voted for billions of dollars in earmarks, "including the Bridge to Nowhere," during his tenure in Congress.
During his speech Saturday to Tea Party supporters, Santorum continued, saying, "One of his strongest supporters, John McCain, called it the potentially the worst boondoggle in earmark history. And now Governor Romney is suggesting, 'Oh Rick Santorum earmarked' as he requested half a billion dollars in earmarks as governor of Massachusetts to his federal congressman and senators. Does the word hypocrisy come to mind?"
The Politico write-up went on to say Santroum's accusation puts him on "ground his opponent has chosen, but fighting back with any level of effectiveness at all also puts him on better footing than the previous anti-Romney favorite, Newt Gingrich, had in Florida.
Romney's campaign responded to Santorum's speech. Politico included a statement from spokeswoman Andrea Saul:
"Sometimes when you shoot from the hip, you end up shooting yourself in the foot. There is a pretty wide gulf between seeking money for post-9/11 security at the Olympics and seeking earmarks for polar bear exhibits at the Pittsburgh Zoo. Mitt Romney wants to ban earmarks, Senator Santorum wants more 'Bridges to Nowhere'."
According to the report, Romney's earmarks for the Games weren't all for the sake of improved security, but a good amount did go toward that end, "and perhaps enough to convince voters that Romney is meaningfully purer on this spending issue than Santorum."
Santorum didn't stop with Romney though. His speech Saturday also attacked Obama, questioning the president's Christian values.
From the Associated Press:
Santorum, a former Pennsylvania senator known for his social conservative views, said Obama's agenda is based on "some phony theology. Not a theology based on the Bible. A different theology." He later suggested that the president practices a different kind of Christianity.

"In the Christian church there are a lot of different stripes of Christianity," he said. "If the president says he's a Christian, he's a Christian."

The Obama campaign said the comments represent "the latest low in a Republican primary campaign that has been fueled by distortions, ugliness, and searing pessimism and negativity."
Santorum may have been responding to the sheer pressure placed on him to take Ohio, "a Super Tuesday prize," according to the AP. The state's primary is on March 6, along with nine other contests in a flurry that often determines which candidates will carry the nomination.