Opinion
New US Plan For Afghanistan Has Long-Term Implications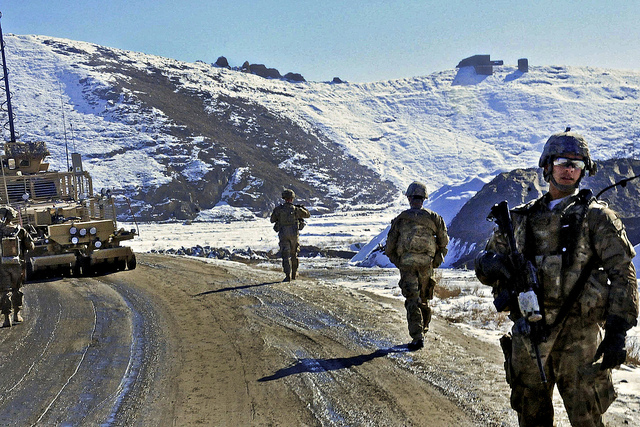 In the last week, the United States unveiled a plan to cut down its operations in Afghanistan. As the United States plans to reduce its standing military presence in Afghanistan in conjunction with downsizing of the military in general, there are a number of implications that must be considered, particularly in the areas of military strategy, force maintenance, and the legacy of Afghanistan.
When conventional forces no longer play a major role past 2014, Special Operations forces (SOF) will become the primary option. SOF troops will continue to be relied upon to conduct direct action missions. Army Special Forces, also known as Green Berets, will also be involved for counterinsurgency purposes. This means that the United States is far from finished in Afghanistan, even as soldiers continue to leave.
Part of the Green Berets' mission is foreign internal defense. As such, they will continue to train and support the local Afghan security forces in order to prevent the Taliban from returning to power. However, combining a counterinsurgency strategy with direct action missions from SOF troops will be difficult to manage. The nighttime raids are unpopular among local Afghans, which create distrust between them and American forces. For every successful raid and additional Afghan soldier trained, there are bound to be mistakes or mishaps where civilians are killed, which cause the war effort to take at least one step back.
The overall downsizing of the military will without a doubt have a negative impact on the elite units. The men who serve in them are getting older and the mileage they put on their bodies adds up considerably. The number of deployments they make as they continue to rotate in and out of the operational area are reaching unsustainable levels. Meanwhile, the talent pool from which to draw new selectees diminishes as conventional forces become smaller. That means that SOF units may not be able to pick the strongest, toughest, and best qualified candidates. In short, what makes these units "special" may no longer be as true as they once were.
As armed drones continue to gain traction as a method of waging war, some may advocate for their increased use in hunting down high-value targets and intelligence-gathering missions. Although they have proved useful, there are still limitations on what they can do as well as dire consequences for losing a drone, as evidenced by the recent loss of a highly advanced RQ-170 Sentinel over Iran. No matter how powerful drones become, there is still a need for sturdy boots on the ground to conduct reconnaissance, gather intelligence, and eliminate targets where UAVs cannot go.
The final question is what will be Afghanistan's legacy. It has been more than ten years since the initial invasion, far longer than anyone imagined when the war first started. Can it be considered a success, where the Taliban were removed from power and Osama bin Laden eliminated? Is it a failure because the Taliban insurgency did not suffer a complete military defeat and attempts to modernize and secure the country so far have not taken hold? Or is it something in between? Ultimately, the answer about Afghanistan and how the war ultimately affects military personnel and strategy will not be known for several more years.
Phong D. Nguyen is a senior studying international relations and economics at USC. His primary interests are national security, military operations, the Middle East, and South Asia.