USC Sports
USC Basketball: Trojans Outmuscled By UCLA In 64-54 Loss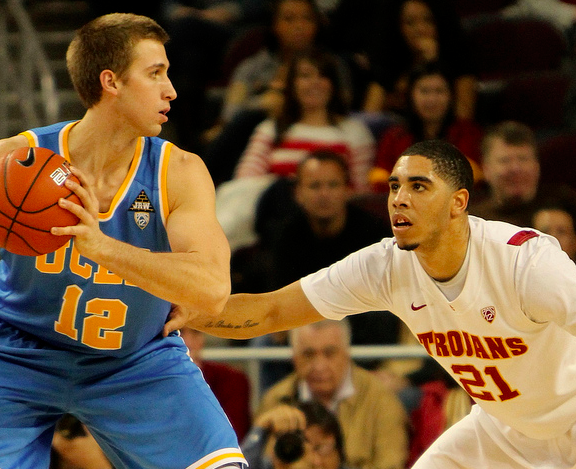 USC coach Kevin O'Neill's
"wear 'em down to a nub"
style of coaching just doesn't work when there are no rarities to grate into diamonds.
The UCLA Bruins defeated the USC Trojans 64–54 on Wednesday night at the L.A. Sports Arena, on a night when UCLA's Ben Howland decidedly outcoached his counterpart even though he really didn't need to.
The Bruins, behind solid efforts by David Wear and Travis Wear, along with guard Jerime Anderson, started the game with a 6-0 run and never really looked back. Even when fatigue set in on their seven-man rotation, Howland stepped in and righted the ship.
"I was worried sick about this game," Howland admitted, in reference to the thousands of Trojans fans living blocks away from the Sports Arena that failed to show up. "I'm really happy with the win."
That sentiment was echoed by UCLA's high scorer, forward David Wear (16 points, 13 rebounds), who hinted that a win over USC is still as sweet as ever.
"I was disappointed with the Cal game and I needed to use that as motivation," Wear said. "It's 'SC, so we came out with extra focus. It's easy to get motivated and focused for our rivals."
On the flip side, USC is still finding it hard, as a team, to mask their disappointment regarding their horrible string of luck. Garrett Jackson and Byron Wesley were the only Trojans to play with any consistent aggression and determination throughout the night.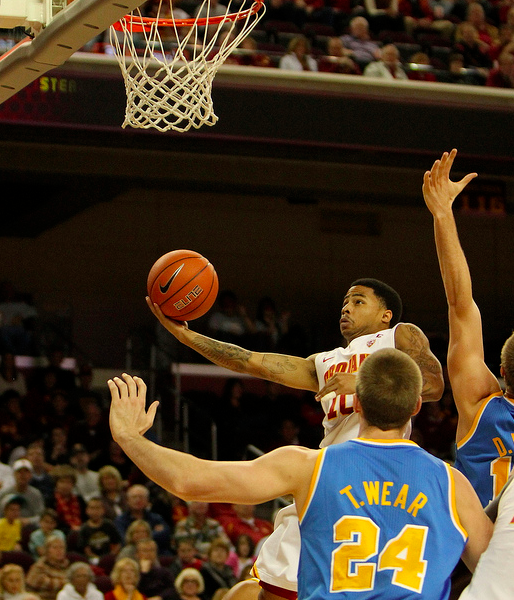 "It was tough tonight," Jackson said. "We were just not hitting shots. Byron really attacked well. We just really have to work on our outside shooting."
For his part, Jackson ended up with a more-than-respectable 15 points, three blocks and four steals. Wesley tied his career high with 16 points. However, even with the two combining for 31 points, the Trojans were severely outmanned and outgunned. The Trojans came back to make the final score presentable, but the result was never really in doubt.
Howland preserved the integrity of the victory with an apropos timeout at the six-minute mark, just as the Bruins were getting winded, allowing the Trojans to sneak back into the game.
USC had also gamely tried digging in their heels at the sixteen-minute mark in the second half and got absolutely pummeled for their troubles. With 12:18 left, the Bruins lead was back up to 21.
Coach O'Neill said after the game that the Trojans "were two shots away from making it a game. Our guys fought hard and did what they needed to do to hang in the game, so I'm proud of our effort."
Nevertheless, the late surge by the Trojans could not prevent the inevitable: A UCLA win and another USC loss in the Pac-12. UCLA improved to 15-11, and a still-relevant 8-6 in the Pac-12 race, as USC fell to 6-21 overall, with just one conference win.
The Trojans have a week off before they hit the road to face Arizona on the Feb. 23 and Arizona State on Feb. 25.
_________________________________
Reach Ryan by email, or follow him on Twitter.