California
Master Of Lights: The Man Who Controls Over 4,000 Signal Lights In Los Angeles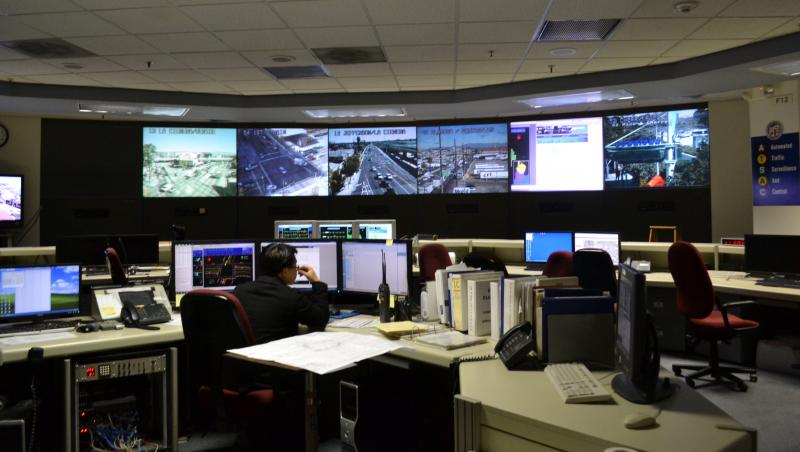 It was one of those classic Southern Californian days-- where the sun was teasing through the clouds, promising a very bright and hot day. The weather complimented the morning commute as the end of the 9 a.m. traffic hustle brought me to the newly built Department of
Transportation
building on Main and 1st Street in Downtown Los Angeles.
As Edward Yu greeted me in the lobby, it seemed that I caught him on an eventful day.
"It's already been a crazy morning," said Yu, chuckling.
With the almost two million automobiles on L.A roads, it's not hard to imagine why.
We didn't dwell in the lobby for too long, as Yu led me across the street to the Automated Traffic Surveillance and Control office.
Yu is the head of Signal Timing Operations, which oversees over 4,000 traffic signals in the city of L.A. Basically, he controls the timing of lights that could dictate a bad or good work commute for the everyday driver.
Besides being the head of Signal Operations, Yu wears many hats throughout his day that keep him bouncing between his two offices. On this particular Thursday, his hat was "tour guide."
We went four floors underground and back in time as the historic building was originally built during the McCarthy era as a nuclear war bunk. We walked down a narrow white hallway with hollow floors that conceal the plethora of wires that connect the outside streets to the inside hub at the control center.
As we passed a thick vault door right before turning the corner into the control center, there were several cubicles hiding various LADOT workers and an oversized signal light hung on the wall flashing the acronym A-T-S-A-C.
Once we walked into the control room, Yu suddenly perked up and began to talk about his system like a grandfather would about his grandchild. Born and raised in L.A, Yu graduated from the University of California, Irvine with the intention of working with traffic, specifically at the LADOT. Since then, he hasn't been able to escape it.
"One of the things I do when I'm driving around throughout the city-- I'll look for trouble spots and will make adjustments," said Yu, who lives in La Canada.
ATSAC itself is a computer based system built to monitor and improve traffic conditions in real time. It manipulates signal timing to conform to various traffic conditions when different factors disrupt the flow of traffic, such as pedestrians, cyclists, buses and accidents, to name a few. What's more, the system is automated so that Yu and his team don't have to individually monitor each intersection. However, Yu does have access to most of the signal lights, which is a quality unique to the L.A. city system.
"The system is only 90 percent complete," said Yu. "What I mean by 90 percent complete is that we have 4,500 signals and about 4,100 of them online, which means that we can control them and manipulate the traffic. Each intersection is connected through copper connection through fiber optic lines, then it comes here and then we have to develop some software and algorithms."
The system was first put in place during the 1984 Olympic games and it served as a significant traffic managing tool to prevent gridlock in the streets of L.A. After a successful run that invited an outpour of funding, the rest is history.
Now, the system is in contact with over 4,000 signal traffic lights in L.A. with the addition of almost 400 close-circuit television surveillance cameras that assist in monitoring major intersections in the city.
Yu, along with a staff of about 20 engineers, works to make sure that everything flows smoothly.
"We have to account for the number of pedestrians, turn movements, attractions such as the Staples Center," said Yu, "There are a lot of different factors and our system is built as such where it accommodates a lot of those factors and uses that data to give the proper signal timing for that area."
Yu oversees all of this in the glorious control center: a circular room with seven large screens mounted horizontally across the front. To the very left, there is an electronic marquee hanging on the wall that pulls up real time trouble areas brought up by the system if there are abnormalities in traffic; for example: if a car is sitting on a circular sensor for too long in a given intersection. The sensors work as magnets and can automatically detect cars and cyclists.
The room is also filled with computers that can pull up real-time traffic conditions. They serve as Yu's background as he continues to discuss the intricacy of the system he manages. One of the topics Yu seems most passionate about is the way that the system works for the public. He's adamant in relaying that ATSAC is meant to make your morning or after-work commute more efficient.
At one point, Yu pulls out a tracking device that is placed on Metro Red Line buses. The device looks somewhat like a 10-pound-weight, only cut in half. It relays information back to the control center, letting them know what the status of each individual bus is. If one particular bus is running off schedule, the system will give it priority and adjust signal light timing to get the bus back on its proper schedule.
When asked what his impression of what the general public thinks of L.A. street traffic, Yu was visibly hesitant and struggled to find the proper words that would give justice to both his system and the public.
"We keep the traffic moving," said Yu. "There are certain areas in the city that are going to be congested no matter what we do. Seventy thousand cars going through an intersection in most cities would be a traffic jam for miles and miles and miles. For us, we command traffic of that volume on a daily basis."
However, for the public, the streets of L.A. work as the lesser of two evils compared to the L.A. freeways. Daniel Velasquez lives near Dodgers Stadium and usually finds himself driving down either Santa Monica or Sunset Boulevard and so far, he doesn't find ATSAC particularly impressive or effective.
"None of the streets really make any sense," said Velasquez. "The condition of the streets is terrible. It's just this thing that everyone puts up with."
When asked what improvements he would suggest, Velasquez believes that there needs to be more protected left turns. His roommate, a young filmmaker named Arthur To, agrees.
"Anytime you want to turn left into a complex, a neighborhood, an alleyway or anything like that," said To, "you end up holding up a lot of traffic because there's no dedicated left-turn lane."
However, Yu doesn't try to over-simplify L.A. traffic by boxing it in the context of "fast" or "slow." He's diplomatic about people's concerns, but Yu can't ignore the fact that L.A. has a notorious reputation for housing some of the most congested streets in the nation, and it's only expected to get worse as the city's population is anticipated to increase by 35 percent in the next decade.
With its 6,499 square miles of public streets, 40,000 intersections and 22,000 marked crosswalks, there's no doubt that Yu's dominion is not only vast, but highly complicated.