International
One Year Later: Libyans Mark The Anniversary Of Pivotal Revolution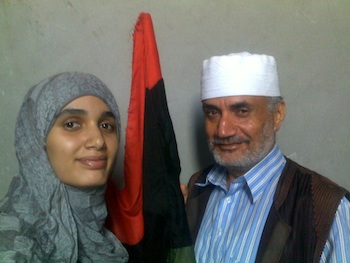 It was in front of a small courthouse in the city of Benghazi, Libya, one year ago when the impossible hopes and dreams of millions of Libyans became tangible.
On Feb. 17, 2011, thousands of Libyans—with more arriving each minute—gathered around the courthouse and shouted anti-government slogans. This was the third day of protests, and for many, it was the first sign of a revolution that would topple one of the world's longest-standing regimes.
"It was the first time I ever protested in my life," remembers Ibrahim Shebani.
Shebani lives in Tripoli, but when he saw the calls for a Feb. 17 demonstration in the Eastern region of Libya—modeled after the preceding Egyptian and Tunisian protests—he boarded a flight to his hometown.
"Even though I knew nothing is going to happen, I wanted to be in Benghazi to witness this," he said.
Shebani is not the only one who was uncertain about the outcome of these demonstrations. In addition to an international community that expressed indifference to the small, globally irrelevant North African state, Libyans across the country and throughout the diaspora hesitated to believe that the uprisings sweeping across Tunisia and Egypt would overtake Libya in the same way. Libya is not Egypt, they said, over and over again. Libya is not Tunisia.
When Shebani arrived in Benghazi on the Feb. 16, he feared they might be right. Though protests were springing up in several different neighborhoods, he didn't see much reason to hope for a Tunisia-like outcome. He was ready to head back to Tripoli—until he arrived at the courthouse.
"There were thousands of protesters in front of the court," said Shebani, "That's when the first killing happened. And it carried on."
___
That first death was the beginning of what became a nine-month-long civil war that would end in the fall of the Gaddafi regime and the death of Muammar himself. The revolution—and the war that gave birth to it—has seen the emergence of a new transitional government body, the creation of hundreds of independent media organizations, the development of non-governmental organizations dedicated to every segment of Libyan society, and a citizenry unafraid of voicing dissent.
Libyans mark the anniversary of their country's rebirth Friday with a new round of demonstrations—this time to protest the National Transitional Council (NTC) and the cabinet of the transitional government, headed by Mustafa Abduljalil and Abdurrahim Al-Keib, respectively.
As the government struggles to establish a constitution, organize elections and groom prospective leaders, Libyans have become increasingly disillusioned by the administrative figures who were once hailed heroes of the revolution. Militias remain untethered and outside the control of a national army. Amnesty International recently released a damning report criticizing human rights abuses reportedly perpetrated by these armed groups and a widespread lawlessness across Libya.
The authorities have yet to carry out the disarmament of militia groups they promised back in December, and no semblance of a national army or capable police force has emerged. But there are other problems as well: a lack of transparency, nonfunctional public institutions, a shortage of jobs and very, very late salaries.
But there is a spirit of optimism for the future that was previously nonexistent in this corner of the world one year ago. Ali Abdullatif Ahmida, author of the book Forgotten Voices: Power and Agency in Colonial and Postcolonial Libya and a professor of political science at the University of New England, visited Libya for a few weeks to find his country a different place in both auspicious and troubling ways.
"There are a lot of anxieties about the future," said Ahmida. "While people are optimistic and hopeful, they are underestimating the challenges of rebuilding the country."
Ahmida looks at a flourishing news industry and continuous protests as healthy signs of a newborn civic society. But a benign administration and absence of any legitimate legal authorities remain obstacles to rebuilding the country.
"It's an exciting time for Libyans who toppled the dictatorship," he said, "but the burden of the past and the unresolved issues like arms and the lack of... a national army and police force haven't been accomplished yet. And that worries me."
___
Three years ago, Ibrahim Shebani had plans to start a magazine for Libyans interested in fashion, culture and entertainment. It would have been the first of its kind in Libya. But his requests for a license to publish the magazine were consistently denied by the government.
"It wasn't anything political," he said. "I just wanted to start a fashion and lifestyle magazine."
During Gaddafi's reign, it was impossible to talk about politics, said Shebani. And so, like most Libyans, he had no interest in the subject. There were few media outlets, and they were all owned by the government.
"If you worked in media, then you were part of the Gaddafi regime," said Shebani.
Today, Shebani is the founder and editor-in-chief of two magazines. He started The Libyan back in May and a second, English version of the magazine is now being produced using entirely different content. The magazine features news and politics but there are also sections on art, history and culture.
The Gaddafi regime, says Shebani, kept Libya isolated from an international community. There have never been any foreign news bureaus in the country, and, at one point, English-language publications were banned completely. Travel was difficult and too expensive for most. For 40 years, little else beyond Libya's oil supply or Gaddafi's wacky personality quirks would warrant a headline in a foreign newspaper.
"If you tell anyone in the world that you're Libyan... the first thing that comes to their mind is Gaddafi," said Shebani. "It's not just the world that doesn't know anything about us. We Libyans don't know much about Libya or about each other."
On the cover of The Libyan's first issue is a Tuareg man clutching the reins of a camel. The Tuareg are a nomadic people who travel across the Saharan desert. The cover choice was deliberate—Gaddafi famously denied the existence of non-Arab Libyans, pandering to a sentiment of pan-Arab nationalism.
Shebani hopes that his magazine will help redefine what it means to be Libyan -- and to reintroduce Libyans to a history and culture they'd been denied by the regime. Professor Ahmida says this will be an integral part of the rebuilding process.
"We need to relearn our old social and cultural history," said Ahmida. "We need to start reeducating by becoming more conscious of our own roots and our own society and own culture. We need to know the world we live in."
---
The Libyan magazine is one of hundreds of publications that have sprung up in post-Gaddafi Libya. The emergence of independently-owned news organizations has drawn many young Libyans to the profession—among them, 19-year-old Khadija M. Ali.
The former medical student is a writer for one of Libya's only English-language news organizations, The Tripoli Post. When the revolution began, Ali was working toward a career in medicine at Tripoli University.
"I knew my role was going to be in journalism more than anything else because we did have doctors," she said. "Even if I did have those skills it would be very difficult for me to go out in the streets and practice them [as a doctor]."
In the midst of a media blackout and the government's shut down of the Internet, what the revolution really needed, said Ali, was someone to speak out from Tripoli. As the regime was cracking down on dissenters, Ali risked her life by fielding calls from international media organizations and reporting to them on the stirrings of revolution in Tripoli.
"I was actually more worried about my parents finding out I was talking too much than I was about being caught by the regime," said Ali.
On Feb. 25 last year, Ali was talking to reporters from CNN when she witnessed what was a turning point in the uprising in the country's capital. Hundreds of protesters attempted a march on Martyr's Square for a second time, and the regime responded with force.
"From the first drop of blood that fell, everyone decided that the regime had to fall," she said, "and they were going to do anything to make it happen."
Ali continued to talk to the press, even as the crackdowns became increasingly bloody. In the process, she discovered a passion for journalism that she wanted to explore further.
Today, she's among a new class of young Libyan citizens discovering, for the first time, the expression of free speech through the written word. But even as the number of newspapers has soared and more Libyan news stations have occupied the airwaves than ever before, the quality of content is questionable.
Most of the media organizations are being led by "amateurs," Shebani said. A journalism institution unbeholden to the interests of the government is uncharted territory for Libyans. There's no sense of media responsibility.
But these infant organizations are given no room to grow by the administration, Ali said.
"We're not told about press conferences. It's usually the foreign media that gets to go to those," she said. "Interviews are not given to local media. We saw the Prime Minister on BBC. How are normal Libyans supposed to understand English?"
This lack of transparency is part of what's fueling ongoing protests against the interim government. Only recently has the NTC released a complete list of its members and the full scope of their activities since the regime's demise have been shrouded in mystery.
"If we don't understand what the government is doing, we can't keep pressuring them," said Ali. "We're just going to be lost."
Ali also channels some of her energy into volunteering. She recently founded Clean Up Tripoli, an environmental initiative to encourage citizens to pick up trash on city streets. In the absence of functioning public institutions, a large number of NGOs like Clean Up Tripoli, headed by ambitious young people like Ali, have emerged.
"The only reason the country is still together right now is because of these civil society organizations," she said, "But there's only so much we can do. We need the government's support."
Another such group is Sadeq Institute, a nonprofit think tank based in Tripoli.
"We believe it's the first institute of its kind to specialize in Libyan affairs," said Moez Zeiton, the organization's health policy researcher.
Under the Gaddafi regime, Libya's health care system was rated among the worst in the world. Many Libyans sought treatment abroad for the simplest of procedures and end up paying out of their own pockets for medicine they couldn't afford. As the injured flooded hospitals these past few months, the system buckled.
"There are astronomical sums being paid on the war wounded abroad and the system has been open to huge abuse by many people," said Zeiton. "The government has only a couple of months left until elections and a very small time frame to change things."
Zeiton is a 25-year-old British Libyan doctor who left his home in the U.K. to help the war effort in the western mountains of Libya. He helped set up a field hospital near a supply route from Tunisia. The decision, he said, was not difficult to make.
"I would've hated myself forever if I'd stayed," he said.
It was his first time treating injuries of war.
"There were burn victims, there were fractures, people who had been amputated," Zeiton said. "I'd never dealt with anything like that in my life. I'd never seen a gunshot wound."
As Libyans around the world mark the first anniversary of their revolution, Zeiton said he hoped it would be treated as a moment of somber retrospection.
"It shouldn't be a celebration," he said, "it should be a commemoration. I think people should mark the occasion with humility in honor of those who died."
---
Many seem to agree with Zeiton, including Shebani. Though he sees Libya's potential for greatness, he said he has become disillusioned by revolutionary rhetoric.
"You go out to the cafe, you talk to someone and a friend of yours comes by and says, 'Why are you talking to this person? He was pro-Gaddafi during the revolution'," said Shebani. "I personally don't care anymore. We won the battle. Let's act like victorious people."
Professor Ahmida said one of the most important and critical parts of Libya's recovery will be reconciliation. He said Libyans are in denial about the nature of the war.
"There were not only mercenaries who fought for the old regime and dictatorship, but also Libyans who fought other Libyans," said Ahmida. "Unless there is a political compromise to bring people—even the ones who were in the old government—back into Libya, the truth and reconciliation will not take place."
But Ahmida said he is hopeful.
"I trust our people," he said, "but it's going to take tremendous debate and tremendous awareness and tremendous questioning by all orders of society inside and outside the country."
Reach Senior Staff Reporter Tasbeeh Herwees here.