Los Angeles and Region
Lawyers Sue Law Schools For False Advertising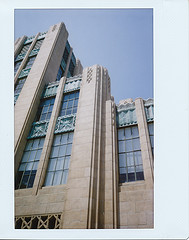 Southwestern Law School in Westlake was sued last week by former students alleging that the school wildly inflates job placement numbers, advertising to future students a too-rosy picture of a depressed legal job market.
The school was one of the 15 graduate institutions nationwide named in a series of litigations brought by students accusing their law schools of using skewed employment figures. Without these tweaked numbers, the plaintiffs claim that boasts of 90 percent graduate employment and higher would perhaps be half that.
The lawsuits bring to light an issue of law school transparency that has been brewing in the legal community for the past few years.
"What Southwestern has been saying is that in the nine months after graduation, 95 percent of students have jobs," said JR Parker, a Sacramento-based attorney and co-council on the Southwestern lawsuit. "This is a fundamentally misleading point. The only way that's possible is if they include jobs like working at Starbucks and folding shirts at Macy's."
Southwestern Law School maintains that its practices are fully transparent and that job markets dictate the hiring, not the school.
"There is no merit to the case, and we are committed to seeing this through until the end," said Leslie Steinberg, associate dean of public affairs at Southwestern Law School.
She added that a few of the plaintiffs listed in the case--Chad Derby, Sandy Liu, Sarah El Ebiary, Michael Lieberman and Whitney Ogden--did find "pretty good" employment after graduation but were unhappy with the jobs' prestige. Steinberg declined to say which ones she was specifically referring to.
In the brief, only one plaintiff, Mr. Derby, reported to have found full-time employment. The others are either unemployed or working outside the legal profession.
"We don't believe it's the obligation of the schools to put all the students in jobs that they want," Parker said. "However that has nothing to do with why they did not supply the correct information."
Throughout this dragging economic recovery, legal jobs have been slow to return. And the influx of newly graduated lawyers who pass the state bar exams far surpasses the number of jobs available right now, leaving a surplus of lawyers.
A set of data released by Economic Modeling Specialists Inc. shows California as the second worst state in the nation with an "oversupply" of lawyers. For the 6,000 lawyers who passed the bar exam in 2009, there were fewer than 3,000 job openings. New York tops that list with almost two-thirds of bar exam passers unable to find full-time legal work.
The issue amid the myriad of lawsuits around the country is not the lack of jobs but the way schools entice new students by making the large investment--often over $100,000--seem far safer than it is.
In October 2011, Sens. Barbara Boxer, D-Cailf., and Tom Coburn, R-Ind., co-signed a letter to the Department of Education, demanding an investigation into the transparency of law school job placement numbers.
The Tennessee-based watchdog group Law School Transparency, which monitors the employment numbers and methodology of 200 law schools,
found that
27 percent of law schools do not provide any evaluable information on their employment claims. More than half of them do not indicate how many graduates responded to the survey, leaving unanswered the size of the sample group.
"These findings are just plain sad," wrote David Lat, a lawyer who works for the legal commentary blog Above The Law. "It's ridiculous that over a quarter of law schools don't post evaluable information about employment outcomes on their websites."
A report by Law School Transparency shows that Southwestern Law School does provide most of this data, however they do not disclose any salary information about the employed graduates. The American Bar Association does put the school into the 1 percent of law schools overall that include specifics on the types of jobs graduates are getting.
But buried within that data, says the lawsuit, is the fact that only a small and successful subset of the graduates respond to the questionnaire.
"Southwestern and other law schools are perfectly aware of the correct data," Parker said. "But if they didn't inflate their numbers, they would go out of business."
Southwestern Law School has been in Los Angeles since 1911. Its alumni include former L.A. mayor Tom Bradley as well as several state supreme court justices and California secretaries of state.
----
Reach Tom Dotan here