Los Angeles
Public School Rally Brings Out Mayor, Thousands Of Parents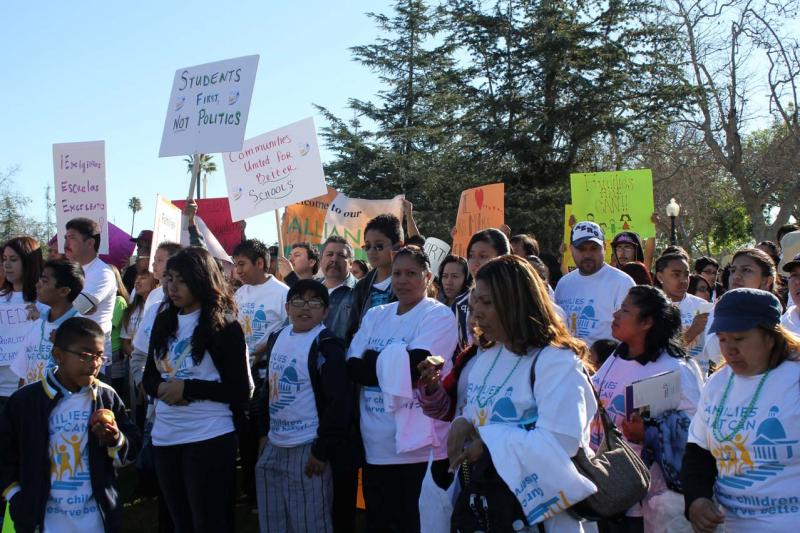 Thousands of parents, students and teachers rallied at Los Angeles Coliseum Saturday morning, demanding quality public schools in every neighborhood. The rally "Schools We Can Believe In" drew approximately 5,000 people from more than 100 schools in the Los Angeles Unified School District (LAUSD).
LA Mayor Antonio Villaraigosa spoke at the rally about the importance of parents' engagement and his commitment to improve public education.
He also advocated for district-wide school report cards. He encouraged parents to use the report cards to push schools if they are not progressing. Villaraigosa said the report cards are now accessible to every LA parent. He also recommended parents use the California Parent Trigger Law, which lets parents force changes in low-performing schools. The law allows them to petition for new school leadership and teaching staff.
"The future of education here in Los Angeles is depending on you (parents)," Villaraigosa said. "If parents and teachers get in front of the movement to improve our schools, there is no stopping us now."
Currently, 56 percent of students in LAUSD graduate from high school on time. California's public education funding ranks 46 out of the 50 states.
Angelina Saenz, a teacher at Aldama Elementary School, said Latino and African American children are three times more likely to have low-performing English teachers and twice as likely to have low-performing math teachers.
With budget cuts and two teachers arrested for sexual misconduct, LAUSD School Board President Monica Garcia said this week has been the worst in her life.
"This community is struggling to understand and to get the healing it needs," Garcia said.
She said 77 percent of LAUSD students are from working class families, and that "schools and children need support more now than ever."
But most parents and students rallied for fair funding and better facilities. Edgar Paine has two children attending charter schools.
"Things are tight all over, but in my opinion, there should be an exception made for students," Paine said.
He said there is absolutely not enough funding for facilities.
"With the possibility of more being cut, the music program may be cut now," Paine said.
Brayant Monge, 12, said he will feel sad if there is no music program, because those classes are fun. Another 12-year-old, Kenny Valencia, said, "As a student, I feel offended, because they try to close down the school. I just want to have a good future and help out my parents and brother."
----------
Reach staff reporter Shako Liu here.