Los Angeles and Region
LA's Dirty New Garbage Wars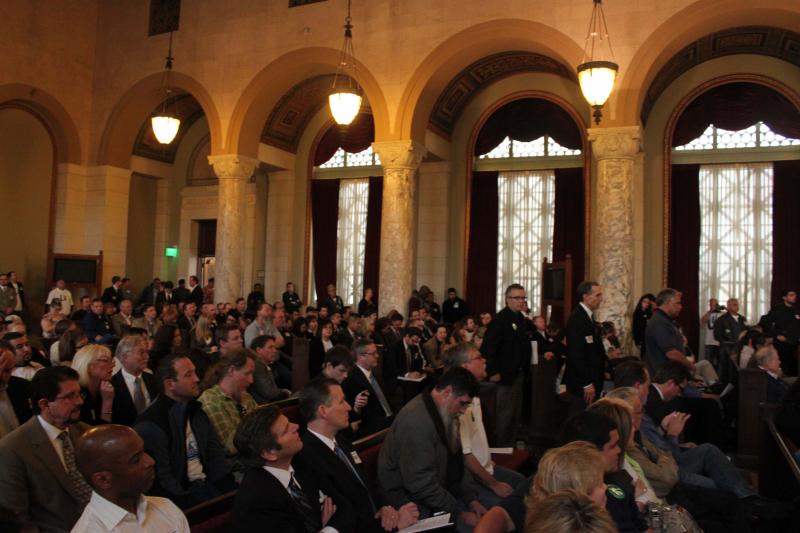 Opposing sides in Los Angeles's garbage wars fired their opening salvos Monday in front of a packed audience.
The overflow crowd spilled into the aisles of the City Council chambers, with over 80 people giving public comment, as the Board of Public Works held its largest discussion about a new proposal that would fundamentally change how the city handles trash collection.
The fracas pits environmentalists, large waste management companies and union leaders against landlords, smaller waste management companies, and the film industry.
At stake is an estimated $225 million in fees collected by the city's trash collection companies.
In the current system, landlords from large apartment complexes and commercial buildings have free choice to hire any trash collection company to haul away an annual waste.
There are around 140 of these hauling companies in LA, and critics argue that this open system is an uncoordinated mess, with diesel-belching garbage trucks crowding the streets on any given day.
"There are more trucks on the road than there needs to be," said Dan Meyers of the Bureau of Sanitation. "It is a more efficient system when adjacent properties are picked up at the same time."
In the past year, the city, with urging from a union-allied group, has been working on a plan that would divide Los Angeles into 11 franchised "wasteshed" districts, with trash management companies vying for sole jurisdiction of each.
The city would closely monitor these companies in an effort to bring waste diversion rates from their current 65 percent rate up to 90 percent--part of Mayor Antonio Villaraigosa's promise of making LA "zero waste" by 2025.
Environmental groups, including the Sierra Club and the National Resource Defense Council, have strongly supported the measure. National trash collectors unions are also in favor, saying that a streamlined system would give the city better oversight of the working conditions in a notoriously dangerous field.
But the proposed reform is strongly opposed by smaller haulers who say they'd be pushed out of business as the wasteshed contracts go to the bigger, more capable companies.
Four waste management companies--Republic, Waste Management, Athens and Crown—now manage 84 percent of the city's trash pickup needs. When these are combined with the next tier of companies, 10 entities cover over 90 percent of the city's needs.
But that final 10 percent includes many businesses that feel certain they'd be squeezed out if this exclusive franchise system is implemented.
"My father, Greg, who's the president of the company, has been working for 50 years doing trash hauling," said Matthew Kotanjian, of AAA Rubbish Inc. The company, which services apartments, hospitals, and schools, has 17 unionized employees and a fleet of 10 clean-diesel garbage trucks.
"Now the city is trying to throw him out like he means nothing to them."
Landlords are also concerned about the potential for rate increases under these franchise plans.
Many say they've worked out good deals with their waste haulers and enjoy having a close relationship with a smaller company; one speaker at the forum pulled out his cell phone and brought up his hauler's phone number on speed dial.
Higher pickup rates in particular worry landlords of rent-controlled tenants who are more than 60 percent of renters in LA.
"We landlords who own any rent-controlled buildings can't pass an increase in services to our renters" said Bill Hooey, president of the Fair Housing Coalition, a landlord advocacy group. "If this passes, LA drug dealers in Los Angeles will have more ease of operation than LA trash haulers."
Meyers maintained, under questioning by Public Works board members, that the rent-control laws do allow for landlords to pass certain costs onto tenants.
But according to information from the Los Angeles Housing Department, rent- controlled apartments can only raise monthly rates at most 3 percent annually.
A report from a group that opposes the reform projects that overall sanitation costs would rise $67.1 million, or an increase of 33 percent over current levels.
Environmentalists have argued that the improvements in air quality and conditions for sanitation workers that would result from a streamlined system have their own long-term financial benefits.
On that end, they found a sympathetic voice on the board.
"I find it reprehensible that we have so many trucks on the streets of low income areas," said Andrea Alarcon, president of the Board of Public Works.
As a Sylmar resident, she says she witnesses a constant flow of trucks making their way to the massive Sunshine Canyon landfill.
Representatives from the film industry also submitted their concerns about the proposal, saying the unique needs of on-location film shoots require smaller, private firms for on-call trash disposal, occasionally late at night.
Proponents say that specific pickups, like film shoots and construction sites, would be exempted from the franchise system.
The board will discuss the proposal over the next few days and present their recommendation to Mayor Villaraigosa by the end of the week. Pending his approval, it will come in front of the council in the next few months.
---
Reach Tom here