NBA
J.R. Smith A Great Signing For The Knicks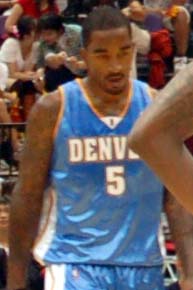 Early Friday morning, J.R. Smith announced that he would be signing with the New York Knicks after escaping the Chinese Basketball
Association.
He opted against Lob City and went for Linsanity instead.
Smith is a nice player who was an instrumental bench player for Denver last season as it made a late season surge post-Carmelo Anthony into the postseason. He's a great athlete that can cause defensive problems in a multitude of ways. As long as he remains in that capacity with the Knicks, this is a great move for the Knicks that shows the league they will compete this season.
Before this season started, high expectations were held of the Knicks to be a top-three team in the Eastern Conference with Anthony, Amar'e Stoudemire and Tyson Chandler joining forces to form New York's "Big Three." But after a very rough 8-15 start, coach Mike D'Antoni was this close to sending out his resume to the Bobcats and Hornets for their soon-to-be-vacant coaching positions. And then this small little story about that one Harvard graduate happened, and now New York is the toast of the NBA with the most-discussed player in all of sports.
Though Jeremy Lin has been great for New York upon his arrival, there is no reason to believe that his success this month is sustainable. He will, at worst, likely have a solid NBA career. But as an inexperienced player, he is racking up heavy minutes: 37.7 minutes per game, to be precise, during New York's seven-game win streak. Particularly with Anthony out, the Knicks needed another solid swingman that could fill up meaningful minutes.
That's why Smith is a key signing. He immediately improves the team's shooting guard depth, surpassing Bill Walker and Steve Novak; he will take most of their minutes. Plus, rookie Iman Shumpert's time at SG will experience a drop due to Smith and will be able to fill in for Lin with veteran Mike Bibby. The three-point accuracy Smith provides will complement the high pick-and-roll game Lin and Chandler play. Look for Lin to keep up his driving and to kick out to Smith for open-shot opportunities. This play will add another dimension the Knicks' second unit. However, the crux in the rotation rests on Landry Fields' shoulders.
Fields has shown flashes that he can be a good NBA player one day, yet he has endured a sophomore slump of sorts; his numbers are barely up in some categories (points, assists) and down noticeably in others (rebounds, three-point percentage and field-goal percentage). He will need consistent minutes to continue his development. While Fields will still be the starter, it would not be surprising if he starts to struggle, and Smith excels, the fans and media may clamor for Smith to start.
D'Antoni must be able to balance between preparing his younger guys for the late part of the season by playing them significant minutes and setting a rotation with guys who will be unaffected when the postseason comes.
The Fields-Anthony-Smith dynamic will be essential down the stretch. Anthony already played with Smith in Denver, so some chemistry will probably be present. But how will Fields and Smith co-exist? The coming weeks will tell. For the Knicks' sake, they must get along. For all parties involved, hopefully Smith is in a good state of mind – he has a history with the law enforcement that makes some weary that he is stable.
Plus, with owner James Dolan always in the mix one way or another, something is likely to go wrong with this team.
Smith passed up a perfect situation with the Los Angeles Clippers to potentially start alongside Chris Paul and Blake Griffin to play for the most excited fan base in the association. The Knicks fans explicitly care more than most fans. They will build him up if he plays well or tear him down if he fails.
The Knicks may have solved a key problem signing J.R. Smith. All they need to do is play their cards correctly. Given their recent track record, it may be the hardest step for the franchise to execute.
____________________________
Reach Will by email, or follow him on Twitter.