Entertainment News
Funeral For Whitney Houston Draws Celebrities, Fans To Newark, N.J.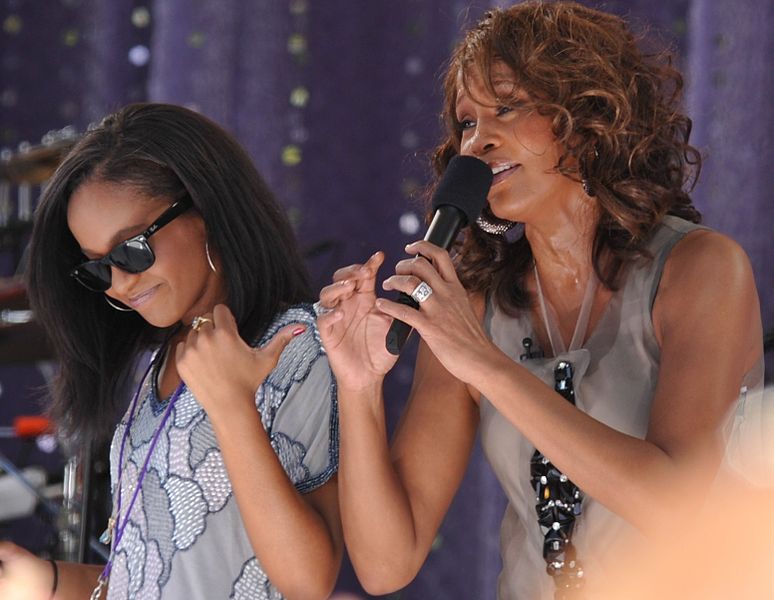 Mourners gathered in Newark, N.J., Saturday to lay pop icon Whitney Houston to rest. Those in attendance included Jennifer Hudson and Alicia Keys. Gospel singers BeBe Winans and the Rev. Kim Burrell joined the deceased's mother, Cissy Houston, at the service held inside New Hope Baptist Church.

The Associated Press reported
this was the same church where Houston used to entertain the congregation before she made it big. The Rev. Joe A Carter told those seated in the packed church pew, "We are here today, hearts broken but yet with God's strength we celebrate the life of Whitney Houston."
From the AP's report:
"You wait for a voice like that for a lifetime," said music mogul Clive Davis, who shepherded Houston's career for decades.
The service had lighthearted moments too — Kevin Costner imagining a young Houston using her winning smile to get out of trouble, Houston's cousin Dionne Warwick offering short insights about the singer.
Others were more mournful; singer Ray J., who spent time with Houston during her last days, broke down crying. His sister, singer Brandy, put her arm around him. Cissy Houston and Houston's daughter, 18-year-old Bobbi Kristina, clutched each other. Toward the end of the service, Bobbi Kristina and Ray J. embraced at length and spoke. Others gathered near the front of the church and hugged each other.
The most powerful moment was reserved for the end. As Houston's casket was carried out, her hit "I Will Always Love You" played. Bobbi Kristina began crying, and the sobs of Houston's mother rang throughout the church.
"My baby!" she wailed.
Stevie Wonder and Oprah Winfrey were among the biggest names gathered to mourn Houston, along with Hudson, Monica, Brandy and Jordin Sparks — representing a generation of big-voiced young singers who grew up emulating her.
Costner, her co-star in "The Bodyguard," which spawned her greatest hit, remembered a movie star who was uncertain of her own fame, who "still wondered, 'Am I good enough? Am I pretty enough? Will they like me?'"
"It was the burden that made her great and the part that caused her to stumble in the end," Costner said.
Aretha Franklin was expected to sing during Saturday's service, but decided not to attend due to health issues. The AP reported she sent an email with her best wishes, citing leg spasms throughout the night as the reason for her absence.
Outside the service, a decidedly less famous group came together to pay their respects. The AP report continued:
A few fans gathered Saturday morning hours before the service as close as they could get to the church, some from as far away as Washington, D.C., and Miami. Bobby Brooks said he came from Washington "just to be among the rest of the fans."
"Just to celebrate her life, not just her death," said Brooks, "just to sing and dance with the people that love her."
Others were more entrepreneurial, setting up card tables to sell silk-screened T-shirts with Houston's image and her CDs. But only the invited would get close to the church; streets were closed to the public for blocks in every direction. But their presence was felt around the church, with a huge shrine of heart-shaped balloons and personal messages that covered the street corner around the church entrance.
However tragic, it wouldn't be a celebrity funeral without some drama. TMZ reported ex-husband Bobby Brown caused a stir:
Bobby Brown was asked to leave Whitney Houston's funeral today ... after he got into an argument with Whitney's family over whether or not he could bring nine people into the church with him ... TMZ has learned.
Brown was spotted going into the church today in Newark, NJ ... but was seen leaving shortly thereafter.
According to our sources, Brown was invited, plus two, but instead showed up with an entourage of nine people. We're told Bobby became upset when he found out they would not seat his whole party.
Our sources say Bobby wanted to sit with his daughter, Bobbi Kristina, but Whitney's family was not having it.
We're told Rev. Jesse Jackson tried to smooth things over ... but to no avail.
Houston will be buried next to her father John Houston in Westfield, N.J., near her hometown of Newark.