Style
Fashion Bloggers: From The Street To The Front Row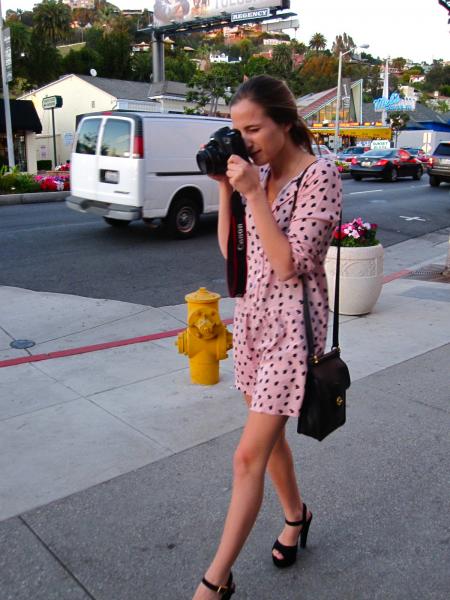 Bethany Struble politely asks to try a sample of roasted almond and fig gelato at a café in West Hollywood on a sunny Friday afternoon. "This is amazing. It's so good. I found this place randomly one day as I was shopping", she says.
In this moment she seems like an average teenager, but Struble is anything but your emblematic 19-year old. She is a highly successful fashion blogger, dabbling musician, and full-time mother.
The 19-year is waif-like and waddles in her chunky black heels as she picks up her daughter and stands next to her boyfriend at the cash register. We had just visited the BCBG Max Azria showroom, where Struble spent less than 15-mintues choosing a few outfits for her big first trip to New York Fashion Week. While most teens would be giddy and perhaps overwhelmed to be in a designer showroom shopping for such a big event, Struble handles it like a fashion veteran. She is poised, decisive, and takes it all with a grain of salt.
"Its fun, but you can't take anything too seriously. I have other priorities, like my daughter", she says.
The Business of Blogging
What may seem like arrogance from an unappreciative teenager is actually the maturity and humility of a young-adult. In August of 2010 Struble's cousin introduced her to the "blogging world", as she affectionately calls it. Within a mere two years of launching her blog, "Snake's Nest", she has managed to get over 40,000 hits per day, been offered endorsements by big brands like Levi's and Dr.Maartens, and even has had her picture plastered on a t-shirt by European clothing company, Bershka.
However, the ingénue didn't plan to have a career in fashion blogging and modeling. Her real passion lies in photography. Before the birth of her daughter Kylie at the young age of 16-years old, Struble took photography classes and aspired to focus her talent on fashion photo-shoots.
"Before I started blogging I was more focused on my own personal photography and working towards photographing for magazines, but now I'm in magazines so it's the flipside I guess!", she jokes.
However, the blogging industry is no joking matter. What began as strictly a new media hobby has progressed into a full-time career. As of July 2011, there are an estimated 164 million blogs and over 27% of bloggers have turned their extra-curricular activity into a full-time job, according to RightMixMarketing.Com.
Perhaps the most evident sign of the worth of a blogger in an industry meant for "professionals" is seen in the fashion industry. Rather than editors of prestigious fashion magazines sitting front row of major fashion shows, bloggers are now offered the golden ticket before their bigwig counterparts.
Women's Wear Daily released an article in November of 2011, pondering the implications of the trend.
"Regular front-row fixtures Bryanboy, Style Bubble's Susie Lau, Fashion Toast's Rumi Neely, Kelly Framel of The Glamourai and the Man Repeller have laid claim to their fashion insider statuses and prime real estate when it comes to seating assignments. Bloggers sitting front row have become commonplace—as have partnerships with leading brands and fashion houses that often blur the nature of what they do", says Rachel Strugatz of WWD.
Veterans in the game like Bryanboy of Bryanboy.com and Kelly Framel of Theglamourai.com are the closest the fashion blogging world has to founding fathers. Each receive millions of hits per month and now collaborate with a range of companies including Sunglass Hut, H&M, Christian Dior, and Coach.
Struble says she makes a couple hundred of dollars a month by page views, endorsements, and modeling gigs. When asked if she considers herself a celebrity, she blushes and assures me she doesn't compare to her peers in the fashion blogging industry.
"There are bloggers who have millions of hits a month, I'm not there yet at all. Its crazy how much money you can make just by blogging", she says.
Journalist vs. Blogger
Although Struble has secured a loyal fan-base and does write original content for "Snake's Nest", she does not consider herself to be a journalist by any means. She maintains her identity as a photographer and fashion lover.
"I'm not a journalist. I don't want to be. I like taking photographs and want to do styling of photo-shoots for magazines. No way am I a journalist", she proclaims.
In an age where citizen journalism is at its peak and the journalism profession is undergoing a revolution, many bloggers do not have the line drawn between blogger and journalist as defined as Struble.
In December 2011, the controversial debate of blogger vs. journalist hit its pinnacle. Obsidian Finance Group sued Crystal Cox, a self-identified investigative blogger, for defamation. Cox wrote articles criticizing co-founder, Kevin Padrick. However, U.S District Judge Marco A. Hernandez that Cox is not entitled to protection under Oregon's media shield because she does not fit the role of a journalist.
Judge cox stated that Cox is not, "affiliated with any newspaper, magazine, periodical, book, pamphlet, news service, wire service, news or feature syndicate, broadcast station or network, or cable television system".
This "shield" is used to protect journalists in 40 states. While many do not cover bloggers, a few states have now included new media bloggers to keep up with the changing journalism world.
Citizen journalism has taken on an important role in our society where we are left to wonder where the line is drawn, which confuses the news audience. It seems as if everyone has an opinion and has turned a hobby into full-fledged careers, without the traditional validation to call someone a "journalist".
With a blurred definition of her career, it seems as if Struble is truly free to choose to be whatever she wants.
Teen Mom in the Fashion World
On a Monday afternoon most girls Struble's age are barely waking up from a long night of partying the night before and hurrying to class. Struble is at home and trying to pop in a "retro" VHS tape to keep her daughter occupied as she attempts to prep herself for hair and make-up for a photo-shoot about to take place in her Santa Clarita home.
"Monsters Inc., mommy!", Kylie shouts from the living room.
"I'm sorry baby we don't have that one, how about Pocahontas? Its your favorite", says Struble amidst two dogs in the kitchen and two photographers trying to set-up a makeshift work station on a messy kitchen table for the day.
Kylie agrees to her mom's request and sits with Struble's younger sister, Hannah on the couch as they eat breakfast and watch a Disney classic.
"The meanest thing anyone has ever said to me was about Kylie. You can say whatever you want about me, but not my daughter", she says with a tense tone in her voice.
Struble is getting her make-up done for a look-book by Belgium photographers and fashion stylists, Kaat Ramboer and Jelle Wildiers. Ramboer has a fashion site, www.menandmarie.be and has chosen Struble out of all the stylish Los Angeles fashion bloggers to be the face for the spring collection.
"I went online and found her on lookbook.nu. She was different than other fashion girls in LA. She is naturally beautiful. She is simple", says Romboer.
Struble continues with her recounts of "haters" from her past as Romboer continues to work on a long fishtail braid.
Struble is a devout Christian and self-proclaimed follower of Christ. She was ridiculed in her High School days for being a "contradiction" and still receives a negative backlash for being a teen mom who loves Jesus.
"People can't understand how I can go on living because I had sex before marriage and that I'm a teen mom. It seems strange to people how I can go on living and not feel so guilty because I had sex before marriage, especially since that's what I'm against", she says.
Struble explains that she doesn't drink or smoke, but that wasn't always the case. She claims to have had a rebellious phase, but discovering she was pregnant at 16 was a blessing.
"It was a rude awakening that was much needed. Kylie is my biggest motivator", she says.
While most teens would crack under the pressure of having a baby at 16 and losing most of her friends, Struble is the opposite. She graduated High School a year early to focus on her pregnancy and handles her life with a sense of experienced calm-maturity.
"I wasn't thinking about the amount of friends I was losing. I was thinking about what crib I was going to buy for Kylie what job I was going to get. That's why fashion blogging has been awesome, I get money to do sponsored posts and I can do everything from home. It's been amazing that I can make money and support my daughter", she says.
Struble lives at home with a full house to help her with Kylie when she is busy at fashion events, photo-shoots, and working on her blog. She says her sisters and parents were always supportive of her despite being a religious Christian family.
"They always believed, 'Hate the sin not the sinner'", she explains, as she gets ready for her first look of the day.
She has a natural talent and connection with a camera, both in front of and behind the lens. She even dresses Kylie up in her favorite princess dress and models with her in the backyard tea party play-set.
Struble says she is not getting paid to be in the Belgium fashion look-book, but it's a good way to build her modeling portfolio and obliged.
The Future
On the eve of her departure to New York City, Struble is a bit more frazzled than usual. She sits in a leather skirt and sweater in her messy bedroom as she plans each outfit she will wear for the next couple of days. She continues to check her iPad to make sure she has each outfit coordinated with the events she is set to attend.
She is being flown out in an all expense paid trip (except the last night, she will bunk with a friend) where she will watch the BCBG Max Azaria and Herve Leger runway shows, host a styling suite with other "famous" fashion bloggers sponsored by Lulus.Com, and attempt to soak in the hustle and bustle of NYC for the first time.
As her daughter wakes up, Struble is paranoid about the brisk New York weather and if she under-packed. She is unfazed about attending the prestigious shows and meeting fashion executives, but instead focuses her attention on editing a few photos for the blog before she leaves.
"I get asked a lot to take pictures of my closet, so I want to do this blog-post before I leave", she says.
In an industry and city like Los Angeles where there are thousands of girls trying to be as innovative and successful as you are, Struble emphasizes the importance of original content and hard-work. Perhaps it more than her hard work that has allowed her shine among the competition.
"I've heard stories about girls under management and they're managers ask too much and another girl will accept a job for less. It makes me sad. I would be happy if my friends got something that I didn't and I could go along and watch! I can still make contacts I don't need to be the star of the show all the time", she says with a sense of disappointment.
Although Struble isn't ready to get an agent of her own yet, many of her peers now are forced to do so. Fashion bloggers are being offered partnerships with companies and asked to sign various types of contracts and many of them find having an agent now a necessity.
"Until recently, fashion bloggers were paid with free merchandise, if they were paid at all. But that started to change as their influence grew. Now fashion bloggers are "right up there with editors in helping to mold what the consumer is going to buy", said Alexis Borgis of Next Model Management to the New York Times.
Bloggers are now a major source of advertising to brands, which find using "normal" people as opposed to celebrities, as a more effective way to reach the average American.
While major brands seek to use young, stylish, prominent fashion bloggers as their muse to sell products, bloggers worry about overexposure.
Over 11 bloggers have signed to major talent agencies, including Creative Artist Agency, which represents icons like George Clooney, according to the New York Times. Digital Brand Architects in New York is a new agency that has now signed over 50 major fashion bloggers in a short amount of time at a rate of 15% commission.
"As a blogger you receive a myriad of proposals from companies. What you avoid will define you", says Rumi Neely of FashionToast.Com to WWD.
Struble not only regards Rumi as one of her biggest fashion influences, but says that signing to an agency is a possibility in the future, but not now. This answer is not surprising considering Struble's serene approach to her hectic life and booming career.
As the sky turns to a deep orange and it is only a few hours before her departure to New York, Struble is holding Kylie in her arms and her boyfriend and family gather around a computer to watch a home video produced by her sisters. However this moment is short-lived, she looks to Peter and asks to go to the mall to pick up one last outfit before dinner.
http://www.nytimes.com/2011/09/29/fashion/fashion-bloggers-get-agents.html?pagewanted=all
http://www.wwd.com/media-news/digital/the-bloggers-who-matter-5362245?full=true
http://www.theglamourai.com
http://www.rightmixmarketing.com/right-mix-blog/blogging-statistics/
http://outofabook.blogspot.com/ (Snake's Nest)
Photos Courtesy of Fatima Rizwan and The Snakes Nest.
-Contact writer Fatima Here