National
Controversial Komen Vice President Resigns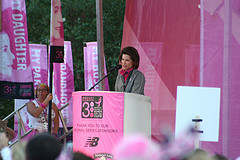 Karen Handel, a vice president at the Susan B Komen For The Cure Foundation announced Tuesday that she was stepping down after a firestorm of controversy over the group's temporary decision to defund Planned Parenthood.
Handel, who has been an outspoken opponent of abortion, was the perceived architect of Komen's move on Planned Parenthood; she ran for governor of Georgia with the pledge of defunding Planned Parenthood, which performs some abortions in nationwide family clinics they run.
In her resignation letter, Handel maintained that she was not responsible for the organization's choice.
"The decision to update our granting model was made before I joined Komen, and the controversy related to Planned Parenthood has long been a concern to the organization."
But an insider source told the Huffington Post that Handel had been pushing Komen to cut off funding to Planned Parenthood since she joined the board in 2011.
The Komen foundation was besieged by online complaints and protests last week when it announced it was going to phase out funding for breast cancer screening at Planned Parenthood. Several days later the group rescinded their decision.