Entertainment News
"Real Housewives Of Atlanta" Back In Africa
The ladies are still in South Africa wreaking havoc.
Part II of the "Real Housewives Of Atlanta" international vacation opens with the fight between Marlow and Sheree, which was all started because Sheree didn't invite Marlow to a dinner.
Nene comes to the rescue and finally ends the charade, and the ladies split up for the evening.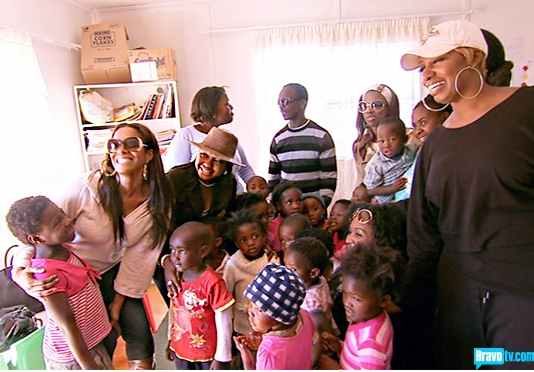 Sheree, Kandi, and Phaedra all attend the dinner at Kevin's house. Kevin turns out to be a welcoming host. There are candles on the stairs, and men playing the drums when they enter. They make their way up to the rooftop where there are men playing with fire literally. With wine in hand, the ladies take in an impressive fire show with men twirling fire sticks.
The group joins a long dinner table with people from different parts of African with diverse careers including musicians, actors, and producers.
Kandi makes a connection with an aspiring music prouder, who was also a fan of Xscape. Kandi's X-rated show, "Kandi Coated Nights," comes up at the dinner table. The handsome gentleman asks Kandi, "When women met men randomly do they have sexual fantasies? " The two flirt. He does modeling, and works part time as a bartender. He claims to be naturally funny. Kandi is turned off when she realizes he doesn't really have a job.
The other crew, Marlo, Nene and Cynthia go to dinner at Nobu.
Cynthia is not ok with Marlo going off and making rude comments at Sheree that were irrelevant to the argument.
Marlo's response: "You better Google me and check my charges." (I did, but I still think Sheree can take her).
The whole group meets up again to go out dancing in style. The night gets off to a rough start as Marlo gives Sheree the middle finger. Marlo starts making it rain in the club dropping money. Kandi and Phaedra take advantage and collect the money Marlo is just wasting.
The ladies leave Cape Town, to head to Shamwari Game Reserve, to experience safari and wildlife. The ladies all ask about reasonable accommodations such as a gym and a spa. Marlo asks for hair and makeup and demands someone to come to assist her. She must have forgotten that she isn't in a fashion show. She is on a safari.
Marlo is late for breakfast getting her hair and makeup done. Nene and Marlo are becoming close BFF, and it seems Cynthia is not really fitting in with the new duo.
Cynthia is rocking braids and acrocentric jewelry, while Marlo and Nene are rocking designer shoes and clothes.
Nene gets flowers in Africa. "Just Because-Olives" The flowers are from Nene's 'business partner.' Even if she doesn't like him, she seems to be enjoying the gifts and attention.
Marlo wears stilettos, and bedazzled glitter pants as the girls head out on the safari. The ladies see elephants, giraffes, and zebras in their natural habitat. The group is splits up in two vans--Marlo, Nene and Cynthia are once again a group. Marlo won't stop talking and even Cynthia gets annoyed.
The other group is much more serene and appreciative of the experience. Their tour guide stops and smells elephant poop. He says it is used as medicine. Phaedra says she will stick to Advil.
The next day, they make their way in a jeep to an orphanage. Young children dancing and singing greet them. When Phaedra asks if he knows anything about the United States the kids respond-"R&B!" The kids proceed to do individuals dancers that are fun and energetic. Even Marlo enjoy her self-dancing with the kids. For their first time in Africa the ladies all seem to be enjoying themselves.
The ladies head to the store to buy toiletries, and grocery items for the orphanage. Dare I say, it's actually an uplifting moment? I'll ignore the fact that Marlo is concerned with hair products, insisting on buying perms for the young girls who have afros.
They also visit an orphanage with kids who are from abusive families and some have HIV. The ladies seem genuinely happy and peaceful to play with the kids who are excited to see them. Cynthia sums it up well: "I have never seen women with so little be so happy." The ladies also donate supplies to this orphanage as well.
Phaedra is moved to tears while many of the kids want to entertain them so much. The episode ends for the first time in a long time without a fight or name-calling. Maybe seeing people with less, made the woman appreciate all that they have.
Reach reporter Tallie on her twitter.
Check Neon Tommy every week for Tallie's "Real Housewives Of Atlanta" recaps