Politics
Analysis: Romney Wins, Nothing Changes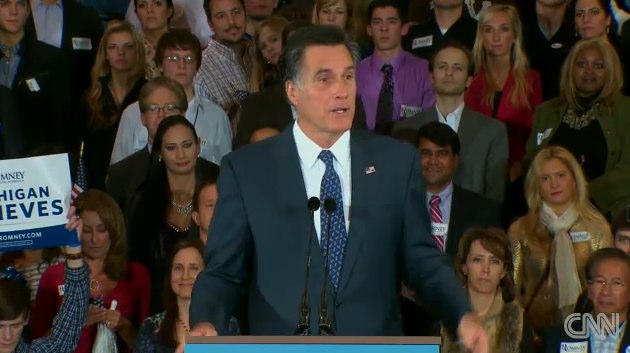 Mitt Romney's margin in Arizona was resounding and expected.
His victory in Michigan was a squeaker and, given that it was his native-son state, there was no other noble option.
So, the perceived front runner closed off an embarrassing February with the victories that he absolutely needed to have.
Why do matters yet feel so undecided?
From a delegate count Romney had a good night, picking up 29 votes from winner-takes-all Arizona. Michigan, which awards delegates by county, more-or-less broke even.
A closer inspection of the exit polls reveals the schisms in the Republican party that Romney can't seem to bridge.
He was strongest among voters whose top priority was beating President Obama in November. That comprised a third of Michigan voters and Romney took the majority of them. He also won the bigger share of Republicans who said the economy was the top issue.
This was old stuff. So was the fact that Romney's conservative credentials are still a major vulnerability. He lost the voters in Michigan who identified as being "very conservative" and he also performed poorly with Tea Party voters and evangelicals.
How far, then, has he really come, to win in a state that gave him a smaller margin than he had four years ago, and when spent oh-so-much more money than the competition?
As much as the media, themselves more than a little bored by this enervating GOP primary, will try to run the narrative of a Romney campaign finally coming in to place, his victory in Michigan was weak and unresolved.
Both he and Rick Santorum ran cringe-worthy campaigns in a vital state for the general election. Romney remains unable to discuss his wealth in a way that makes people outside the gentry like him.
Santorum's gambit to call Obama a "snob" for encouraging Americans to go to college was an incredibly uneducate---was strikingly ignora---was just dumb as hell. (He did take a majority of voters who described their education as "didn't attend college; give credit when credit is due.)
GOP leaders must have hoped that this many states into the primary, thir frontrunners would have settled into a rhythm. Be a solid, road-worn band that pleases the label and cranks out the hits, with local flourishes thrown in to endear a wanting audience.
Instead, the candidates all look like opening acts to a headliner that isn't going to show.
Super Tuesday next week has a wide berth of Republican electorate and lurking in the Southern states is a readied Newt Gingrich. The two biggest prizes for next week's primary are Georgia and Ohio where Gingrich and Santorum lead respectively.
Maybe the manufactured glow from Tuesday's victory will create the critical mass for the voters to start falling in line for Romney. But in a primary that has had decisive victories for three of the top four candidates, that would be a total change in course.
If Romney really is the person voted most likely to beat Obama, next week would be a nice time to show it. Convincingly.
---
Reach Tom Dotan here