Entertainment News
"Real Housewives Of Atlanta" Final Days In South Africa
Talls vs. Smalls
The ladies of Bravo's "The Real Housewives of Atlanta" are still in South Africa. At the end of the last Sunday's episode the ladies had bonded over helping the kids at the orphanage. At another meal Phaedra, acknowledges what a wonderful life they all lead. They toast to unity, but the harmony is short lived.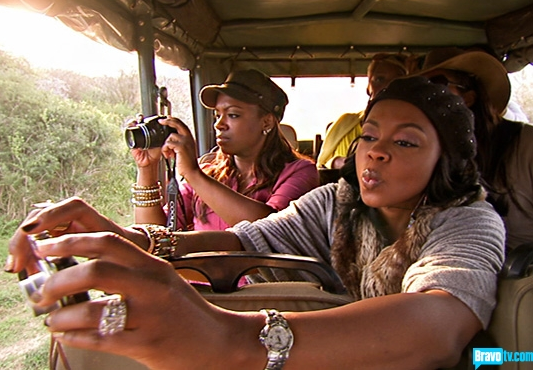 Next up the ladies experience a museum in the eastern cape that celebrate the Xhosa heritage. At the museum they visit with an herbalist who also doubles as essentially a psychic.
He throws 'bones from the ancestors', which are actually just dice and shells. He tells Kandi that she is going to get married to a guy soon. Once Kandi reveals the past guy she lived with died, the 'medicine man' says the guy is always with Kandi.
He tells Marlo that she has not found a real man that loves her. He tells Sheree that she is not going to get married anymore because she is too old. (Ouch) He tells Nene that she is not happy, but that her husband is a good man and the right one. He tells Cynthia that she is happily married. Phaedra refuses to participate. Whether or not the herbalist has powers with his bones, the ladies seem a bit shaken up by his words.
Marlo and Nene show off their living quarters aka Marlo's showroom. Marlo lays out all her expensive shoes and purses. They are of course all designer. Sheree counts 29 pairs of shoes in total that Marlo has brought on the trip. The ladies drink it up and chat about men and sex. They seem to be getting along. I won't go into detail about their favorite sexual positions. Marlo and Kandi seem to bond in their openness about this. Maybe they should only talk about sex and drink wine and everyone will be friends.
Kandi breaks the ice and asks Marlo why she is always talking so much about designer fashion. Nene stands up for her newfound BFF. Marlo proclaims (yells) her love for fashion and designers.
In dramatic fashion, Marlo gets sick with nausea. Nene stays behind to nurse her BFF. The rest of the women seem happy to have a peaceful safari trip. Cynthia and "the smalls" (Kandi, Sheree, and Phaedra) bond easily on this outing. The women are so into their gossip they miss out on the beauty surrounding them. Cynthia admits that Marlo's constant references to designer clothing are annoying. At some point Kim comes up. Cynthia says she can't picture Kim on the orphanage. Kandi admits that visual is hard to see Kim coming to South Africa at all.
The ladies gather for a brunch in the middle of the wilderness and Nene comes to crash the meal. Kandi immediately grills Nene on Marlo. Cynthia sides with Nene, and says she has no problem with Marlo. Cynthia flip-flops when Nene arrives. One minute she complains about Marlo, the next once Nene is there she loves Marlo. At some point the women are grouped by height. I'll explain. It's the smalls versus the talls. Kandi claims Nene is the leader of the talls, and Nene claims Kim is the leader of the smalls.
It's clear this battle has only just begun. Back at their hotel the 'smalls' call Kim to catch up. Kim is especially amused that Marlo is on the trip as well. Sheree stirs up more tension. Sheree tells Kim that Kandi didn't think Kim would ever go to the orphanage in South Africa. Kim maintains she only didn't go because her son is only two months old.
The women including Marlo head out for dinner. They rock traditional African clothing and face decorations. Kandi is not ok with just having a nice dinner, so she brings up the issue with Sheree. The back and forth 'she said' begins. Nene brings up once again that Kim is their "boss." Kandi is completed heated arguing that she is a boss and not a follower. Nene makes her point that it's the same way people treat Cynthia. They are separate people. Marlo pipes in that her labels are her fashion.
Kandi already on edge breaks down how most people feel about Marlo ---she is obnoxious, and brags about her labels. Finally someone speaks the truth about Marlo! Too bad no one backs up Kandi.
So much for harmony, they tried.
Reach Housewives Lover and reporter Tallie J here.
Check Neon Tommy every week for Tallie's reviews of the Atlanta Housewives.