California
Young Adults Pitching Energy Conservation Can't Find Jobs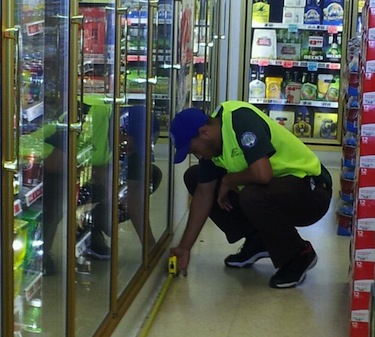 The California Conservation Corps environmental training program carries out portions of the 2009 federal stimulus package relating to the state's sustainability efforts, but corps leaders say that the "green" job opportunities are hard to find.
"The job market is not drawing people in, it's setting a ceiling," said Margaret Moilov, district analyst for the California Conservation Corps. "We have an abundance of people ready to go, but not enough jobs for people to go to."
While not all corpsmembers continue working in the environmental conservation industry, only five of the 129 corpsmembers trained since October 2010 have been hired to work in the green workforce, said Scott Linton, programs manager for EnergySmart.
"The industry is still in a rut," he said. Though CEOs know corps graduates are "system thinkers," funds are "dry," making it difficult to embark on new projects.
"Because of the fact that our economy is so poor, it's really putting a damper on the industry growth," said Moilov.
The CCC's Core Training Program teaches at-risk young adults between the ages of 18 and 25 to be proactive in California's environmental projects, like stream restoration and re-landscaping for water efficiency.
Each young adult goes through a year-long training program, showing them how to become "good citizens through community engagement," said William R. Brumfield Jr., CCC training program supervisor.
Brumfield, who has worked with the CCC for over 18 years, has seen "young adults who are enthusiastic about energy efficiency" communicate with business representatives to impart tips on how to make their corporation sustainable and cost-efficient.
"We're giving [companies] the chance to get free incentives," said 21-year-old Antonio Gatica, special corpsmember.
Gatica has spent three years with the CCC and graduated from the Core Training Program. Now, he holds a leadership role in the CCC's effort to encourage businesses to be more environmentally conscious.
Gatica is one of the leaders in the EnergySmart Jobs program—a CCC project just six months underway that encourages companies to become more energy-efficient. He speaks face-to-face with business owners to offer an "energy upgrade" that helps businesses save money.
ESJ conducts upgrades such as changing business's light bulbs from fluorescent to LED and installing sensors that conserve up to 20 percent of energy (in kilowatts) per year, said Brumfield.
As soon as business owners understand that corpsmembers are eager to evaluate and improve business's energy efficiency, they say "yes, yes, yes, come in," said Gatica. And that is when Gatica and his coworkers educate people on the importance of saving energy.
President Barack Obama's American Recovery and Reinvestment Act of 2009 funds many of California's environmental programs through its State Energy-Efficient Appliance Rebate, also known as "cash for appliances" program.
The ARRA distributed more than $35 million to California energy-conservation projects, according to the U.S. Department of Energy—about 11 percent of the $300 million distributed to states across the nation.
The ARRA fully covers the cost of running the EnergySmart Jobs program.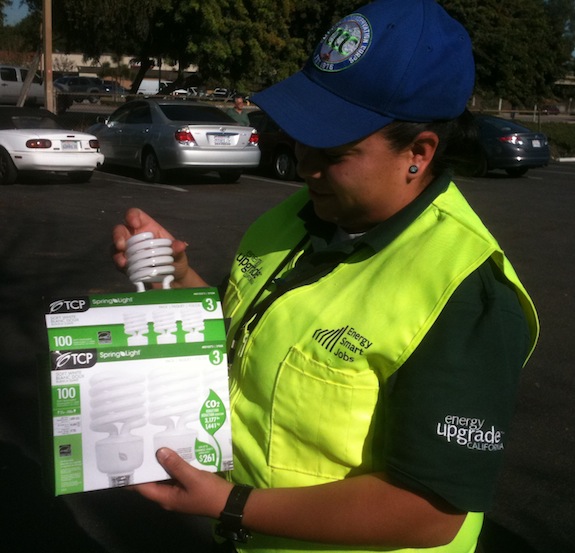 The California Appliance Rebates encourage home and business owners to use energy-efficient products. The CCC's EnergySmart Jobs program evaluates the sustainability of the company and suggests alternative equipment to save the most energy possible.
But some CCC employees are not yet satisfied with the progress of the green industry, especially since those being trained are not finding many opportunities for environmental jobs.
"In order for the stimulus to work," Linton said, "all parts of the engine have to be moving along."
Twenty-two year-old Martin Garcia Jr. is climbing the ranks of the CCC training program as a way to further impact the green industry and to avoid applying to other environmental businesses.
Currently a crew leader for the ESJ project, Garcia aspires to be a CCC supervisor, like Brumfield, so trainees can learn from him and be better than him, he said.
Garcia has spoken to corporate managers at large businesses like Walmart and Albertsons where he explained that the ESJ project intends to help companies go green without hurting them financially.
Twenty-six year-old Anguelica Torres, CCC crew leader, has been with the corps for three years, shadowing companies to learn the weatherization process and working toward her high school diploma.
"They always say take advantage of the seas," Torres said.
The CCC training program not only teaches environmental skills, but also enables its corpsmembers to earn their high school diploma or scholarship money for college.
Of the corpsmembers willing to be interviewed, many intend to stay within the CCC hierarchy continuing their work in the environmental business, since opportunities of jobs are slim right now.
Moilov predicts that that the green industry will pick up again in about five years. And in 25 years, she said America will be "entrenched in new energy sources and new technologies."
Reach Sarah here.
Best way to find more great content from Neon Tommy?
Or join our email list below to enjoy Neon Tommy News Alerts.