Thousands In Tahir Square On Revolution Anniversary
It was one year ago today that an uprising in Egypt -- which would oust Hosni Mubarak -- began, and to mark the one-year anniversary, thousands are again gathering in Tahir Square.
The number of people in Tahir Square is expected to reach tens of thousands later Wednesday, according to the BBC.
From CNN: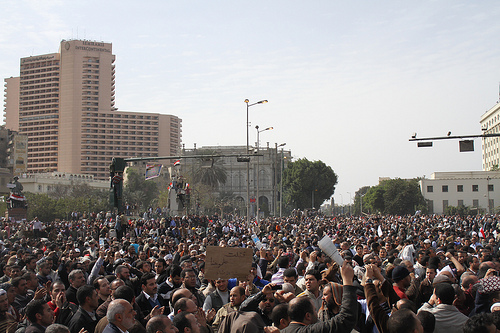 "The mood among the crowd in the square was somber and tense, not celebratory, amid fears that violence could break out later in the day between protesters and the military.
People in the square held banners and chanted against the country's military leaders. Large stages and dozens of tents had been set up amid cold temperatures."
The Egyptian protests a year ago led to a swift removal of Mubarak from power. Just one week into the uprising, Mubarak announced that he would not seek re-election in September 2011. Ten days later, he resigned and the military took control of the country.
Mubarak is currently on trial.