Entertainment News
Sundance Film Festival: Live Blog From Park City
Kelly Williams, a senior at the University of Southern California studying print and digital journalism and cinematic arts, is at the 2012 Sundance Film Festival in Park City, Utah.
Check back daily as Kelly shares with Neon Tommy the sights, sounds and stars at this year's festival January 19-29.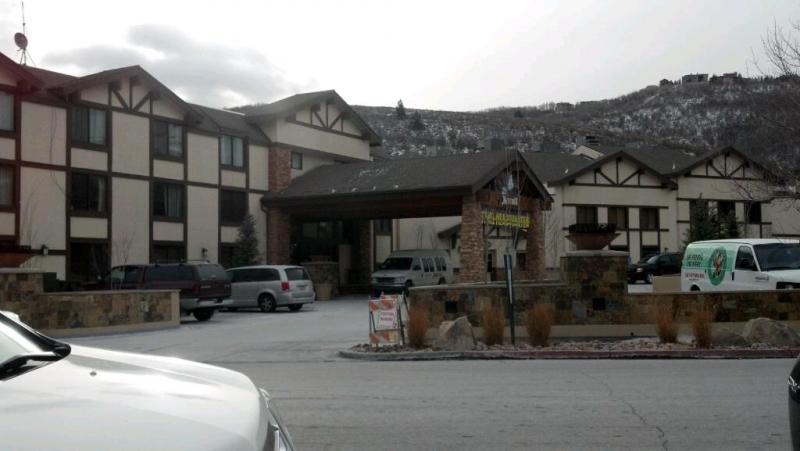 Arrival Day, Tuesday January 17
I thought an unfortunate series of events in the morning would be a sign of the festival, but luckily day one turned out well. My shuttle to Los Angeles International Airport came 20 minutes late stressing me out and I had the unfortunate luck of sitting next to a passenger who got sick in the van. I finally made it through security on time and boarded to Salt Lake City.
The day was sunny, clear, and gorgeous with a bright blue sky. The view of Salt Lake was unbelievable. The city reminds me of a giant small town bathed in a haze of salt air. The ride to Park City was stunning with views of the ski resorts and mountains. Luckily this shuttle only had one other passenger, a lovely Australian man looking to enjoy some great skiing.
Once I arrived in Park City, I dropped my stuff off at my condo, met up with my roommates and headed to festival headquarters where I checked in as a volunteer and picked up a great Kenneth Cole jacket, scarf, gloves, information and a water bottle. The Park City Marriott is a volunteer oasis and information Mecca. I'll be working there tomorrow, training for my shifts in the Sundance industry office.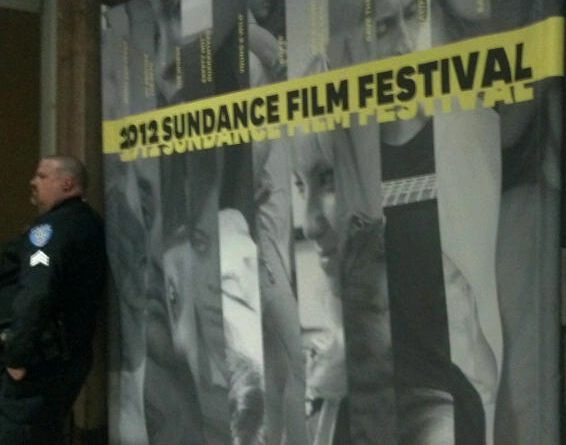 After checking in I stopped by a great local sushi grill where we were treated to great local Utah brewery beers and fresh sushi before the mad rush of the festival. Park City is quiet now but it's the calm before that storm, literally. Much needed snow is expected in town tomorrow and festivalgoers and filmmakers alike will face it.

After dinner I had to stop at the local Wal-Mart to stock up on goods for the next 10 days. We're definitely not in Kansas anymore. Liquor sales in the state are controlled by the government and magazines by the checkout like "Cosmopolitan" are covered up where words like sex appear on newsstands.

All is quiet and well in Park City for now. Off to bed for training early tomorrow. I'll be preparing for the people headed my way!

Wednesday January 18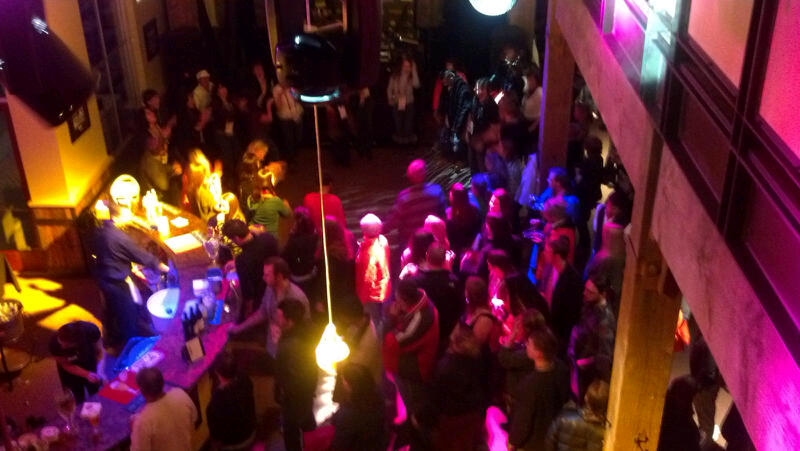 9 A.M. PST- Just arrived in Park City for the day because I thought I had training from 9:30-1:30 but it turns out I have it from 3:30-4:30 then 7-8 pm and then we have a volunteer party tonight! So now I'm stuck here just exploring until I can get a ride back to my condo! I was able to see The Prospector Theater in Park City.
3 p.m. PST- I've got my credentials! Ready to start working bright and early tomorrow. The wind picked up and it's started snowing here in Park City. Time to bust out the down jacket.
9 p.m. PST- The Volunteer Party has begun!
10:40 p.m. PST- After getting caught in the snow and walking a few miles to orientation, I finally made it to the Eccles theater. I met a lot of new friends at the volunteer party. Plus, I got free Grey Goose drinks. Thank you sponsors!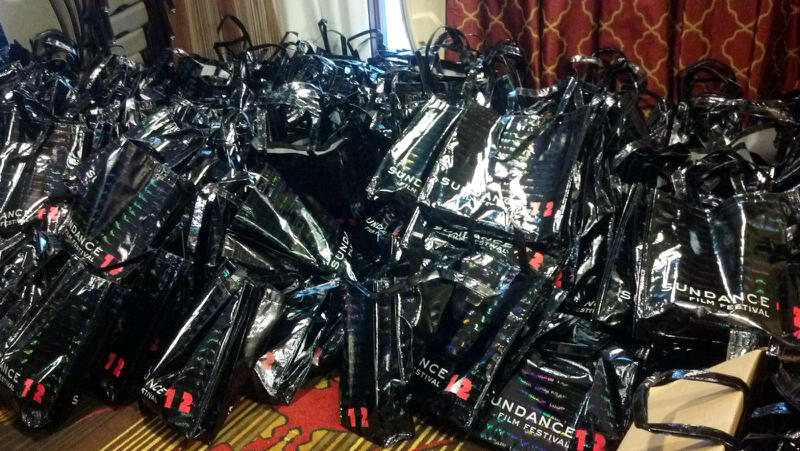 Thursday January 19
8 a.m. PST- We got a dusting of snow last night so everything looks beautiful. I just got to work at headquarters! I'll be in the Sundance industry office handling gift bags for industry members. The SIO office as it's known provides valuable information and meeting space for members of the industry to converge and converse on all things Sundance. Luckily, my position is inisde in the warm headquarters. I've just handed out my first gift bag (picture to the left) and had a lovely chat with my first patron! A big thank you to our sponsors who are instrumnetal in supporting and providing for Sundance!
8:30 a.m. PST- My job enables me to help out those who are members of the industry. I've already had the opportunities to speak with industry members from all over the world!
5 p.m. PST- I had a great first day working at the SIO office. I was able to help industry members with their badges and gift bags. I met great industry insiders who will have great things coming from the festival like the producer of "The Comedy" and Kenneth Turan, the Los Angeles Times movie critic. A lot of buyers are here, but this year will prove interesting as Hollywood tightens the wallet with the economy. A few films have pre-sold amidst the Sundance buzz including a documentary headed to HBO, but none of the premieres are sold as of day one.
I'm currently at the volunteer hub preparing to fit in two screenings tonight: the much anticipated "Queen of Versailles" and the documentary "Ethel." Hopefully I'll get in and have some recaps and celebrity sightings! Things on Main Street are getting packed despite nothing really being open yet. The blow up of video on demand sales and new formats should make for an interesting market. The next "Kids are Alright" might be here! Other big screenings of note are "Liberal Arts" with Elizabeth Olson and Spike Lee's film "Red Hook Summer."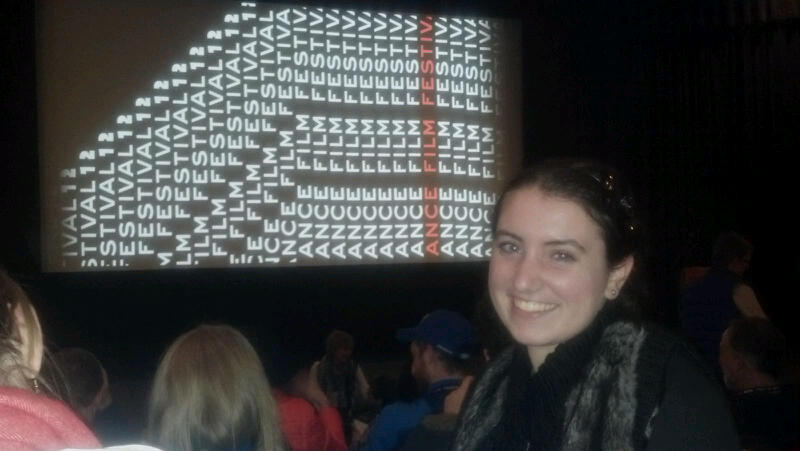 5:45 p.m. PST- Waiting in line now for a 7 p.m. screening of "Ethel." My experience in Cannes and film festivals is key. Regardless of your position, you must arrive at a screening an hour early to get in at Sundance. Film festivals are the ultimate endurance test, but prior planning (all of yesterday for me) makes one's experience more fulfilling and productive. I doubt I'll be able to make everything I want to see but seeing the unexpected and having multiple backup plans is essential. Waiting in line is the perfect time to catch up on my favorite trade publications including Variety and The Hollywood Reporter to help learn the buzz and more about up and coming events. My experience of camping out three days for the Royal Wedding in London makes these lines a piece of cake.
6 p.m. PST- Made it into the "Ethel" screening! The theater is almost full.
8:15 p.m. PST- Don't have much time to review just yet but "Ethel" was great! I'm now watching Kenneth Cole honor volunteers and present the Gayle Stevens Award. He is the designer for our gear and a huge supporter of Sundance.
Reach writer Kelly Williams here
Best way to find more great content from Neon Tommy?
---
Or join our email list below to enjoy the weekly Neon Tommy News Highlights.