Los Angeles and Region
New $400 Million Federal Courthouse Planned For Downtown L.A.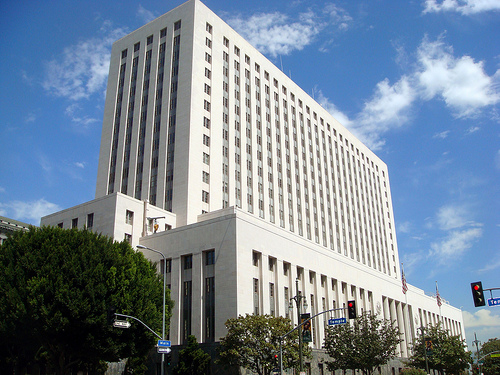 Federal officials announced Thursday that plans for a new $400 million dollar federal courthouse in downtown Los Angeles would finally be moving forward.
U.S. Senator Barbara Boxer said in a press release, "The new federal courthouse will address security concerns to ensure the safety of the public and court employees, enable the U.S. District Court for the Central District of California to operate more efficiently and create jobs in Los Angeles."
The old building at 312 North Spring St., which had security issues as well as asbestos problems, will be replaced by a new 600,000 gross square feet courthouse, including 110 inside parking spaces, according to a letter that the General Services Administration sent out to members of Congress.
According to GSA, the Spring Street Courthouse, primarily due to its age and physical limitations, does not meet the current security requirements for the Judiciary and the U.S. Marshals Service and found that it would be cost prohibitive to bring that courthouse up to the current security requirements.
The construction of the new courthouse is scheduled to begin in the 1st quarter of 2013 and will be completed in 2016, said a spokesman for Mayor Antonio Villaraigosa.
"Finally, this significant federal project will create thousands of much-needed construction jobs over the five-year project,'' Villaraigosa said in a press release. "At a time when unemployment remains high, a project of this magnitude is a welcome stimulus to our economy.''
The construction of the new federal courthouse will create roughly 10,220 jobs, according to a GSA spokeswoman.
After the new courthouse is completed, GSA will conduct a study to determine the best way to utilize the original courthouse for either housing other federal executive agencies or the disposal of the building.
The U.S. District Court's operations and proceedings will be conducted in the new courthouse, while the U.S. Magistrate Court and U.S. Bankruptcy Court will be consolidated into the Roybal Federal Building and U.S. Courthouse.
The original U.S. courthouse was built in 1940 with 17 stories, having been the the largest federal building in the western United States at the time of its completion, according to GSA.
The courthouse has held several notable court cases, including paternity cases against Clark Gable and Charlie Chaplin in the 1940s and later in 1973, the federal government case against Daniel Ellsberg for leaking the "Pentagon Papers."
-----------
Reach reporter Tricia Tongco here and follow her on Twitter.
Best way to find more great content from Neon Tommy?
Or join our email list below to enjoy Neon Tommy News Alerts.