Art and Design
Artists Occupy the Parking Space at Pacific Standard Time Festival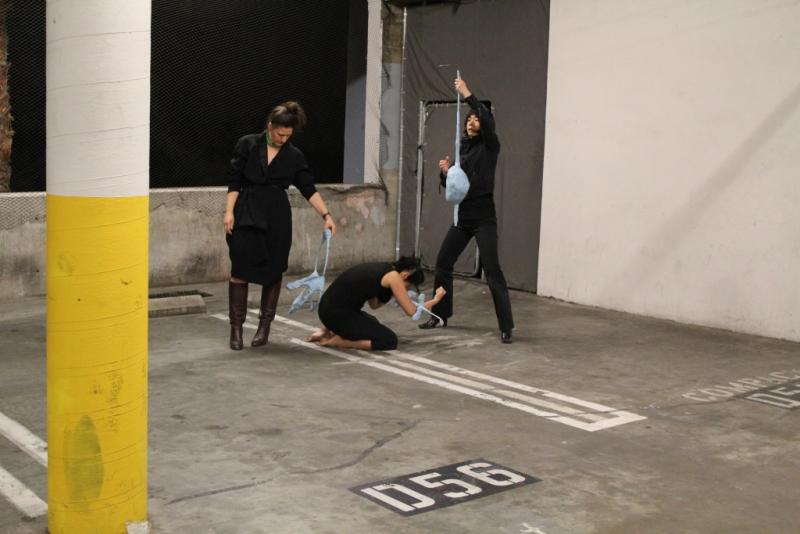 Some people feel really uncomfortable in parking lots. Some even get anxious until the doors of the elevator are safely shut. If you are one of those people, enter the parking lot of The Standard any night of this week, and the same emotions will strike you like the blinding headlights of a car.
The boutique-style hotel, known for setting the standard for hip hotels in Hollywood, collaborated with LA><ART presented the third iteration of Art in the Parking Space for the Pacific Standard Time Performance and Public Art Festival.
The minds behind the exhibition, artists Warren Neidich and Elena Bajo, organized a group of locally recognized Los Angeles-based artists, alongside a band of internationally-known ones, in order to produce a dynamic social sculpture that invokes the anarchy and provocative essence of LA street culture.
The parking garage represents a site of unlimited temporal potential, where multiple times and spaces collide. One of the art works, Krysten Cunningham's multi-dimensional, silent performance 3' to 4', showed sculpture being activated by a dance-theatre performance, captivating audiences and forcing them to reflect inside their own personal universes. In another part of the lot, Gracie DeVito with her peers from CalArts used art, action and music to perform the musical Coolidge Night One on her SUV, as homage to some Hollywood themes they saw in movies. They received laughs, hoots, shrieks, and (literally) fireworks from the audience. Tova Carlin, Ania Diakoff and Katerina Llanes created Sub-Standard, an entire faux room of the hotel above for re-enacting social relations, as a sort of parasitical, site-specific response to the prompt of being in a parking lot. "Part of it relates to the Occupy Movement – the act of occupying public space that isn't usually used like this," Carlin said. Other art works such as Mathilde Rosier and Mathilde Ter Heyne's use of a parking space to create a sacred space with just a cushion, a letter and fragrance crept into the spectator's mind through entirely different channels and senses.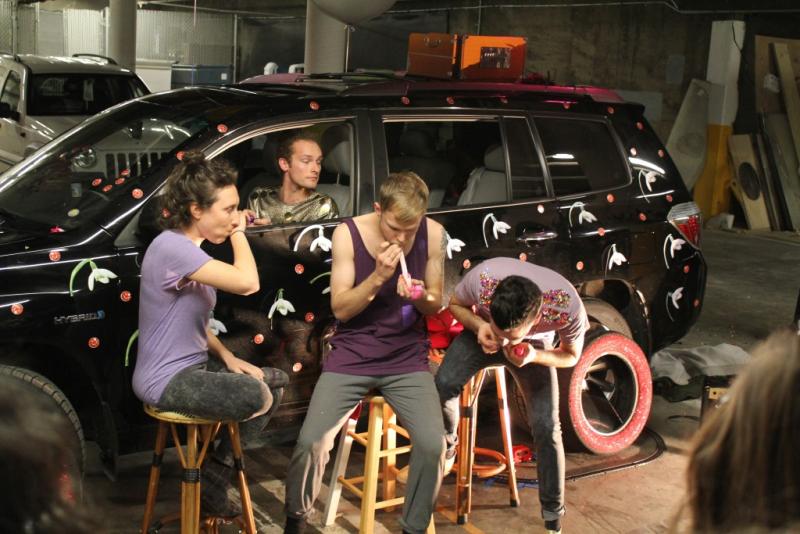 Yet, all this multiplicity worked in harmony. A lot of the artists valued the need for community and collaborating with their friends. This harmony could best be appreciated in the Japanese raking ceremony Sydney Cooper was performing on a bed of glass beads poured onto a parking space with the help of head-lights from a car parked in front. Cars and lights were used strategically throughout to help connect each piece to another.
The audience more than happy to be engaged with the art too. It's most important contribution was definitely when it was asked to set the 'world record of the maximum number of people who can fill a single parking space'. Every spectator had a good review of the shows. "It was very illuminating, very exciting, watching the different ways that [Cunningham] was exploring space," a woman said of 3' to 4', "I think the exhibition is great. It's just perfect."
The Public Standard Time Festival will feature over 30 major performances and large-scale outdoor projects over the course of the week.
Reach reporter Raunak Khosla here.
Best way to find more great content from Neon Tommy?
---
Or join our email list below to enjoy Neon Tommy News Alerts.