Arts+Culture
Controversial Palestinian Art Exhibit Arrives In L.A.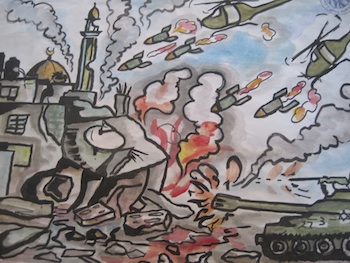 "A Child's View in Gaza", a traveling art exhibit, opened to the public at the Levantine Cultural Center in Los Angeles on Jan. 17, and will continue to be on display until mid-February.
Last fall, the exhibit, which featured the artwork of Palestinian children living in the Gaza strip, was slated to debut at the Children's Museum of Art in Oakland. The drawings, rendered in crayon, watercolor paints and pencil, were the product of a therapy program designed to help the children heal from the trauma and loss they experienced after the three-week Israeli bombing campaign of the Gaza Strip, also known as Operation Cast Lead.
Just before the artwork was scheduled to be put on display, the museum's Board of Directors canceled the show. They cited pressure from local Jewish groups, though a museum board member told the San Francisco Gate that the decision was "not political."
In a statement released by Chairman Hilmon Sorey, the museum contended that the artwork was too graphic, though an earlier exhibit of similar art by Iraqi children had not received the same treatment.

"Our aim, as with all exhibits, is to foster insight and understanding," Sorey said in the statement. "However, upon further review and engagement with the community, it became clear that this exhibit was not appropriate for an open gallery accessible by all children."

What does the censored art look like? When asked to draw the images of their everyday lives, Palestinian children from ages 8 to 14 depicted themselves surrounded by tanks and guns, fire and smoke.

One drawing, in bright crayon, portrays an Israeli soldier aiming his gun at the figure of a young boy cowering in the corner of his room. Another features a young girl behind bars, a bandage over her left eye, crying red tears. In their artwork, all the children displayed a disturbingly accurate knowledge of war machinery, labeling "F-16s" correctly and drawing tanks with precise detail.
Jordan Elgrably, co-founder of the Levantine Cultural Center, helped bring the show to Los Angeles.
"We feel like the arts have to be provocative," Elgrably said. "If it's not provocative, it won't shake us from our routine, our lethargy."
Elgrably said he believes that Jewish groups who called for the cancellation of the exhibit were misguided.
"They believe that being patriotic to Israel is an important part of the Jewish identity," Elgrably said.
Last Saturday, he hosted a reception for the show at the Hollywood Woman's Club where he discussed the artwork with a panel of pro-Palestinian activists. Elgrably, an Arab Jew, addressed the Star of David motif present in almost all the artwork.
"[It's] on everything from tanks to F-16s," Elgrably said. "[The Star of David] is associated with this brutality... that's unfair to the Jewish community because in Gaza it's seen as a sign of oppression when a lot of us in America are against it."
Kristen Ess Schurr, a representative from CodePink, spoke about her own experiences in Gaza as a journalist and voiced her support of the exhibit.
"It's crazy to me that it takes this much effort to put up a few drawings by children without being torn down," Schurr said. "When I look at these images here on the wall, I recognize every single one of these. I saw these things too."
Elgrably said represents voices of the Palestinian-Israeli conflict that don't get to be heard very often.
"This is about narrative," he said, "and whose narrative gets to be told. Palestinians' narrative don't get to be told."


------------
Reach staff reporter Tasbeeh Herwees here.