Los Angeles
Occupy L.A. Targets Home Auctions, Banks In Anti-Foreclosure March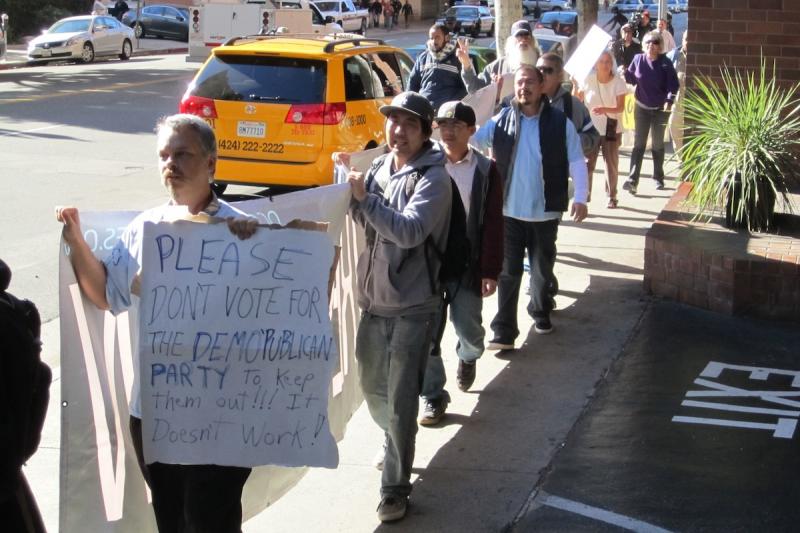 Occupy Los Angeles organizers said they wanted Friday the 13th to be an unlucky one for auction companies and banks they claim are profiting off foreclosed homes through corrupt methods.
The group planned a downtown demonstration, marching to show support for foreclosure victims Faith Parker of South L.A., and Bertha Herrera of Van Nuys. The two women have become the faces of a movement attempting to spread awareness of people who have lost their homes due to alleged illegal bank practices.
California is home to the second-highest foreclosure rate in the country, behind only Nevada, according to 2011 RealtyTrac figures.
Occupy L.A. organizer Carlos Marroquin said the group wants to pressure banks and politicians to impose a foreclosure moratorium. He said going through foreclosure destroyed his marriage, and that his personal problems are not much different from others who have also lost their homes.
"This is happening to every family that we come in touch with," Marroquin said. "I'm here because innocent families continue to be hurt by the banks."
Cheryl Aichele, another protest planner, said the group chose to hold the march on Friday the 13th because of its association with bad luck, particularly for the more superstitious in business.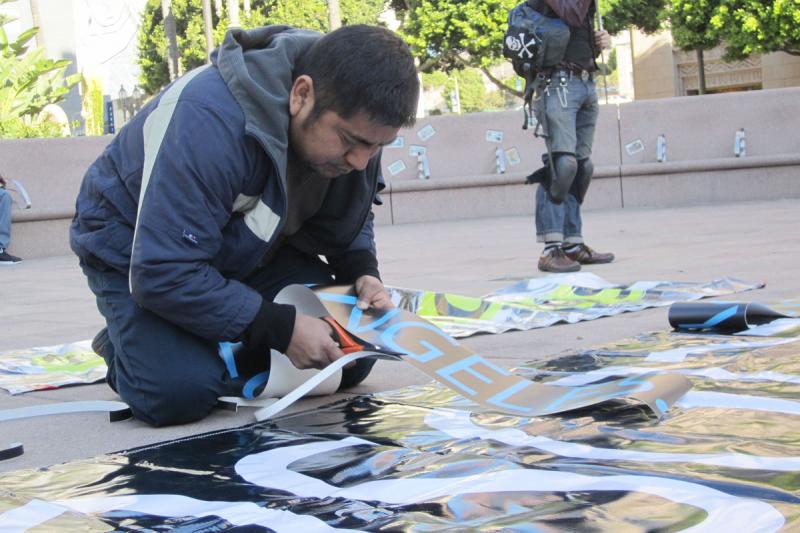 "It's pretty much connected to Wall Street," Aichele said. "There are two more Friday the 13th's this year so I think we'll do more events like this to get media attention."
About 50 demonstrators marched from Pershing Square toward the downtown Sheraton to picket on the sidewalk in front of the hotel where an auction of foreclosed homes was being conducted. Almost a dozen protesters showed up inside a hotel ballroom where the auction was taking place to heckle a crowd gathered for an Auction.com home sale.
LAPD officers escorted demonstrators away from the ballroom without making any arrests, Marroquin said.
"Most of those homes that are being sold in the auctions are homes that have been taken fraudulently by the banks," he said.
Employees at small businesses said they too are worried about foreclosure.
Protester Arturo Blas, who has worked in the smog check business for more than 20 years, said that his Mid-City based business, the West Jefferson Test Only Center, faces an uncertain future.
"We're almost at the point where we're not sure if we're going to have to close down the shop," Blas said.
The familiar "We are the 99 percent" chants, which have become synonymous with anti-Wall Street protests across the country, poured out from demonstrators as they marched from the hotel toward the Bank of New York Mellon building.
"Mellon Bank, what do you say, how many homes did you steal today," chanted protesters as they huddled in a circle outside the tower to share anecdotes about losing their homes.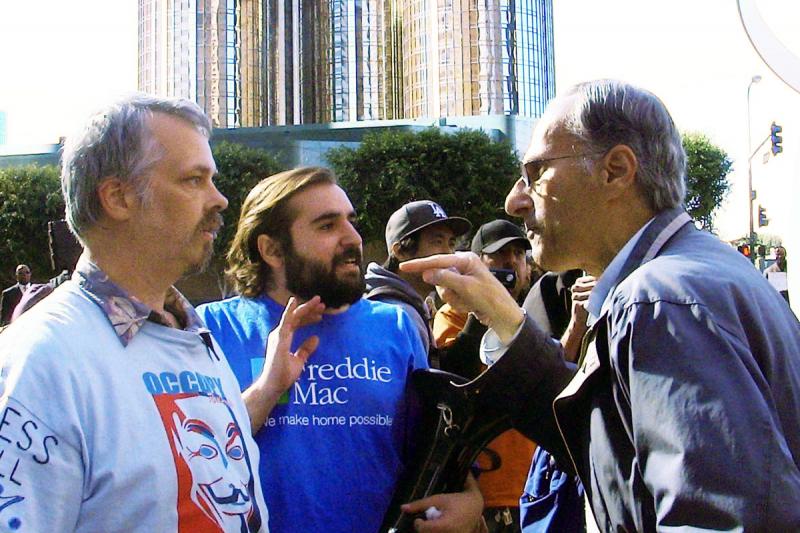 But the rally drew the ire of one frustrated customer who engaged in a spirited argument with several protesters after security denied him entry into the bank. L.A. native Domenic Pepe shouted at demonstrators and blamed them for complications such as causing the bank to close temporarily and late last year, forcing buses to cancel or re-direct routes due to Occupy protests.
"I'm being inconvenienced by the action of you people," Pepe said, pointing a finger at one of the protesters. "For the last several months, you people have been oblivious to the problems you create for ordinary people when you have your protests that shut down streets."
Aichele said Occupy L.A. has a forum for homeowners scheduled for Feb. 11 at City Hall.
"We want people from Los Angeles to come out and learn more about foreclosures and fighting them," she said.
----------
Reach contributor Danny Lee here.
Best way to find more great content from Neon Tommy?
Or join our email list below to enjoy Neon Tommy News Alerts.