National
Newt Calls Open Marriage Question "Despicable," Romney "Won't Apologize For Being Successful"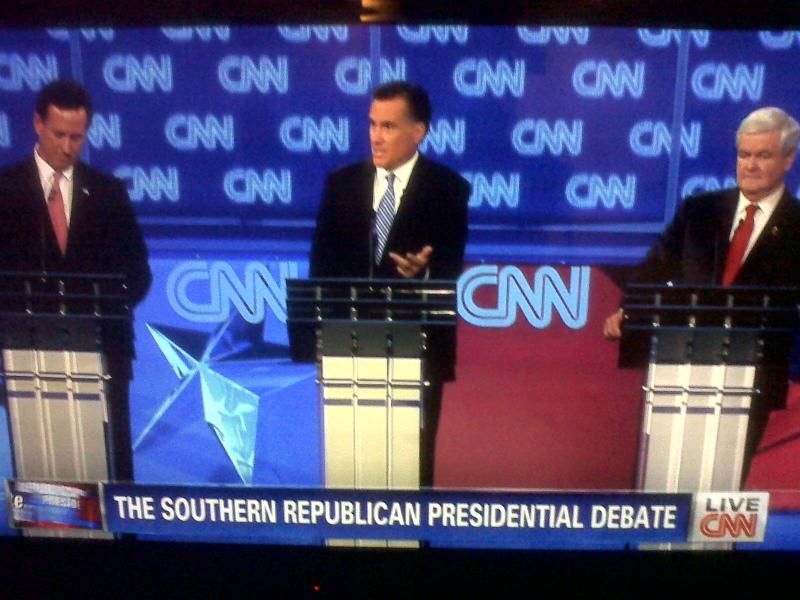 The LIVE Blog of the South Carolina GOP Debate:
Closing Remarks:
Paul: South Carolina is known for their "respect for liberty." "If you do that, it benefits everybody." He said it's about freedom, not this "mountain of debt." One of his modest proposals: Cut a trillion dollars out of the budget. Programs will go down- need to look at overseas spending.
Gingrich: Said "it is imperative to defeat Barack Obama" and that Obama is "the most dangerous president of our lifetime." He said "The American people need to send a signal that they want very dramatic, deep change in Washington."
Romney: Focused on "the pursuit of happiness." He said Obama is "changing the nature of America... changing us from an 'opportunity' society into an 'entitlement' society."
Santorum: Said he's the only one in the race who has defeated a democrat. "We need someone with a track record of winning." He compared this election to Reagan's, ending by saying simply: "Vote for me."
On Abortion:
Gingrich: Attacked "Romneycare"- that the plan would fund tax-paid abortions.
Romney: He rebuffed the attack by saying there is no mention of abortion in Romneycare. He said there is no "requirement or participation of Planned Parenthood." He said, "I am pro-life... I am an avid pro-life governor and pro-life individual." He said "this was not the time to question integrity." He also said he vetoed measures in Massachusetts that wanted to redefine when life begins, the morning-after pill, and cloning. He said, "his record is solid,"
Santorum: attacked Romney, saying "he knew the court would make him cover abortion." Santorum said he has "fought the fight to protect human life." Attacking Gingrich, he said we don't need someone "pretending" they're pro-life.
[Insert audience booing that Ron Paul's answer was almost skipped]
Paul: Reminded the moderator that he was a doctor, afterall. He said we must "correct the morality." He said "you need the government out of hospital funding."
Santorum then attacked Paul that he should be able to stand up "to any level- that it is a federal issue."
Paul called Santorum "overly sensitive." Paul said, "I see abortion as a violent act." But he said the solution is not to allow the states to write their laws.
On Illegal Immigration:
Gingrich: You have to control the border. He is prepared to get it controlled by 2014 and to increase employees along the border. He said he "favors English as the official language." He said he would regulate visas and make it easier to deport people. He would outsource fraud to Visa and Mastercard. He said there are people "who have been here 25 years, they're working, paying their bills…" He said he would suggest a WWII "Draft Style" operation in order "to prove you have genuine family ties and an American family to sponsor you…for a residency permit." On the first day he is inaugurated as president, he said he will "drop the lawsuits against Alabama and South Carolina..."
Romney: The issue is "straight-forward." "Build a fence… and you insist employers check the card before hiring someone….That would solve the problem…We're not going to deport them, but we're not going to give them a preferential pathway." "Coming here illegally should not give you an advantage," he said. He said he maintains the same position he had when he ran for president four years ago, even though Santorum questioned him about it.
Santorum: Began by saying he was the son of an immigrant. He believes that "people who want to be Americans is the infusion for this country." However, breaking the law is a different story. "If you want to be an American, the first thing you should do is respect our laws and obey our laws." For those who have been here illegally for 25 years, he said "they've been breaking the law for 25 years." He said he doesn't believe it should be treated differently.
Paul: Said he believed that the law enforcers are the ones to be held accountable for illegal immigration. He said "a lot of it has to do with economic incentives... for immigrants and for Americans." He said "we need more resources... that they're all overseas...We should take care of our needs here."
One Thing They Would Do Differently:
Gingrich: Said he would just go straight into being a "big ideas, big solutions" type candidate. He would have gone to the Internet.
Romney: "Would have worked to get 25 more votes in Iowa." (Insert audience laughter and applause) Would have taken the time he spent talking about the other guys on the stage and would have talked about President Obama. He said, "Frankly any one of [his colleagues] would be better."
Santorum: Wouldn't have changed anything. "To be in the final four is amazing" for someone with "no money." He said he did 700 town-home meetings. "Good ideas and hard work still pay off in America."
Paul: Would continue what he always does. Feels he could have worked more and learned more about delivering a message.
On SOPA:
Gingrich: "You're asking a conservative about the interests of Hollywood." He said, however, that "he favors freedom." Having the government censoring the internet strikes him as "exactly the wrong thing to do."
Romney: Said Gingrich had it absolutely right. SOPA would have a depressing impact "on one of the fastest growing industries in America." He wants to find a way to go after those who are pirating, but he says it's a mistake- "he stands for freedom."
Santorum: Said he was one of the first to sign against the law. Said Republicans have been on the wrong side of the issue. "Freedom and the constitution bring factions together."
Paul: Did not agree that there is not something that "can and should be done to protect the intellectual rights of people."
On Romney's Tax Return Issue:
Gingrich released his tax returns before the debate. According to Talking Points Memo, "he made $3,142,066 in adjusted gross income and paid $994,708 in taxes on that sum, which was good for a 31.6 percent tax rate." Gingrich said he released them so people could see "what his values are."
Santorum said his taxes are on his computer and he's not home. When he gets home, he'll get them.
Ron Paul said he'd be embarrassed to put out his own tax returns and has no intention of doing that.
Romney said he would release his in April. He knows that is what will come when the Democrats "attack" him. He only wants to have "one discussion." He said the challenge in America is that the "President plays nine rounds of golf while people are out of work." He said he "won't apologize for being successful."
Best way to find more great content from Neon Tommy?
---
Or join our email list below to enjoy Neon Tommy News Alerts.