NBA
NBA: Eastern Conference Surprises After One Month
The Eastern Conference has seen some intriguing storylines early in the season. The Pacers and 76ers have been surprisingly solid. The Celtics and Knicks, on the other hand, have fallen far short of expectations. Here's a look at why:
Defense Fuels 76ers and Pacers
Last season, the Philadelphia 76ers finished third in the Atlantic division, 15 games behind the first-place Boston Celtics. Oh, the difference a year has made.
So far, the 76ers look nothing like the team that went 41-41 a year ago. While it is true that Philadelphia has benefitted from playing 12 of its 20 games at home, the Sixers have undoubtedly improved.
Philadelphia leads the league in point differential, averaging 11.7 more points than its opponents. In 2010-11, Philadelphia's average point differential was close to even at +1.5. The team's improvement can largely be attributed to the continuity of its personnel; last year's eight leading scorers are the same as this year's top eight scorers. Defense has also been key. The 76ers have held their opponents to 87.0 points per game (tied with Chicago for a league-best) and 41.8 percent shooting.
The aging Elton Brand is playing seven fewer minutes per game, but other guys are stepping up.
For one, Lou Williams is scoring more, recording nearly 16 points per game in just 25 minutes of play. Second-year player Evan Turner has also taken a step forward, posting 10.1 points per game and 6.2 rebounds per game. As a rookie, Turner only scored 7.2 points per game to go along with 3.9 rebounds per game. With Turner now averaging double-figures, the 76ers have seven players scoring more than 10 points per game. Philadelphia's scoring, which was incredibly balanced last season, is even more balanced this time around. Spencer Hawes was contributing, both offensively and on the rebounding glass, but he is currently sidelined with a left Achilles tendon strain. He's listed as day-to-day.
Philadelphia had the luxury of playing some pretty bad teams in January, including the Wizards (three times), Pistons (twice), Hornets, Kings and Bobcats. The 76ers will be tested with a significantly tougher February schedule. Although the team has looked impressive thus far, don't be surprised if its league-leading point differential takes a drastic dive after its February games are played.
Like the 76ers, the Indiana Pacers' defense has vastly improved this season.
Indiana's defense boasts the lowest opposing field goal percentage, just beating out the 76ers, Thunder, Lakers and Celtics. After giving up more than 100 points last season, the Pacers have held opponents to 90.7 points per game. Free agent acquisition David West has seen a huge decline in his numbers, but his veteran leadership has been invaluable for the Pacers. West is the only Pacer over 28 years old to play more than 17 minutes per game. He's 31.
For Indiana, a couple of young players have begun to break out. In his third season out of Georgetown, 7-foot-2 Roy Hibbert is posting career highs in points, rebounds and field goal percentage. He's nearly averaging a double-double, averaging 14.2 points and 9.8 rebounds. Like Philadelphia's Turner, Paul George has also improved dramatically in his second professional season. George, who reportedly grew two inches over the summer, has been rewarded by coach Frank Vogel with considerably more playing time.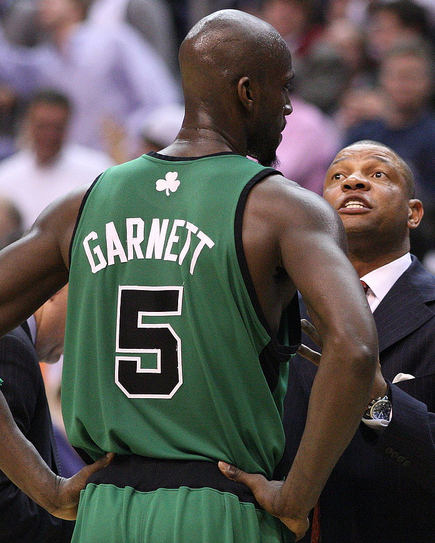 It's also interesting to note that the Pacers have been effective in tight games, winning five of six games that were determined by 5 or fewer points. Winning close games is the mark of a very good team. It also bodes well that Indiana has only played six of its 19 games at home.
Celtics and Knicks, Far From Elite
The early season hasn't been as kind to the Boston Celtics, who won 56 games last season for the third best record in the East. In contrast, Boston has won less than half of its first 19 games. Paul Pierce, Ray Allen and Rajon Rondo have all missed time due to injury (Rondo is currently listed as day-to-day with a wrist injury). Neither Pierce nor Kevin Garnett has been his usual self. In other words, The Truth has not always been accurate (as strange as that sounds) and The Big Ticket has not been selling. Here's a look at their respective performance declines:
Pierce (2010-11): 18.9 PPG, 49.7 FG% (a career-high)
Pierce (2011-12): 17.7 PPG, 41.4 FG% (his lowest shooting percentage since 2003-04)
Garnett (2010-11): 14.9 PPG, 52.8 FG%
Garnett (2011-12): 13.4 PPG, 47.8 FG% (his lowest shooting percentage since 2006-07 when he was with Minnesota)
Make no mistake: Boston will still make the playoffs and remain a tough team to beat due to its strong defense and intelligent play. With that said, it is true that the Celtics' window is briskly closing. At this point in the season, Boston is no longer an elite team. General manager Danny Ainge's candor was a little surprising, but he's probably right to look to the future – a future that may not include Garnett, Pierce or Allen much longer. Here's what Ainge said:
"(Auerbach) had a chance to trade Larry (Bird) for Chuck Person and Herb Williams and (Steve) Stipanovich, and he had a chance to trade Kevin (McHale) for Detlef Schrempf and Sam Perkins. I was like 'are you kidding?' I mean I feel that way now. If I were presented with those kind of deals for our aging veterans, it's a done deal to continue the success."
Boston has won four of its last five, including an emotional victory over the Magic, in which the Celts came back from a 27-point deficit. Although Boston has played well this week, it's hard to envision the team finishing any higher than fourth in the East. Staying healthy throughout the condensed season will be key for the aging Celtics, and that may prove to be incredibly difficult.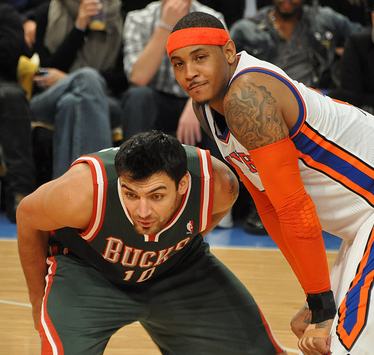 Things are even worse over in New York--something is seriously wrong with the Knicks. New York has won seven of 20 games, including just three of nine at home. It has lost nine of its last 10, with its lone win coming against the lowly Bobcats.
The Knicks are holding opponents to approximately 10 fewer points per game than last season. That's great, but that benefit is offset when one considers that they are scoring nearly 13 fewer points per game compared to a season ago. Last year's Knicks scored the second most points in the league (106.5). This year's squad scores just 93.7 per contest. There are many reasons why the Knicks are struggling so badly, but this one's a favorite. They have two of the league's most inefficient scorers this season:
Carmelo Anthony needs 20 shots per game to score 23.6 points. His field goal shooting is an abysmal 39.4 percent.
Iman Shumpert takes nearly 11.5 shots per game, but only scores 10.9 points. The rookie is shooting a gut-wrenching 36.6 percent.
Anthony and Shumpert collectively take nearly eight three-pointers per game, yet neither converts more than one-third of the time.
Interesting developments around the Eastern Conference:
The Toronto Raptors are nearly a .500 basketball team (6-7 record) when Andrea Bargnani has been healthy enough to play, but the team has lost seven of eight games without him. The former first overall pick, who is out indefinitely with a calf injury, has scored 23.5 points per game this season.
The Orlando Magic are 8-1 when Ryan Anderson scores 19 points or more. Orlando is 4 -7 when he does not.
The Magic have lost four of their last five games, averaging a miserable 78.6 points per game over that stretch, including a franchise-low 56 points last Monday.
The Detroit Pistons have won just 4 of their 21 games so far, but there is an emerging star on the team. Second-year center Greg Monroe leads his team in scoring and rebounding, posting averages of 15.8 and 9.5, respectively. This season, he's dramatically improved his free throw shooting. For a center, his 83.5 percent is impressive. Monroe has also more than doubled his assists average this season, from 1.3 to 2.8.
The Rookie of the Year and Marshon Who?
Two rookies have been especially impressive in the Eastern Conference.
As exciting as Ricky Rubio has been out West, Kyrie Irving would be this writer's pick for Rookie of the Year if the season ended today. Irving's offensive efficiency is remarkable for a first-year pro. Although his 4.8 assists average is disappointing for a point guard, it must be noted that the Cavaliers don't have very many accomplished scorers. Irving was the first overall pick. He's understandably good, but the Nets' Marshon Brooks has been much more of a pleasant surprise. Brooks was a late-first round pick, but he's already proven the doubters wrong by posting nearly 15 points per game on 46 percent shooting.
Reach Aaron by email or follow him on Twitter.