Los Angeles
L.A. Car Impoundment Policy: Matter Of Public Safety Or An Issue Of Fairness?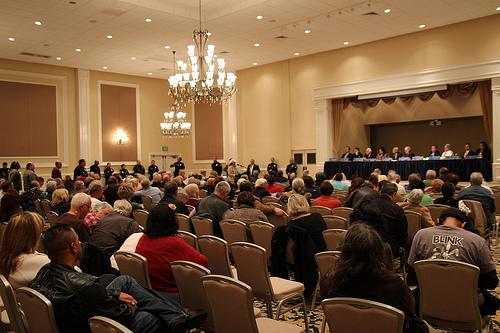 A crowd of more than 300 stood in uproar during the Tuesday's
Police Commission
meeting in Northridge.
Addressing the members of the Police Commission and city officials, a father held back his tears as he described a recent tragedy he couldn't get past.
In 2010, Don Rosenberg, 51, lost his son Drew when an unlicensed driver, who had been previously caught without a license, took to the streets again—this time with tragic results.
"His car was impounded for less than 24 hours," Rosenberg said. "He got his car out, continued to drive and killed my son."
Several others followed Rosenberg with similar stories. For these people, the matter was personal and the solution clear: An unlicensed person should not be behind the steering wheel.
Although the meeting agenda on paper stated crime statistics and community partnership programs would be the focus, everyone in attendance seemed most concerned with the proposed changes to L.A.'s car impoundment policy.
Car impoundment became a hotly debated issue when it was brought up by Police Chief Charlie Beck in early 2011 and again revisited when Beck announced last week police will soon stop enforcing 30-day seizures.
Drawing more attention to Beck's announcement was the highly publicized death of a 60-year-old woman last month who was hit by an unlicensed driver in Panorama City.
Currently, police officers follow a strict policy outlined in the California Vehicle code whereby any drivers caught driving without a license or with a revoked or suspended license are subject to vehicle seizures of up to 30 days at the oweners' expense.
Beck's changes to the policy, however, would mean those driving without a driver's license--on first offense--would be able to call upon the help of a licensed driver to take the vehicle instead of having it impounded.
Those opposed to the change say it's a matter of public safety.
"They put our citizens in danger," said Lupe, a concerned citizen at the meeting.
To date, she said, her families has been four times the victim of accidents with careless, unlicensed drivers. And in all of those incidents, her family was not compensated because the information provided by the unlicensed driver was falsified, Lupe said.
Others who are for the change in policy say the issue is much larger—one of basic human rights and fairness.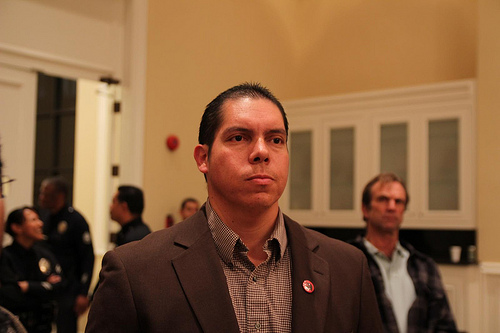 Ron Gochez, a member of the
Southern California Immigration Coalition
, says the current system unfairly targets immigrants who are not allowed to obtain a driver's license in California.
"A large sector of Los Angeles is not allowed to have a driver's license," Gochez said. "These people want to go to the DMV and take the test. They want to study the laws. But the reality of the situation is that they are not allowed."
Gochez added groups like the Southern California Immigration Coalition are not in support of dangerous drivers who have had their licenses revoked or suspended.
Instead, he said, regardless of the person, anyone driving without a license or those driving with a revoked or suspended license should face consequences.
"They're still going to get a ticket," Gochez said. "They're still going to get their cars impounded and have someone pick up their vehicle, but the punishment should fit the crime."
Public opinion in the room, however, was against any such change. Some in attendance went as far as to criticize what they called lax immigration policies nationwide.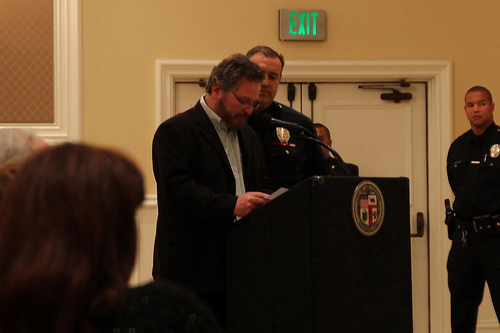 Still others, like Rosenberg, were sympathetic and agreed some illegal immigrants were being singled out. As a compromise, Rosenberg said he is not opposed to providing provisional licenses to illegal residents.
"I'm not necessarily opposed to that," Rosenberg said. "They learn the rules of the road. They get tested."
What is unfair, Rosenberg said, is trading one person's benefits for those of another.
As one after another stood in line to speak their minds on the issue, the members of the Police Commission as well as Chief Beck stayed silent. No comments were given by any officials on stage as it went against the meeting policy to speak on issues not on the official agenda.
No decision has been made by Chief Beck or the city as of yet on changes to the current policy.
Reach Staff Reporter Jacob Chung here.
Best way to find more great content from Neon Tommy?
Or join our email list below to enjoy the weekly Neon Tommy News Highlights.