Entertainment News
Kristen Wiig, Melissa McCarthy Squash Lingering Rumors Of "Bridesmaids 2"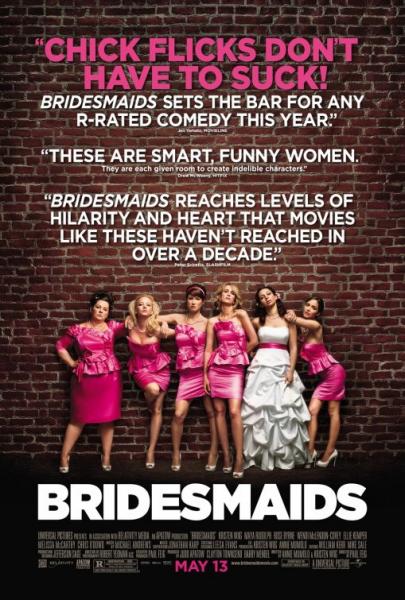 The highest-grossing Judd Apatow film to date, "Bridesmaids" is heralded as something of a
maverick
. With spots on dozens of 2011 top ten lists, the film is scooping up awards left and right for being a tightly executed raunch fest that declares once and for all that a ragtag pack of female quipsters can carry a comedy blockbuster. Perhaps most importantly, it showed audiences just how funny Melissa McCarthy defecating in a sink can be.
So naturally, the powers that be were able to see through all of that and get to the heart of "Bridesmaid's" potential; they wanted to turn it into a sequeled money-making machine.
To Hollywood's chagrin, the nays have it; co-writer and star Kristen Wiig has put the kabash on any plans to sell out and cash in. Universal seemed unfazed, with reports that they were going to go ahead with the cash cow project, this time focusing on scene-stealing McCarthy. But Wiig's band of merry pranksters stood behind the writer (along with her co-writer Annie Mumolo). McCarthy, who will next appear in Apatow's "This is 40," insisted she'd "never" be a part of a sequel without them.
It wouldn't be the first time Universal has continued with a project without the participation of the stars that were initially responsible for filling seats. The studio is in production on "Bourne Legacy," the fourth in Matt Damon's wildly successful action franchise--this time without Damon.
After snagging Best Comedy at The Critics' Choice Awards on January 12, Apatow assured Deadline that if a sequel did come about, it'd be for something other than the bank. He said there would have to be an inspired concept, since it's "not just, you know, how much money we could make? That just usually leads to 'Jaws 3D'."
But Wiig set the record straight to E! that there'd be no second romp, 3D or otherwise.
"We're not planning on doing one," Wiig said. "We had a special time making the first one, but we're really excited to try something else."
The comic queen is making good on her hopes to take on new projects. While rumors swirled that tension between Wiig and the studio had something to do with an underwhelming $100,000 bonus post-release, the "Saturday Night Live" veteran said she just wants to move in a different direction creatively.
That is, away from comedy of the stomach-churning variety, and perhaps onto an adaptation of the darkly humorous novel "Clown Girl," to which Wiig bought the rights in 2010. Wiig plans to once again cowrite the script with Mumolo, as well as direct the picture. In the meantime, fans can catch "Bridesmaids" stars Wiig, Maya Rudolph, Jon Hamm and Chris O'Dowd in the parenthood rom-com "Friends With Kids," which opens March 9th.
Reach reporter Allegra Tepper here.
Follow reporter Allegra Tepper on Twitter.
Best way to find more great content from Neon Tommy?
---
Or join our email list below to enjoy Neon Tommy News Alerts.