Sports
Joe Paterno - Career Timeline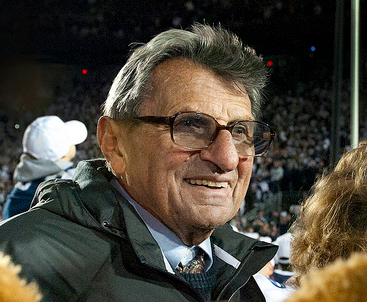 No one thought this was how the last three months of Joe Paterno's life would play out.
A man who, for most of his coaching career, was always the knight in shining armor, in the dark, corrupted world of college athletics, finished his life unemployed and with a tainted image. Despite what happened in the Jerry Sandusky case, Joe Paterno lived most of his life with dignity, honor and respect, and will still be considered one of the greatest coaches in college football history. Here are some career and life highlights:
1950 – Joins Penn State's staff as an assistant to then head coach Rip Engle
This was Paterno's first coaching job of his career. Having just graduated from Brown and playing quarterback, Paterno took up a job under Engle, who coached Penn State for a few years before Paterno's arrival.
1966 – Paterno becomes Penn State's head coach
Paterno had been with the university for 62 years before his firing, but the famed head coaching stint began in 1966 upon Engle's retirement. In his first season, Paterno coached Penn State to a 5-5 record.
1968 – Paterno records first undefeated season, wins Coach of the Year
Paterno coached five undefeated teams, and the first came in 1968 with an impressive campaign that featured a defense that allowed less than 11 points per game. The following season, he also posted an 11-0-0 record with a defense allowing 8.2 points per game.
1969 – The Pittsburgh Steelers and Michigan Wolverines offered Paterno their head coaching jobs...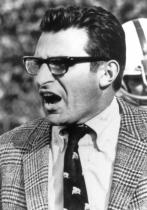 ...but he said no to the big leagues and Big Blue. Paterno reportedly took the job offer seriously, but ultimately declined and continued to etch out his name in the college football ranks. Pittsburgh hired Chuck Noll and Michigan selected Bo Schembechler to lead their team. Each team began their own stretches of excellence. A win-win-win situation for all parties.
1982 – JoePa wins his first title
Paterno had three undefeated seasons before 1982, but 11-1 was good enough for the Nittany Lions to secure their first national title of the Paterno era, beating Georgia in the Sugar Bowl 27-23.
1986 – Second and final national title
Penn State had the best of both worlds as it went undefeated for the fourth time with Paterno, winning its second championship in five years. The Nittany Lions defeated Jimmy Johnson's Miami Hurricanes in the infamous Fatigues Game, which featured the whole Canes squad wearing military fatigues off the airplane. They were upset by JoePa and the Championship came back to State College, Pa.
1994 – From independent to Big Ten member
Penn State was an independent for most of Paterno's reign, but the team joined up with the Big Ten. While the Nittany Lions were not as dominant after joining the conference, Penn State won the Big Ten title its first year in the conference. Paterno also won his only Rose Bowl during this season.
Jan. 2006 – Orange Bowl showdown against Bowden
Two of the top college football coaches squared off in the double-overtime BCS thriller in which Paterno triumphed against the Florida State Seminoles, 26-23. This was Paterno's last great season from start to finish, including a Big Ten championship and another Coach of the Year award.
2007 – Hall of fame induction
The ultimate honor was bestowed upon Paterno as he was elected to the College Football Hall of Fame. His fellow inductees included Doug Flutie (Boston College), Ahmad Rashad (Oregon) and Richard Wood (USC).
2010 – The Big 400
In a home win against Northwestern, Paterno became the only coach in FBS history to surpass 400 career wins.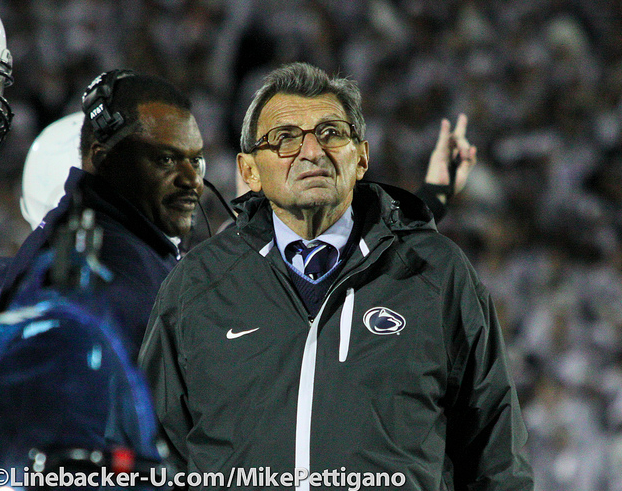 Oct. 2011 – One man stands alone
In his last coached game, Paterno won his 409th game as a coach – the most in college football history across any division. After such a high point in his career, the events that transpired after produced a quick fall from grace.
Nov. 4, 2011 – The beginning of the end
On this day, the grand jury released its findings of the Jerry Sandusky investigation, in which it alleged Sandusky of committing 40 counts of sexual molestation against young boys. It came out that a graduate assistant, Mike McQueary, witnessed Sandusky raping a 10-year-old boy in the locker room showers. McQueary told Paterno of what he saw and merely told the athletic director Tim Curley, but no law enforcement members were notified.
Nov. 9, 2011, The Morning – Announced resignation at the end of the year
Paterno announced that 2011 would represent his last coaching season, and that he would step down at the end of the year. However, he never got that opportunity.
He addressed questions about his involvement in the Sandusky scandal by simply saying, "In hindsight, I wish I had done more."
Nov. 9, 2011, The Evening – The run is over
The Penn State Board of Trustees announced Paterno would no longer be the Penn State coach, effective immediately. Students angered by the axing of the beloved coach rioted through the streets of State College.
Nov. 19, 2011 - Cancer
Scott Paterno, Joe's son, told reporters that his father had been diagnosed with lung cancer. Scott was hopeful, telling The Patriot-News, "his doctors are optimistic he will make a full recovery."
Jan. 22, 2012 – Paterno succumbs to lung cancer
The legendary coach died Sunday morning surrounded by his family. Some reporters prematurely wrote that Paterno had died Saturday, but his sons, Scott and Jay, each tweeted that their father was still fighting in critical condition. He was 85.
It is a shame that the last memories of Paterno will be his weakened state and horrific error in judgment, but through most of his life, he was the model college football coach. Surely some will never forgive Paterno's neglect – with good reason – but it should not completely overshadow a lifetime of accomplishments. State College and Penn State students will cherish Paterno's memory, and knowing his dedication to that city and school, he probably would be just fine with that.
__________________________
Reach Will by email, or follow him on Twitter.
Best way to find more great content from Neon Tommy?
---
Or join our email list below to enjoy the weekly Neon Tommy News Highlights.