Los Angeles and Region
Inside Food Deserts: Lacking Options For LA's Low-Income Communities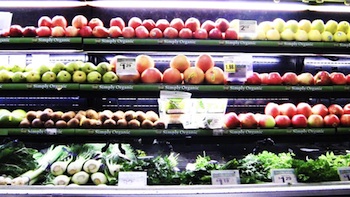 Donna Washington stepped through the sliding doors of a Ralphs supermarket in Inglewood and strode over to the produce section. She looked down with dismay onto a table filled with dozens of strawberries. Flies hovered over the fruit. She picked up a carton and squinted her eyes. Her nose curled.
"These are so bruised they aren't even red anymore," Washington said. "I can't feed this to my family."
Next she headed over to a bin of green beans. She picked one up and broke it in half.
"It's slimy inside," the 52-year-old county welfare worker said. "It has brown streaks on it, too.
"I feel like I get someone's leftover produce," she said. Often, "the produce looks spoiled or like someone dropped it on the ground a few times."
Washington and many like her complain that South Los Angeles and other nearby communities are shortchanged when it comes to fresh produce. Studies show there are fewer grocery stores and healthy food options, such as low sugar cereal and fat free salad dressing, in poorer areas of the county.
A 2008 study by the Community Health Council, which is funded by the Centers for Disease Control and Prevention, found there was a grocery store for every 6,000 residents in South and East L.A., compared to one for every 3,800 residents in West L.A. — a 58 percent difference. The council also found that stores in poorer areas offered fewer healthy choices, like low-fat snacks and lean meats.
"Obesity, cardiovascular disease and diabetes are areas of serious concern" in these communities, the Community Health Council said, adding that "these dangerous health trends" could be reversed by "well-crafted food policies."

The need for better food is critical in poor areas, which often have higher rates of obesity and diabetes, according to the UCLA Center for Health Policy Research.
Beryl Jackson, 43, who lives in South L.A. but works in Westwood, said she has seen an obvious difference in quality between what produce she can find in her neighborhood and what's sold in grocery stores near her job.
"Residents from areas like South L.A. have to go to the stores in nicer neighborhoods to get fruit that isn't bruised," she said. "In the store next to my home, they peel the brown leaves off of the lettuce to keep it looking fresh."
Seventy-nine-year-old Jessie Barber agreed that more affluent neighborhoods have higher quality stores than South L.A.
"I think we get whatever is on closeout," she said. "Some of my friends go to the stores in West L.A. because they have better quality and variety. They don't even shop in the area."
Despite such sentiments, grocery store representatives insist that claims of inequality in food available to poorer communities are overblown.
Dave Heylen, vice president of communications for the California Grocers Association, an organization that represents grocery suppliers and employees, insisted that residents in underserved communities do have access to healthy food.
"There are farmers markets in almost every neighborhood in Los Angeles at some point during the week," he said. "There is not a lack of access to healthy food in low-income areas."
Gemma Gallegos, a sales manager at a Ralphs in Downtown L.A., said people in lower-income neighborhoods "probably don't buy healthier options because they are pricier and don't taste as good as other foods."
"There is more of a concern about how far a dollar will stretch than health in those areas," she said.
David Sanchez, a front-end supervisor at a Vons in Hollywood, said some stores are mindful of the surrounding communities' health.
"Every Friday we offer meal deals, which consists of a piece of bread, chicken and two sides for $9.99," he said. "Everyone likes them. It's a healthy alternative to fast food."
The Café at the Hollywood Vons offers sides like potato wedges and clam chowder. The bread is white and there are no vegetable or fruit side dishes.
Wendy Jackson, a general manager at Donna Washington's local Ralphs, said food choices offered are based on what people in the community buy most often.
"Some Ralphs have diabetic and gluten-free options," Jackson said. "We don't because of where we're located.
She said Inglewood residents do not purchase gluten-free and diabetic items because they have less money to spend on specialty foods.
A spokesman for Safeway Inc., which owns Vons and other grocery stores, refused to comment on why low-income areas have fewer stores and healthy choices.
LaVonna Lewis, a health policy expert at the University of Southern California's School of Policy, Planning and Development, said the California Grocers Association has made commitments to transform some markets in underserved communities and bring in more fruits and vegetables.

She also noted that the city in 2008 adopted a moratorium on fast food.
However, Lewis said the measures are not enough to improve the amount of healthy offerings because grocery store chains do not have incentives to build more stores in low-income communities.
"The vendors are saying, 'Since people from the lower-income areas come to our stores in the higher-income areas, then why should we build in their communities?'" she said.
The Community Health Council has recommended several steps to bring in more grocery stores: give landowners incentives to use their property to build grocery stores; strengthen the city's ability to attract more chain markets with a strong marketing strategy; and educate policymakers and stakeholders on the link between public health and the types of food available in a community.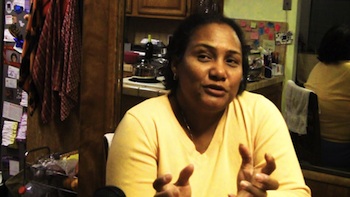 For Donna Washington, the type of food she eats determines whether or not she can control her diabetes and lower her cholesterol. Washington lives with a husband recovering from Lymphoma, a 16-year-old daughter and a 13-year-old son. She also cares for her 78-year-old mother, who has dementia and blood clots in her legs.
"The stores next to my house don't have fresh produce," Washington said. "They don't have variety either."
Her local Ralphs had about a third of the diabetic options available at the Ralphs in Beverly Hills. Her store only carried sugar-free jelly. The Beverly Hills location sold low-sugar cookies, cereal and jelly, and had gluten-free options. Washington's store did not.
Washington likes to juice vegetables for the family. "I'm trying to change the way we eat," she said, but "It upsets me when I can't buy fruit because it's rotting. What really gets me is the romaine lettuce. Almost every time I try to buy some, it's brown and wilted."
On a recent evening, Washington went to a Ralphs in Beverly Hills to see if the produce was any better than at her local store.
She picked up a container of ruby red tomatoes and held them up to her nose. Her eyes closed and a smile spread across her face. Then she picked up a bundle of romaine lettuce and studied it as she held it in her hands.
The produce section at the Ralphs in Beverly Hills, she said, "smelled like a garden."
Among a selection of fruits including apples, bananas and pineapple, apples were the only item that cost more at the Beverly Hills Ralphs.
"The lettuce is crisp and bright green, and the tomatoes aren't rotting! Everything is so fresh here," Washington said. "How come my produce section doesn't look like this?"
Reach Contributor Meryl Hawk here.
Best way to find more great content from Neon Tommy?
Or join our email list below to enjoy Neon Tommy News Alerts.