National
Gingrich Backs Off Attacks On Romney And Bain
The past couple days have seen a conservative backlash against Republican presidential candidates who have criticized former Massachusetts Gov. Mitt Romney for his record at private equity firm Bain Capital. Now fellow candidate Newt Gingrich seems to be softening his attack after a 29-minute film made by a Gingrich-supporting Super-PAC portraying Romney as a "corporate raider" came under fire for inaccuracies.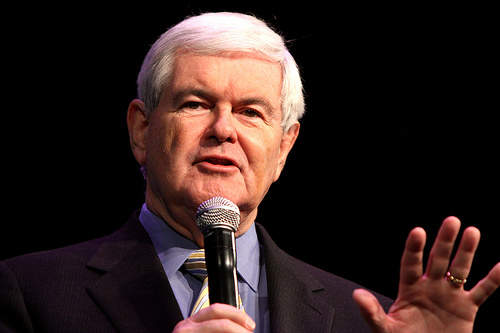 The long ad, titled "King of Bain" takes a Michael Moore "Roger and Me" approach to bashing Bain. It uses interviews with workers who were laid off in Bain's leveraged buyouts of companies. An ominous voice-over narrates how local businesses and lives were wrecked "when Mitt Romney came to town."
Fact-checkers such as Politifact and Factcheck.org have called out the Super-PAC for jumbling chronologies in its examples and for taking quotes from individuals and newspapers out of context. The Washington Post's Fact Checker gave the video four "Pinocchios" for, among other things, its manipulation of the facts behind the bankruptcy of KB Toys and the closing of a UniMac plant in Florida.
Gingrich, whose recent criticisms of Bain have drawn puzzled and angry responses from pro-capitalism, conservative commentators called on the Super-PAC Winning Our Future to "remove its inaccuracies, or to pull it off the air and off the internet entirely."
This fight over Romney's record as the leader of the private equity firm comes as back-to-back victories in the Iowa caucuses and the New Hampshire primaries further solidify Romney's position as the frontrunner for the Republican nomination. The criticism of Bain both foreshadows Democratic tactics in the general election if Romney is nominated, and also mirrors moves made by Ted Kennedy's campaign when Romney challenged him for a Senate seat and lost in 1994.
Romney has invited scrutiny of his business record with his repeated claims that his experience in the private sector makes him a job-creator. Bain Capital, however -- as many, including Neon Tommy's Matt Pressberg, have pointed out -- is hardly in the business of "creating" or "destroying" jobs. Rather, its purpose is to make money for its investors, and on that scale, it's been hugely successful, while some of its investments have tanked, as a recent Wall Street Journal story concluded in some detail.
Romney's campaign has responded to the attacks with a new ad for South Carolina, in which he takes credit for having helped start companies like Staples and Sports Authority through Bain's venture capital arm. Romney's claims of job-creation have been called wildly exaggerated and beside-the-point by skeptics.
Best way to find more great content from Neon Tommy?
---
Or join our email list below to enjoy Neon Tommy News Alerts.