International
Europe Faces Increased Calls To Solve Debt Crisis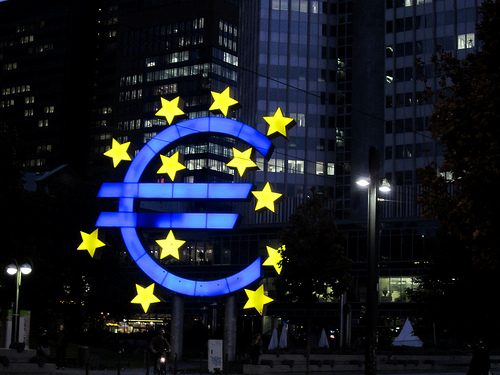 World finance leaders stepped up pressure on Europe to find a solution to its debt crisis during a meeting at the World Economic Forum in Davos, Switzerland, on Saturday,
CNN
reported.
Echoing U.S. Treasure Secretary Timothy Geithner's call earlier this week for Europe to boost its bailout fund, International Monetary Fund head Christine Lagarde pushed the region to increase its firewall during a panel discussion on the final full day of the forum, according to MarketWatch.
"It's critical that eurozone members develop a clear, simple firewall [...] to provide trust," Lagarde said.
From The New York Times:
The firewall, known formally as the European Stability Mechanism, would have a lending capacity of 500 billion euros ($656 billion) when it begins operating in July, replacing a temporary fund. European leaders are debating ways to increase the bailout fund's resources to aid overindebted countries, but they face powerful opposition from voters in countries like Germany and have so far failed to act boldly enough to reassure financial markets.
In addition to urging Europe to boost its bailout fund, Lagarde said it is in the world's best interest to help find a solution as well. She told CNN that the crisis was already impacting economies outside Europe.
"There is no country in the world that I visited in the last eight weeks, and I visited many, that hasn't said the eurozone crisis is not a problem for me, for my economy, for my country, for my growth," Lagarde said.
Officials in Davos said that IMF aid to the eurozone from the rest of the world would depend on Europe's efforts to create its own solutions to alleviate the crisis, according to The New York Times. Some critics have questioned whether the IMF, which is financed partly by developing countries, should come to Europe's aid.
"Europe has to be making more effort; otherwise, I don't think developing countries will want to pay more for the IMF," said Motohisa Furukawa, the Japanese official responsible for economic and fiscal policy.
During a separate panel discussion, New York University professor of economics Nouriel Roubini sounded a pessimistic note by suggesting that the eurozone "would break up within three to five years."
"The eurozone is a slow-motion train wreck," Roubini said.
Reach executive producer Danny Lee here