Los Angeles
Demonstrators Speak Out Against Social Inequities At MLK Parade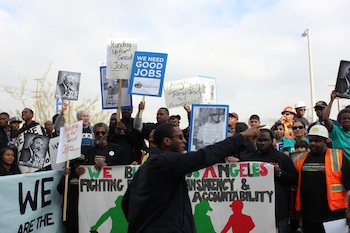 Community groups rallied Monday morning before the annual Martin Luther King Jr. Day Parade to capitalize on the holiday's emphasis on equality and peace, and call on city officials to fix their communities.
Gathering outside Martin Luther King Jr. Park, roughly 75 representatives from Community Coalition, We Are the 99% and other organizations arrived to chant, shake bottles filled with beans and sing time-honored gospel songs forever tied with the civil rights movement.
According to a rally press release, organizers planned to march for "economic justice and the survival of our community, specifically South Los Angeles." But that vague mission statement seemed only to touch on what brought the diverse crowd to speak out along Western Avenue.
Jeannie Walker, a South Los Angeles resident, said she was drawn to join Community Coalition for their work promoting education. She came to the parade this grey morning to reconnect her community's needs with the ideals King famously advocated.
"Jobs for the people, education for the children, and that we can get along with one another—we'll have peace. That's the main thing that I'm really standing for," Walker said, taking a break from passing out signs emblazoned with King's face. "And I believe in what he said about, you know, 'I have seen the vision,'—the dream has not died. It's just moving forward."
The 50-year-old private school supervisor said she thought city officials would do well to heed the group's protests. "There's a lot of people out here. And see, the people are the city," she said as demonstrators behind her began to move toward the parade route. "As long as the people join in as one and have a vision, like King's dream, and we're all pushing for it, I think it will accomplish a lot."
Walker and the other members of Community Coalition had a clear, focused approach to commemorating King while furthering their agenda of social reform. President and CEO Marqueese Harris-Dawson called the holiday "a perfect day to do a check-in" on social progress.
"That's the day when we get to ask the United States, we get to ask California and we get to ask Los Angeles, 'How are you doing? How are you living up to the ideals that you set forward?'" Harris-Dawson said. "'You say you're a just society, let's check that out.'"
In a tone of mock warning, he told the flock of marchers they'd join bankers and other officials allegedly responsible for societal inequity during their demonstration. "We're gonna walk next to them and be at peace with them, but we want to let them know that we got some issues with them," Harris-Dawson said. "So we're gonna do it in an orderly fashion, we're gonna do it in a loud fashion, and we're gonna put our best face forward. Because we represent what this country and this city ought to be."
Some demonstrators seemed to take that role model distinction especially to heart. In near-full uniform ("You're not supposed to be in exact uniform,") Marine Corps veteran Brian Seligman stuck out from the rest of the crowd wearing T-shirts for their respective organizations. In one hand, he carried a sign that read, "If protesting is terrorism, Martin Luther King Jr. would be in 'GITMO'!" In the other, he grasped a cane to ease his limp—the lingering result of a car accident with a drunken driver.
Dealing with a disability hasn't been easy for the 41-year-old, and he said corporate greed and handouts to HMOs had only made it worse. As the march got underway, he hung back to explain what drew him to camp out intermittently with Occupy L.A., and why he now found himself demonstrating on MLK Day. "We're all in this together. We're all Americans," Seligman said.
"You could say I'm with We Are the 99%; you could say I'm with Veterans for Peace. But most importantly, I'm a citizen of the United States of America and that's who I'm here to represent."
Reach Catherine here; follow her here.
Best way to find more great content from Neon Tommy?
---
Or join our email list below to enjoy Neon Tommy News Alerts.