National
Debate Analysis: Newt's Open Marriage, Romney's Closed Finances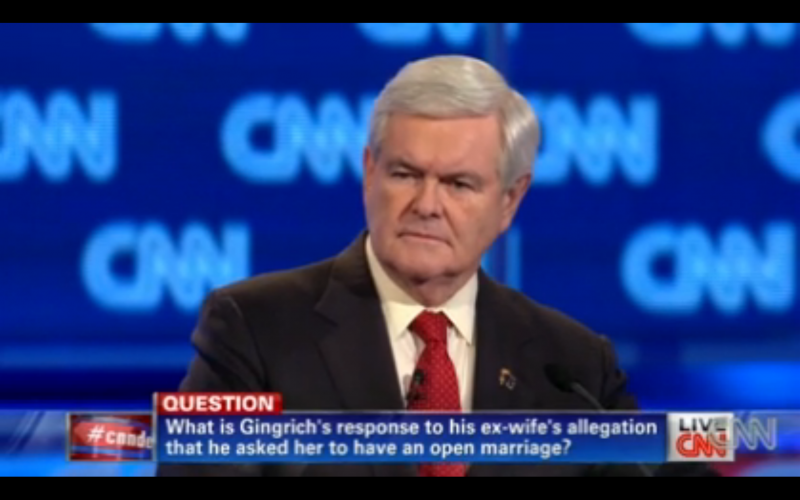 There was so much crackling kinetic energy all day Thursday in what undoubtedly has been the most exciting day of the campaign.
By morning, Rick Perry had moseyed on out of the race, but not before telling his crestfallen follower(s) to hop aboard the Newt Express.
Soon thereafter, ABC News aired an interview clip with Marianne Gingrich, Newt's second wife, who dropped a light bombshell that in the waning years of their faltering union, he proposed working in an open marriage arrangement. She never said whether the offer was bundled with a bearskin rug and polyester leisure suit.
Mitt, meanwhile, was dogged by questions about the absent tax returns and why his campaign has been loathe to release them.
Perry's departure could have been occasion for the remaining four candidates to bust out an excellent version of "Empty Chairs at Empty Tables" (and much preferable to CNN's constant belaboring of the National Anthem before the debates).
Instead the two controversies gave way to the angriest debate yet.
Moderator John King tossed out the opening pitch by asking Gingrich about l'affaire. Pulling deep into his well of righteous indignation, Newt responded with the gruff brilliance that really only he can concoct.
He was appalled, just appalled, this question would up the debate. Especially with how rare these are!
Yet in one answer he both swatted away the premise of the question and accused the mainstream media of being in the expressed business of keeping Obama in office. Nevermind that CNN didn't air the piece, and Nightline wasn't exactly twisting Marianne's arm in getting her to talk. By shifting the blame to media, Newt sidestepped the possibility of demonizing his ex-wife and seeming unchivalrous to women voters.
And no Republican ever went broke calling the media liberal shills.
For the short term the move was deft and, yes, it earned the scowling candidate another standing ovation.
Romney didn't fare nearly as well on the topic of his tax returns. In the previous debate he flubbed his answer and, with the story remaining hot, it's just inconceivable the he didn't see it coming.
But his bumbling, frantic answer--that he'd release his return perhaps in April, that he didn't know how many years back he'd make public--somehow made him look underprepared. After proffering these dodges to tepid response, then throwing out a strawman by blaming the Democrats for this line of questioning, he eked out some applause by acting unapologetic about his "success."
The wounds here are largely self-inflicted. Most know that he's a wealthy chap; unless Americans are going to spin their eyes like Scrooge McDuck while looking at his return, the longer he holds out the worse it looks.
"We need to know if any information contained in the returns is going to help us lose the election," Gingrich explained.
Surprisingly though, in terms of inter-candidate fights, the sharpest barbs were not thrown between Romney and Gingrich. Rick Santorum, the newly declared winner in Iowa post-recount and sole surviving Rick, played hard against Gingrich for the coveted non-Romney spot.
When King asked the former Pennsylvania Senator about Newt's recent comment that both he and Perry put their efforts toward getting the former Speaker elected, the Catholic went off. Santorum railed against Gingrich's grandiosity, loose cannon style, and more poignantly, his leadership record in the House. His words really seemed to come from a place of anger and frustration that revealed perhaps what working with Gingrich was really like.
It should be mentioned at this point, to avoid vituperative internet backlash, that Ron Paul was in the debate too. Actually, compared to the rancor surrounding Paul, his moments were an oasis of calm if not quite clarity (he waxed nostalgic about being a doctor in the 1960s--a blissful time before the existence Federal government.)
While picking a winner tonight wasn't as easy as Monday's red meat showcase by Gingrich, it's a safe bet that Romney didn't come out reignited. His tax return dodge, which could just be a microcosm for why he's never managed to catch fire with the GOP, won't go away before Saturday. A race that seemed over after New Hampshire lives to breathe through South Carolina and Florida. Of course, if those go Romney, then everything's back where it seemed.
But if not, as Marianne Gingrich might say, "it's complicated."
Best way to find more great content from Neon Tommy?
---
Or join our email list below to enjoy the weekly Neon Tommy News Highlights.