California
California's Humane Animal Slaughter Law Overturned By Supreme Court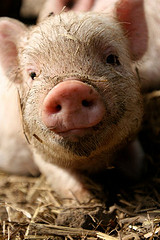 A California state law that would require euthanizing non-ambulatory animals that cannot walk due to disease, injury or other causes on their way to slaughter has been overturned in a unanimous decision by the Supreme Court.
"The Federal Meat Inspection Act regulates slaughterhouses' handling and treatment of non-ambulatory pigs from the moment of their delivery through the end of the meat production process," wrote Justice Elena Kagan. "California's (law) endeavors to regulate the same thing, at the same time, in the same place -- except by imposing different requirements. The FMIA expressly preempts such a state law."
In 2008, the California law had been raised after a graphic video was released by The Humane Society, showing the brutal treatment of livestock being bulldozed, prodded and poked as they were forced to the slaughter. However, the Supreme Court mandated that the state is not permitted to create laws that differ from federal ones.
The Federal Meat Inspection Act specifies that a state can't impose slaughterhouse protections "in addition to or different" from the federal requirements. The Oakland-based National Meat Association, which represents about 300 companies, including Harris Ranch, Hormel Foods and In-N-Out Burger argued that the state law violated this pre-emption rule.
Harris Ranch estimated that they would not be able to slaughter 2.5 percent of their pigs if the humane law had been put into effect. In a legal brief, pork producers said most of the ambulatory animals were "merely overheated, fatigued or stubborn, and most are soon back on their feet." CNN said that animal activists objected to that statement.
The Meat Industry also argued that the law could have had health consequences, that "being forced to immediately euthanize all downed animals would hurt its ability to detect and fight one particularly virulent disease: foot-and-mouth, which is highly contagious."
According to CNN, the decision was not taken well by The Humane Society:
"This is a deeply troubling decision, preventing a wide range of actions by the states to protect animals and consumers from reckless practices by the meat industry, including the mishandling and slaughter of animals too sick or injured to walk," said Wayne Pacelle, president of the Humane Society of the United States. "The fact is, Congress and the USDA have been in the grip of the agribusiness lobby for decades, and that's why our federal animal handling and food safety laws are so anemic. California tried to protect its citizens and the animals at slaughterhouses from acute and extreme abuses, but its effort was cannibalized by the federal government."
Animal activists plan to move forward in pressing "to get a tough federal measure passed," reported The L.A. Times.
Best way to find more great content from Neon Tommy?
Or join our email list below to enjoy Neon Tommy News Alerts.