Entertainment News
"The Bachelor" Recap: Park City And Rose Ceremony Drama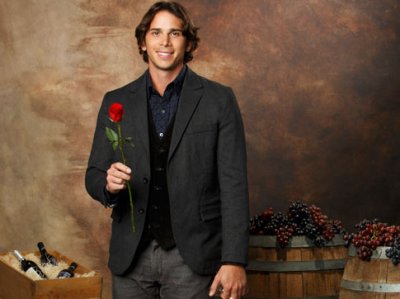 This week's episode of ABC's "The Bachelor" opens with Ben in a helicopter flying over Park City, Utah.
Ben says that he wants the girls to "experience the outdoors." It seems evident that he's interested in seeing which of the ladies would be compatible with his own lifestyle. I'm betting on Nicki, Jennifer, and Lindzi C.—they seems like they'd be pretty good with this type of date.
Chris comes out and introduces three dates—two one on ones, and one group date. Rachel snags the first one on one, with the clue: "Let's let nature take its course."
She explains that she feels nervous for the date because she's had a hard time communicating well in past relationships.
Meanwhile, Casey B. starts feeling upset that she didn't get a date. I'm pretty sure that Casey B. is making it at least to the top three, so I don't think she needs to worry. But let's hope she doesn't pull an Ashley and get kicked off because she's too afraid to fully commit!
All of the girls wait awkwardly for Ben to pick Rachel up for their one on one, and then they take off in a helicopter. What is it with "The Bachelor" and helicopters, anyway?
On the date, awkwardness ensues.
Unfortunately, Rachel's nervousness manifests itself in completely shallow, stop-and-go conversation. Ben says that Rachel is "great—super mellow and easy-going," but it seems like they really lack chemistry. It's too bad, because Rachel seems like a sweetie!
In one particularly hard to watch moment, Rachel says, "I like how you're good at that little wink."
Ben replies, "Oh, more like squinting."
I think I'll just let that speak for itself.
For part two of the date, things really turned around. After Rachel gives a little mini-monologue about her previous relationships and her willingness to open up, Ben seems to get reassurance that things might eventually get better. He gives her the rose. I'm just not sure that the spark is really there, as much as I like her.
The group date girls are headed out on another outdoorsy date. Ben shows up on a horse, which has the girls swooning (I have to admit, it was good look for him…) and gives the girls their own horses to ride for the afternoon. It was nice that Lindzi didn't throw her experience in the other girls' faces. Very classy!
After riding, the girls go fly-fishing. No one looks very comfortable in the water, but Courtney takes the opportunity to shine. She catches a fish, and totally woos Ben along the way. You have to give it to that girl—she's pretty horrible, but she really knows what she's doing. Anyone else out there think she looks like Jackie Onassis?
The night portion of the group date starts off a little rough. Samantha confronts Ben and asks why she has been given only group dates. Ben shoots back by saying, "On the group dates that you've been on, you've been highly emotional."
Unfortunately, Samantha lives up to her reputation during the rest of the conversation. Even though it's great for Ben to be honest, I did feel a little bit bad for Samantha, too. I don't think she intended for it to be quite such a loaded conversation. Ben finally admits that he doesn't think that their relationship is going anywhere, and sends Samantha home in the middle of the cocktail party.
Soon after, Ben and Casey S. have their first time alone. Ben is completely adorable with Casey and admits that he wanted to kiss her during the group date but felt awkward. He definitely says a few things that were very concrete—it almost seems, for a minute, like he's already decided who's getting the final rose.
"My relationship with her is growing faster than most… I might end up with her!" he says.
Just when things are going well again, Ben pulls Courtney aside and she starts playing major games. She acts frustrated, like she's almost giving up, and Ben ends up bringing her the rose. He even admits that she wasn't his original choice. Moments like these make me think Courtney is a truly horrible person, but who knows?
The next day, Ben and Jennifer head out on their one on one date. They climb down a crater together and end up dropping into the water. It seems adventurous, but maybe also a little bit strange? Jennifer is nothing but genuine, though.
At night, after an adorable conversation where they talk about their future together, they both run inside through the rain. Jennifer gets the rose, which is no surprise.
The happy couple heads to a Clay Walker concert and they spend the rest of the night dancing.
The rose ceremony is not free from its own drama, of course. Emily decides to warn Ben about the "real Courtney" but it ends up backfiring. It seems like every season, one of the girls falls into this trap. You think they would learn that talking about the other girls just brings them down! Ben even warns her to stay focused.
Courtney ends up finding out what Emily said, and Emily denies it to Courtney's face! Don't these girls realize that the truth will come out as the episodes are aired?
At the rose ceremony, Ben chooses to eliminate Monica. Monica seems pretty upset, but Ben says goodbye with, "It was nice to meet you." Ouch.
Next week, everyone is headed to Puerto Rico for a nice island getaway—any bets for the eliminated girls? I'm thinking maybe Emily and Blakeley.
Reach writer Anita Dukart here
Check back every Tuesday for Anita's weekly recap of "The Bachelor."
Best way to find more great content from Neon Tommy?
---
Or join our email list below to enjoy the weekly Neon Tommy News Highlights.