Los Angeles
Airport Workers Protest Cuts To Healthcare Benefits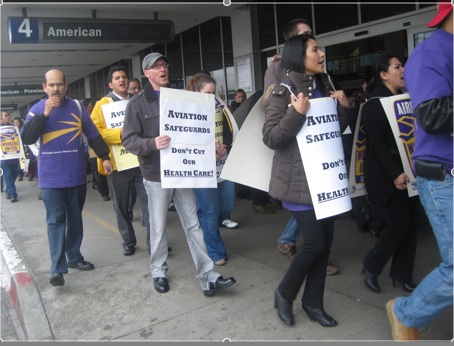 About a hundred airport workers braved cold and rainy weather at the Los Angeles International Airport departures terminals Monday afternoon to protest against their employer, Aviation Safeguards Security. Protesters said that Aviation Safeguards, a contractor that supplies passenger services to the airport, broke a union contract and took away their health benefits.

"Aviation Safeguard chose to unilaterally cancel the contract with the Union based on some claim they're making that this is what the workers wanted," said Refugio Mata, a representative of Good Jobs LA, which helped organize the protest.

The workers, represented by Service Employees International Union (SEIU), say they were were not consulted by their employer before their contracts were terminated.

Jennifer Mendoza, who's worked at Aviation Safeguards for five years, was unaware of the decision until after the fact. Pregnant with her first child, Mendoza worries about how she will care for her baby after her health benefits are lost.

"No one has come out and talked to us about what they were going to do," she said, "My greatest fear is losing that health care. I could give birth at any time and I just don't know what kind of coverage I'm going to have."

The protesters marched across seven terminals, banging drums and chanting, stopping along the way at Air France, United and other major air carriers that employ Aviation Safeguards. The protest ended at the airport administration office, where the crowd of protesters was addressed by union leader Mike Garcia and Los Angeles City Council Member Richard Alarcón.

"By taking away your health care they are taking away your ability to coexist with the middle class here in America," Alarcón said to a cheering crowd.

Alarcón expressed solidarity with the protesters and promised to sign a letter in support of their cause.

"We don't mind them making a profit," he said, "We do mind them making a proft at the expense of the workforce."

Margarita Guevara, an Aviation Safeguards employee of four and a half years, listened attentively in the crowd. A mother of two children, Guevara says she thinks what her employers did was illegal. She's haunted by the uncertainty of her future at Aviation Safeguards.

"They can fire you for any little thing," she said.

Aviation Safeguards was unavailable for comment on this article.

Reach reporter Tasbeeh Herwees here.




Best way to find more great content from Neon Tommy?
---
Or join our email list below to enjoy the weekly Neon Tommy News Highlights.