Sports
2012 BCS National Championship: Alabama Shuts Out LSU 21-0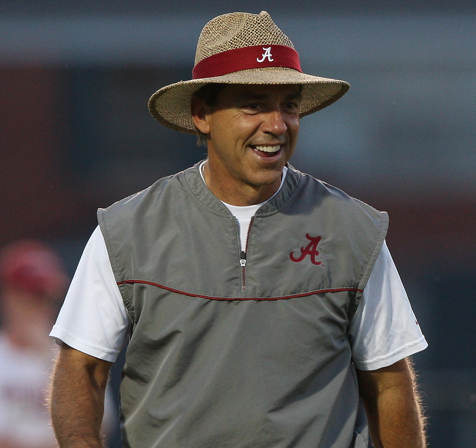 The Alabama Crimson Tide are taking home their second BCS National Championship in three years by doing what they have done all season -- play the best defensive game in the country.
Alabama shut out the undefeated LSU Tigers 21-0 Monday night in New Orleans, La., to win the 2012 National Championship. The Tide defense held LSU's offense to just 92 total yards and five first downs, and allowed only one Tigers drive into Alabama territory.
Crimson Tide kicker Jeremy Shelley knocked five of his seven field goal attempts through the uprights to account for the majority of the scoring. The only touchdown of the game came on a 34-yard run by Heisman finalist Trent Richardson with 4:36 remaining in the fourth quarter. All told, it took 115 minutes and an overtime period over two contests for a TD to be scored between the Tide and Tigers.
DEFENSE WINS CHAMPIONSHIPS: More on the dominance of the Alabama D that led the Tide to the first shutout in BCS history:
-- LSU averaged just 2.1 yards per play. That number was helped 11 tackles for loss by Alabama. The Tigers went just 2-for-12 on 3rd down.
-- Alabama held LSU quarterback Jordan Jefferson to 53 yards on 17 pass attempts. C.J. Moseley intercepted a shovel pass from Jefferson, and Dont'a Hightower forced a fumble on a last gasp 4th-and-18 play in the fourth quarter.
-- According to ESPN Stats & Info, Alabama allowed just two total yards on seven option plays. The Tigers averaged 110 yards per game on options over their previous five games.
It was all done by a defense that ranked No. 1 in the country after returning 10 starters from the 2010 unit, allowing 8.8 points per game (LSU was No. 2 with 10.5 allowed per game). The Crimson Tide gave up only seven touchdowns over eight SEC games this season.
HONEY BADGER DON'T MATTER: Alabama also negated the impact of the nation's top punt returner, Tyrann Mathieu (seen left, No. 14 in a 2010 photo). The Crimson Tide punted just three times: Cory Mandell punted one out of bounds, another for a touchback and gave the last one enough hang time to allow his gunners to surround Mathieu as soon as he caught it. The Honey Badger's final line: one return for one yard.
INTO POSITION: Kicker Jeremy Shelley needed the help of his offense to put up Alabama's 15 points, and it came from quarterback A.J. McCarron. He completed 23-of-34 passes for 234 yards. Though it moved the Tide down the field, USC quarterback Matt Barkley didn't think McCarron was making great throws, tweeting, "Dude, c'mon, it's just smash routes all day."
WHERE'S MY SEAT?: There's was some pregame controversy in the stands of the Mercedes-Benz Superdome. The AP reported dozens of fans found that the seats they had purchased were covered by tables, serving as an auxiliary press area. Bowl officials avoided a repeat of last year's Super Bowl "lost seat" debacle by finding replacement seats for those affected.
SEC DOMINANCE: In case you weren't aware that Monday night represented the sixth-straight BCS Championship won by an SEC team, the conference was quick to remind you of that fact by means of a commercial during the game.
TALKING 'BOUT PLAYOFF: If fans were unhappy about being subjected to another LSU-Alabama matchup for the national title, there is a ray of hope. Pete Thamel of The New York Times reported Monday that BCS officials will meet and begin to discuss changes to college football's postseason. A four-team playoff is on the table, but any such change wouldn't take effect until after the 2014 championship.
----------------
Reach James by email or follow him on Twitter, @JamesSantelli.
Best way to find more great content from Neon Tommy?
---
Or join our email list below to enjoy the weekly Neon Tommy News Highlights.