USC Sports
USC Football Bowl Ban - A Blessing In Disguise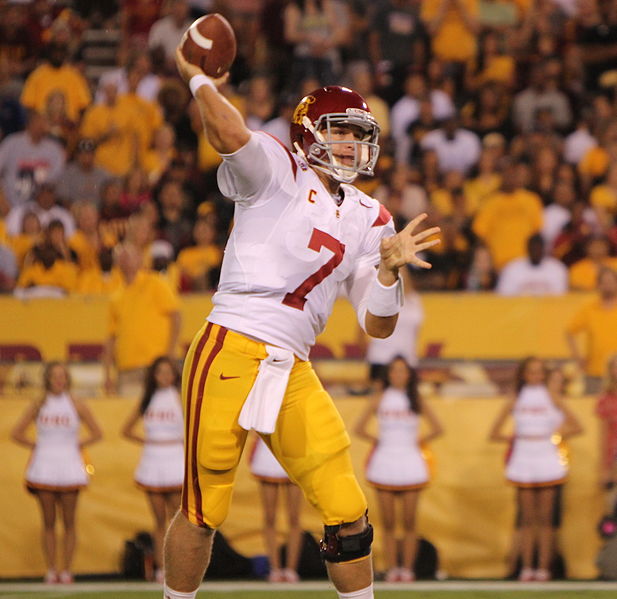 The festive scene at Heritage Hall last Thursday after Matt Barkley announced his return to USC was a unique opportunity for many positive states of mind: celebration, optimism, excitement.
However, perhaps the most appropriate frame of mind was reflection; reflection on the contrast between this incredible Christmas present for Trojan fans and the entirely different situation that Barkley had to face during the program's darkest hour. That situation being USC's recognition of NCAA sanctions in June 2010, in the same lobby of Heritage Hall. Though the 17 months and 20 or so feet separating these events may have felt like a lifetime and world apart, the reality is they are inextricably linked.
On that day in 2010, Barkley's example set forth the course for the program's ensuing two bowl- less years: there would be no excuses, no regret, and for Barkley, never a moment of second-guessing his college decision. Instead, he spoke of the team doing everything in its control: winning the games they were allowed to play, sticking together, and remaining positive.
Fast forward 16 months and two football seasons to USC's 50-0 demolition of UCLA, the culmination of this seemingly undesirable two-year journey. The character Barkley spoke of had clearly been imparted on the rest of the players in the program.
Sure, the results weren't always apparent. An 8-5 season in 2010 was not anybody's goal, nor was a 2011 early-season slaughter at the hands of Arizona State.
However, as became apparent after the ASU debacle, this USC team clearly bought in to everything Barkley had been saying. No longer was the focus on what they weren't allowed to achieve.
Rather, it was on what they could accomplish by playing together each and every week. As the program regained national attention over the second half of 2011, perhaps no team in the history of USC showed as much of an edge as this one.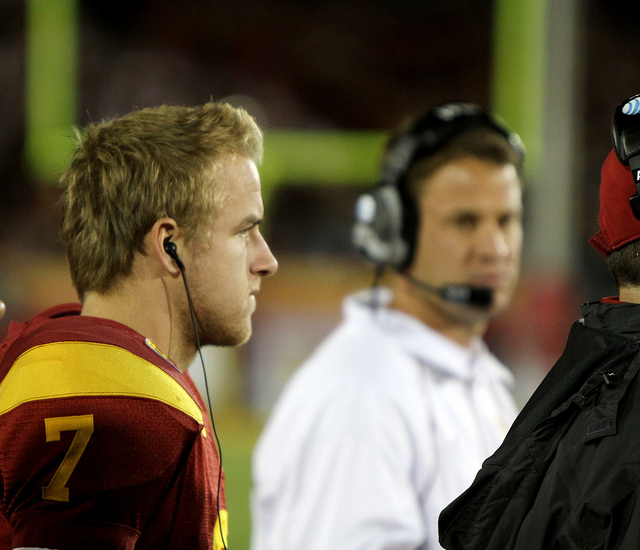 Big underdogs in multiple games, they played with a massive chip on their shoulder while not dwelling on what could have been. They followed Lane Kiffin's directive to focus on nothing else but themselves, showing complete discipline in the process while never letting up, even in blowouts like the UCLA game.
The unity of the team was apparent in signature wins against Notre Dame and Oregon and the plastering of UCLA. The two-year process was seemingly complete.
Or was it?
For Barkley, the lure of finishing what he had started became impossible to ignore. As much as he wanted the chance at a national championship and Heisman Trophy, it might not have mattered if he hadn't been able to do so with these teammates. The same ones who had bought into his message, weathered the storm, and provided just the surge of momentum the program needed. Without the bowl ban, the unique set of circumstances that forged these incredibly strong bonds wouldn't have been possible.
As Barkley said in his announcement that he was returning to school, "the unique level of adversity that was heaped upon our team two years ago has only... added to my and my teammates resolve."
He also spoke about receiving advice from various people about "the fleeting nature of sport." It's safe to say that in his first three years at USC, he also learned a lot about the "fleeting nature" of BCS bowl games. Every player who comes to USC dreams, and to a certain extent expects, of playing in Rose Bowls and national championships. The only difference for Barkley is that he had been doing so since he was a young kid.
The only postseason play Barkley has to show for in three years is an appearance in the Emerald Bowl. Now that USC is a probable top-three preseason team and expected to make a BCS run, "It just gives me goosebumps thinking about just how perfectly this situation lines up," he said.
If Barkley hadn't had to wait three years for this opportunity, no situation could have been so "goosebump"-inducing. Had USC been able to play for the Pac-12 Championship and potentially a Rose Bowl this year, even Barkley admits his decision to return "might have" turned out differently.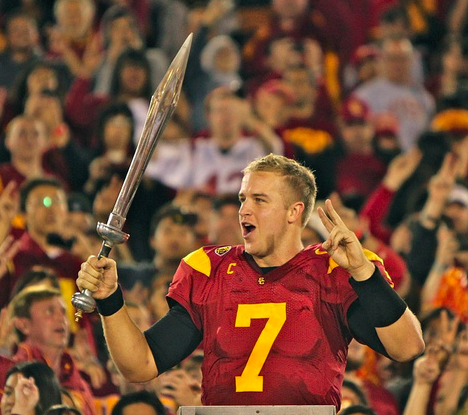 Prior to Barkley making his decision, many had written about what a perfect storyline his return could end up being, not only for him individually but the program as well, including their ability to so quickly overcome sanctions that many would call unfair, perhaps even draconian. Make no mistake, Barkley is fully aware of the storyline and "just how perfectly this situation lines up."
Part of that potential perfection is the chance to send the loudest of messages to the NCAA. In his announcement, Barkley carefully referred to the games USC was "allowed" to play in 2011 and pointedly cited "our team's willingness to fight on through the negativity and unfairness that was sought to bring down our football program."
Make no mistake, the NCAA has added considerable fuel to Barkley's fire.
Albeit under different circumstances, the mettle of this Trojans program will be tested in 2012. How will they, in particular Barkley, deal with the outlandish expectations? Will the team be able to summon the same unique underdog mentality and level of togetherness now that they are playing for something more tangible than the program's pride?
While definitive answers to these questions will have to wait at least nine months, the team's ability to navigate a truly unique level of adversity has shown that they are a different bunch.
They aren't likely to forget what they had to overcome to be in this position.
In a speech marked by a steely decisiveness, Barkley's conviction in his decision reached a new level in promising a "resolve that will be even more strongly expressed in every quarter of every game we are blessed to play in 2012."
No matter what ultimately happens in 2012, USC is indeed in a very different place than that somber day in June 2010. In fact, USC is back because of what Barkley and his teammates had to face on that day and the ensuing two seasons.
Without the bowl ban, the team wouldn't have cultivated the same "us against the world" mentality and togetherness that lifted their play and camaraderie to a new level. The appreciation for the situation USC is now in wouldn't have been possible.
They would likely have to be developing a new quarterback and Trojan faithful and the college football world alike would be deprived of celebrating a "special, special college student-athlete story."
Many are heralding Barkley's most recent announcement as the best Christmas gift USC could have received. Perhaps that is true. However, 17 months later, what was once regarded as one giant lump of coal should now be regarded as a unique, albeit delayed, holiday blessing as well.
________________________
Best way to find more great content from Neon Tommy?
Or join our email list below to enjoy the weekly Neon Tommy News Highlights.