Film and TV
"Pan Am" Episode 9 Recap: "A Shot In The Dark"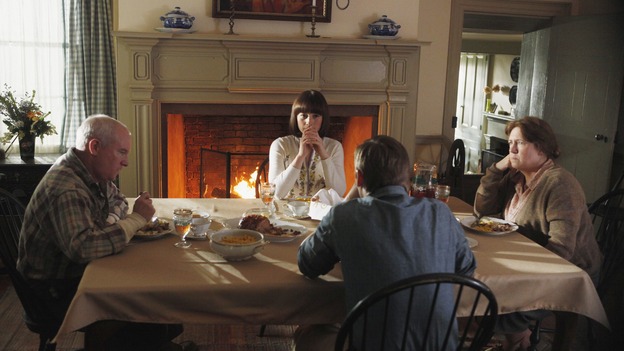 It has been three weeks since we last saw our sassy stewardesses, and while we were up to Thanksgiving and Black Friday insanity, it seems that not much has changed in their 1963 world. Except everything has changed. In "Pan Am" episode 9, "Kiss Kiss, Bang Bang", we saw Kate, all of a sudden, decided that she wants nothing to due with the CIA anymore (so… her plan is just to ignore them? It's not like a job at Dunkin Donuts sweetheart), and Dean decided he was mad for Colette (about freaking time!!), but as we were soon to see, even this has complicated consequences. Everything came to a head on a nice transatlantic flight to London… or in Dean and Colette's case, a more-than-awkward family luncheon. Let's discuss.
On the flight over to London, Maggie had more than her fair share of problems as her friend Sam used the seat she scored him for free to pester a congressman about banning nuclear testing. Sam accused Maggie of being a sellout, sacrificing her personal beliefs in order to make small talk and take drink orders. She was in the position to make a difference, he pointed out, and to Maggie Ryan's credit, she certainly tried. Unfortunately however, the only way the congressman was going to hear Maggie's political proposals was if they came with a little canoodling. Surprise of all surprises, Maggie was game. And here we thought Maggie was a woman with morals! Not exactly, but as per usual, Maggie seemed to find the most morally bankrupt route in life and skipped down it like it was the yellow brick road. While we don't yet know the back-story between her and her heavily bearded beatnik friend Sam, we do know she owes him a favor. Something tells me that Maggie becoming lovers with the politician he loathes so much is not what he had in mind.
Moral dilemmas aside, let's take a moment to dissect Sam's character. Where does his political distrust stem from? What mysteries lay shrouded in that beastly beard of his? All moral dilemmas and jokes aside, here is what we know: Mystery man Sam is a fairly regular character in Maggie's life. He also made an appearance in the pilot episode, making him the most consistent constituent in Maggie's life thus far. We know she is comfortable with him seeing her in nothing but her undergarments… but then again, might that say more about Maggie and her morals than her companion? We know that Laura knows him by name and is comfortable around him, so he must be a fairly regular visitor at la Casa de Ryan y Cameron. Now, here is what we want to know: what on earth does Maggie owe him? Wasn't it enough to nab him a seat on a flight to London within a matter of hours? Hmmm, what ever has happened between these two friends? And, more interestingly, what will happen when mystery man Sam finds out Maggie is sleeping with the enemy?
And lighting his speeches on fire? Never one to tread lightly, it was only a matter of time until Maggie's fiery temperament sent literal sparks flying. Besides the inevitable fire alarm and evacuation, Maggie's little inferno put in motion two very serious dilemmas – the first being Mr. Congressman's sanity. Who on earth would still want to pursue a woman who lights your work (also, coincidentally, government property) on fire? The second, and vastly direr dilemma is Kate's espionage mission that was cut short by the fire alarm and led quickly into a series of unfortunate events that would make Lemony Snicket proud and ended in a Bang! One life changing (and, for another, life ending) gunshot.
But we're getting ahead of ourselves, 
let's start at the beginning. Richard, the bearer of all things relating to bad news and broken hearts came knocking again on Kate's door. He had a proposition for her. She wasn't interested. But it wasn't that easy. This mission was to be her last, her farewell to the CIA and the espionage business as a whole. She still wasn't too interested. But wait! The lives of Bridget (remember her? The stewardess/ spy whose place Kate took? The one who Dean was in love with? The one who is about to make a reappearance, messing up Dean and Colette's adorable romance?), and more importantly, Niko were on the line. Kate couldn't say no. But once in London, Kate's courier mission became a little more involved. Now she had to play girlfriend to British contact Anderson and distract a jeweler while he switched the lists of CIA contact names. Kate played her part well, even insisting on the most expensive bracelet to stick it to Anderson, and all was going according to plan with the jeweler fitting her bracelet in the hotel room until the fire alarm rang out and he ran out of there faster than Speedy Gonzales. Kate rushed out behind him but, it was too late. By the time she caught up with the jeweler, he had discovered Anderson swapping out the lists, they struggled, a gun slid perfectly over to Kate, the jeweler was about to take a lethal stab at Anderson and Bang!
That gunshot will have to carry us over until the new year because the episode ended there. A gunshot and fade to black. Very cinematic. But also very mysterious. Is our Kate a killer?
Dean is. A lady-killer that is. Coaxing Colette into playing hooky with him, Dean promised her a flight lesson. He did not promise her that she was going to have to meet his parents, or that they would call her Bridget. Awkward. Guess pilot Dean is brave enough to land a plane during hurricane weather but he can't even call up his parents to let them know his engagement is off? Wow. It was all a little bit too much for Colette too, who gracefully excused herself from the table before World War: Lowry Edition could begin.
Dean found his French not-fiancée in the barn, and the girl was not happy. She believed that Dean was not over Bridget, and she was just another tool to help him in his emotional rehab. He accused Colette of never trusting men to not break her heart. Dean admitted he never brought Bridget to meet his parents and never told them about the breakup because some part of her was never real to him, and after just a week, Colette was. Their lover's quarrel ended in a roll in the hay (both literally and euphemistically), followed by some more snuggling under the stars. Dean seemed so genuine when he confessed to Colette that she saved him, but before you go ripping out those notebooks to try and decipher their perfect couple name, he also seemed very genuine in the promo for the next episode… kissing Bridget.
That's right, Bridget is coming back, and this reporter has more than a few suspicions that despite his protests, Dean will break Colette's heart.
What is it with past love interests reappearing and messing things up for our lovely "Pan Am" ladies? The same situation boggled Laura this week as she may have finally fallen for Ted just as he may have fallen for a family friend who tormented him with her beauty during his teenage years. I think it is safe to say Laura summarized the audience's sentiments exactly when, after seeing that Ted left with his beautiful girlfriend, whispered "Oh, cookies!" Will Laura be able to keep her composure when he tells her of his plans to propose? Will Ted realize that he should be with Laura and not Amanda? Probably not, on both accounts. But we can only hope.
That's it for these ladies in 2011. Lots of juicy drama awaits us in 2012, such as Kate's turn as a murderess, Laura's love debacles, Colette's epic showdown with Bridget, and Maggie… well, being Maggie, but perhaps feeling a little guilty about it. Check out the promo below to get a look at all the craziness in store for next year.
Reach writer Kelly Hanelt here
RELATED CONTENT: Read Kelly's Episode 8 Recap and Episode 7 Recap
Best way to find more great content from Neon Tommy?
---
Or join our email list below to enjoy Neon Tommy News Alerts.