National
Newt Gingrich: The New Republican Presidential Frontrunner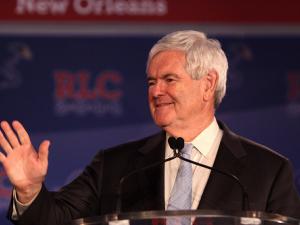 Newt Gingrich is the bona fide new GOP presidential frontunner, opening up a double-digit lead over Mitt Romney and the rest of the field, a new poll reveals. The latest
Gallup daily tracking poll
of the Republican presidential race shows Newt Gingrich leading Mitt Romney 37 to 22 percent.
Ron Paul finishing third in the poll with 8 percent, while Rick Perry is fourth with 7 percent, followed by Michele Bachmann at 6 percent.
Gingrich's 37 percent is the highest any of the Republican presidential candidates have garnered so far in the Gallup poll.
The latest poll, released Tuesday, illustrates how Gingrich in particular has benefited enormously from Herman Cain suspending his presidential campaign. The former CEO of Godfather's Pizza made the announcement on Saturday, just several days after allegations that he had a 13-year extramarital affair with Ginger White became public. Still, Cain's support had already been on the decline, as the former Republican presidential frontrunner saw his Gallup poll numbers slide by a dismal 22 percent in just the past month.
On the other hand, Gingrich's support in the Gallup poll has risen by an astronomical 24 percent since early Novembe. Romney's support, however, has remained stagnant over the same time period.
For Gingrich, it is an amazing feat considered that his campaign was all but considered over when several of his top campaign staffers left during the summer. In fact, it now appears that his campaign has hit its stride with Republican voters at the perfect time. With less than a month until the first caucus, polls indicate Gingrich is the preferred choice for the GOP presidential nomination in both Iowa and South Carolina.
Another sign that Gingrich is the candidate to beat: this blistering attack ad against Gingrich by Ron Paul, the first negative campaign ad to be launched in Iowa against the former House Speaker.
As Politico noted: "This will represent the first test of Gingrich's momentum and soaring poll numbers, and his organization's ability to counter-attack."
Best way to find more great content from Neon Tommy?
Or join our email list below to enjoy the weekly Neon Tommy News Highlights.