NBA
NBA - Top Ten Free Agents 2011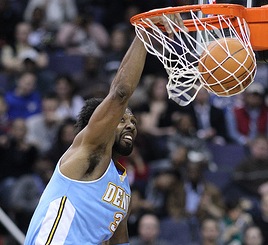 The 2011-12 NBA season is quickly approaching, as a little more than three weeks separates us from opening day.
However, a few things need to be sorted out before the December 25 start date – the players need to ratify the new CBA, free agency and training camp need to occur, and two exhibition games (per team) will take place.
Free agency, of course, is the most intriguing event by far.
While this year's class lacks the star power of last year's (there's no LeBron, Wade, Bosh, Amar'e, Boozer, etc.), the brevity of this free agency period will undoubtedly add drama and excitement. Without further ado, here's your guide to the key pieces of this free agency class.
1. Nene – Center, 29 years old, UFA
Last season's stats: 14.5 points, 7.6 rebounds, 20.4 PER
The unanimous "top" free agent of this class has never been an All-Star or made an All-NBA team, which says a lot about this year's talent (or lack thereof). An efficient scorer, average rebounder and good defender, Nene has basically everything you'd want from a center not named Dwight Howard. Because teams have to spend money, someone (most likely Denver) will end up giving him a near-max level. Is he worth that, though? Probably not.
2. Marc Gasol – Center, 26 years old, RFA
Last season's stats: 11.7 points, 7.0 rebounds, 1.7 blocks, 16.8 PER
Gasol is one of the more enticing free agents, as he still has the potential to become a franchise-caliber big man. He's a jack-of-all-trades type of big man, capable of shooting, passing, rebounding and defending (although he's not dominant in any single category). At 26, he has a couple more years to develop into his prime … it's just a question of whether or not Memphis will be able to afford his market value after giving lucrative deals to Rudy Gay, Zach Randolph and Mike Conley.
3. David West – Power Forward, 31 years old, UFA
Last season's stats: 18.9 points, 7.6 rebounds, 20.4 PER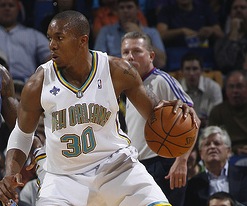 In terms of talent and ability, West (left) should definitely be No. 1 on this list. The two-time All-Star has quietly been one of the best power forwards in the league over the past five years, churning out his usual 19 points and eight rebounds like a machine (he's fairly efficient, too). But a torn ACL at the end the 2011 season put a damper on his free agency plans, as teams cannot be sure what to expect from a 31-year-old coming off of serious knee surgery. How much will that affect his options? We shall see.
4. Tyson Chandler – Center, 29 years old, UFA
Last season's stats: 10.1 points, 9.4 rebounds, 1.1 blocks, 18.4 PER
No one increased their free agency stock last year more than Chandler, whose dominant defensive effort helped the Mavs dismantle impressive Laker, Thunder and Heat squads en route to a surprising championship. However, before you get carried away with the 7-foot-1 Avatar clone, remember that he's missed about 16 games per season throughout his career (over 17 if you discount his first two seasons). He's also recently said he does not expect to be back in a Mavericks' uniform next season .
This is the point in this free agent class where things become murky. Most players from here on out are some form of either a) young and unproven with a lot of potential, or b) washed-up veteran with a questionable future. From this point on there are only question marks, no guarantees in terms of production.
5. Thaddeus Young – Forward, 23 years old, RFA
Last season's stats: 12.7 points, 5.3 rebounds, 18.4 PER
Young is a hybrid forward, capable of sliding back and forward between either position, and serving his role in a multitude of ways. He can rebound (one of the best at his position), finish in the open court, and slash to the basket at ease. If you want a shooter, look elsewhere, though. He's never going to be a star, but he could be an improved version of Lamar Odom-type (a good third-best player on a contender). Be patient with him.
6. Rodney Stuckey – Guard, 25 years old, RFA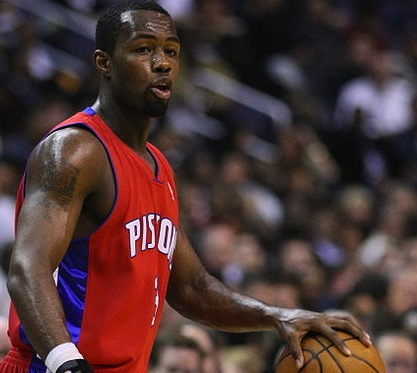 Last season's stats: 15.5 points, 5.2 assists, 18.4 PER
If Rodney Stuckey (right) had been on any other team over the past couple of seasons, he'd be getting national spotlight and admiration for his style of play (bull-in-a-China-shop). Instead, he's stuck in Detroit, where it seems nothing can go right. The tough-as-nails point guard thrives at getting to the rim and finishing, and saw his playmaking skills develop last season. He'll have a lot of suitors this offseason, where he'll have to decide if he actually sees himself as the Pistons' star moving forward.
7. Deandre Jordan – Center, 22 years old, RFA
Last season's stats: 7.1 points, 7.2 rebounds, 1.8 blocks, 14.8 PER
The fourth-best center in free agency is due for a major payday, whether it's from the Clippers or a team with loads of cap space that missed out on the Nene/Gasol/Chandler trio. Last year,was one of just eleven players to average over 7 points, 7 rebounds and 1.5 blocks, joined by the likes of elite-level big men. There's no doubting his talent (think Tyson Chandler at his best), there's just a question of whether he has the work ethic to keep improving … and extend his range outside of three feet.
8. Jason Richardson – Shooting Guard, 31 years old, UFA
Last season's stats: 15.6 points, 4.1 rebounds, 1.2 steals, 14.9 PER
Richardson serves as the first player on this list who's clearly past his prime. Gone are the days of 20 points per game and windmill dunks; he's now relegated to being a third or fourth (preferably) option offensively. As his legs have left him, he's adjusted and become a better shooter and defender. The truth is, we don't know what to expect from him – he was great in Phoenix and below average in Orlando. Where he goes will have a lot to do with the expectations given to him (basically he needs a good point guard … hmm, there might be one in Chicago).
9. Arron Afflalo – Guard/Forward, 26 years old, RFA
Last season's stats: 12.6 points, 42.3 percent 3-point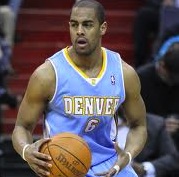 , 13.6 PER
Afflalo is similar to a young Shane Battier--he's not going to impress you with his stats, but he's as efficient as they come (doesn't take bad shots and rarely turns the ball over) and is a lockdown defender. Add in the fact that he's a deadeye 3-point shooter and a solid fourth option offensively, and you could do much, much worse for a few million per season. Under the right deal with the right team, Afflalo (left) could play the perfect role and serve as major difference-maker for a fringe contender.
10. Tayshaun Prince – Small Forward, 31 years old, UFA
Last season's stats: 14.1 points, 4.2 rebounds, 15.1 PER
Just like Stuckey, Prince has flown under the radar over the past few years, while Detroit has stumbled into a bottomless pit. However, Prince can still score and defend, serving as a potential starter or sixth man for a playoff team. The lanky forward is a low-risk player on the court, rarely fouling or committing turnovers. There will be a handful of teams looking to add a veteran with championship pedigree to their squad, and Prince appears to be one of the best choices.
Honorable mentions
Jeff Green (RFA), Marcus Thornton (RFA), Carl Landry (UFA), Glen "Big Baby" Davis (RFA), Samuel Dalembert (UFA)
Currently playing overseas (unsure if they will be returning to NBA this season)
Andrei Kirilenko (UFA), J.R. Smith (UFA), Wilson Chandler (RFA)
Likely to be overpaid
Jamal Crawford (UFA), Kris Humphries (UFA), J.J. Barea (UFA)
Age concerns
Grant Hill (UFA), Shane Battier (UFA)
Injury concerns
Greg Oden (UFA), Caron Butler (UFA)
________________________________
Reach Jovan by email, or follow him on Twitter.
Best way to find more great content from Neon Tommy?
Or join our email list below to enjoy the weekly Neon Tommy News Highlights.