NBA
Los Angeles Clippers Get Offseason Makeover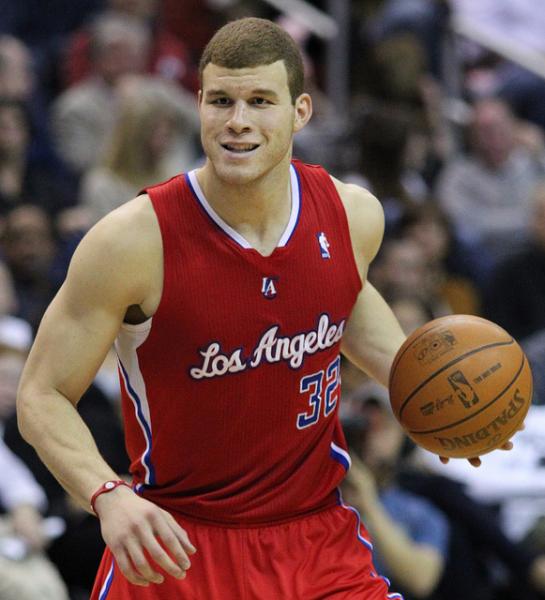 The Los Angeles Clippers have been awfully busy modifying their roster this holiday season in an effort to build a winning team around reigning Rookie of the Year, Blake Griffin. Thanks to some very hard work and crafty maneuvering by general manager Neil Olshey, the Clippers have accomplished just that.
Although the Clippers' acquisition of standout point guard Chris Paul was undoubtedly the move of the year, Olshey made four additional offseason moves that have effectively transformed the Clippers from an exciting, but harmless team into a smarter, more experienced squad – one that will be a team to be reckoned with come playoff time.
Backcourt Depth
L.A.'s pickup of Chauncey Billups was the smartest move it made all offseason. Granted, the effects of the Paul trade will be the most consequential for the team, but with the Billups acquisition, the team did not give up any players and only surrendered a minimal amount of money in exchange for a very good guard.
As a part of the new Collective Bargaining Agreement, an "amnesty" instantly allowed each NBA team to waive one player without his salary counting against the team's salary cap or luxury tax. The player's contract still has to be paid in full; it just doesn't count against the original team's cap.
After the Knicks chose to amnesty Billups and his $14.2-million contract, the Clippers outbid all other teams for the veteran guard's services. Coming in at just over $2 million, the Clippers got a bargain. The Knicks will be required to pay the nearly $12 million remaining salary that Billups is owed, according to his current contract.
There was a small risk, in that Billups threatened to retire if a team picked him up off waivers, but the Clippers appeared fairly confident that Billups would not turn down a chance to team up with the young nucleus of Griffin and Eric Gordon. Of course, Gordon was since traded as a part of Paul deal, but the point remains that Billups was and is thrilled to be playing with an up-and-coming contender. If a less desirable team had picked up Billups, he would have strongly considered retirement.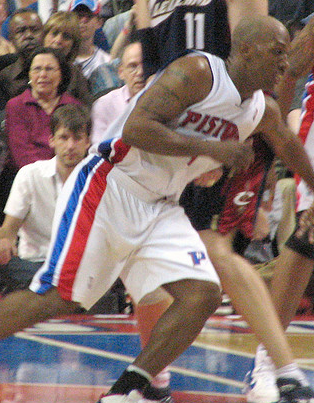 Although Billups (seen left) has now played for seven different teams in his 15-year career (including the Nuggets twice), he is far from your typical journeyman. As starting point, Billups led the Pistons to the Eastern Conference Finals or further in each of his six years with the team. In 2004, Billups was named the NBA Finals MVP as he scored 21 points per game en route to a Pistons championship (a five-game series win over the heavily-favored Lakers). The following year, Billups' team fell one game short of repeating as champions. Billups once again had a tremendous series, scoring 20.4 per game to go along with series averages of 6.3 assists, 5.0 rebounds and just 1.3 turnovers. He even logged over 39 minutes per contest.
After clutch performances like those mentioned above, Billups became "Mr. Big Shot." In addition to adding a Finals MVP to its roster, L.A. has also added a player in Billups who always seems to deliver a crucial field goal when his team needs it most.
Billups has played point guard for some time now, but his 6-foot-3 height and solid defensive ability will allow the veteran to start alongside Paul. Many forget that Eric Gordon, last year's shooting guard, was also 6-foot-3, and he was not a defensive liability against bigger two-guards.
On the offensive side, Billups is a good enough shooter to play off the ball. That's not to say that he won't play the point at all this season, but Paul and Billups can easily coexist in the starting lineup. Billups is a very good three-point shooter, who will allow the Clippers to space the floor. The combination of Billups' outside shot and Paul's speed will likely dissuade opponents from double-teaming Grifin. With such a deep team, opposing teams will have to pick their poison.
Best Friends Forever?
As a restricted free agent, other teams could bid for 23-year-old DeAndre Jordan's services, but the Clippers retained the right to match any offer simply by outbidding any other suitors. As expected, the Golden State Warriors signed Jordan to an offer sheet worth nearly $43 million over four years. Without giving the idea much of a second thought, L.A. matched Golden State's offer as quick as it could.
At that point, the Clippers had not yet dealt Chris Kaman to the Hornets, but it had long been clear that Kaman's days were numbered. The Clippers knew they needed a starting center going forward. Most importantly, however, Jordan and Griffin are best friends. Although the quality of the team will easily be the most important factor for Griffin in whether he decides to remain with the Clippers beyond the 2012-13 season, locking up his buddy through the 2014-15 season was a brilliant move.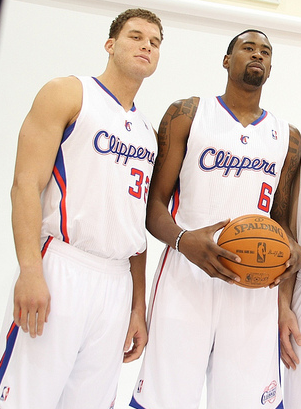 With that said, if Jordan had no talent, it would not have mattered that he was best friends with Griffin. In fact, the Clippers just cut Griffin's Oklahoma teammate and good friend Willie Warren. Jordan is a rare high-flying big man. For a man nearly seven feet and more than 260 pounds, Jordan boasts incredible athleticism. This athletic ability manifests itself on both sides of the court, allowing Jordan to block opponents' shots and rise high for posterizing slam dunks on the offensive end.
Despite Jordan's gifts, his game is still a work in progress. Defensively, he is not always disciplined. All too often, Jordan leaves his feet too early as his eyes light up, readying to block a shot. At times, an opponent merely has to pump fake and Jordan will be left in the dust.
On the offensive end, however, Jordan's game is most unrefined. In addition to being a miserable free-throw shooter, the 6-foot-11 center has no post moves whatsoever. Lacking any semblance of a post game or an outside shot, Jordan's only offensive ability comes with the dunk. Because his offensive moves are so limited, put-back dunks and alley-oops compose most of his offensive repertoire.
Liabilities aside, Olshey and the Clippers were smart to lock Jordan up for the next four years. Given his youth, size, and athletic ability, Jordan's weaknesses are not too difficult to handle. While many, including myself, do not expect Jordan to develop much of an offensive game, his defense is sure to improve in the coming years. Again, his close relationship with the team's 22-year-old star should also not be overlooked.
Jordan's Backup
Once the Clippers agreed to trade Kaman to the Hornets as part of a larger trade for Paul, the team suddenly had no traditional big men to back up Jordan. At 6-foot-10, rookie Trey Thompkins has some height, but he plays more of a perimeter-oriented type game. Brian Cook, who is listed at 6-foot-9 and 250 pounds, may be considered a power forward, but he is a terribly weak rebounder and interior defender. In addition, Cook has never played more than 20 minutes per game for good reason: Simply put, he's not very skilled.
With L.A.'s acquisition of Reggie Evans on Thursday, it added a dominant rebounder. For what Evans lacks in height (he's 6-foot-8, short for an NBA big man), he makes up for in rebounding intensity. As Kaman can attest to, Evans will do absolutely anything to grab a rebound inside. This was precisely the kind of inside presence the Clippers were sorely missing after Kaman was traded away.
Evans averaged 11.5 rebounds per game last season, which placed him fifth in the league in rebounds per game. These numbers are slightly misleading given that Evans only played in 30 games, missing more than half of the season due to a foot injury. Still, throughout his career, Evans has always been an extremely efficient rebounder. At the very least, Evans will be able to fill in adequately for Jordan when he needs a breather or is saddled with foul trouble.
Talent Added at Small Forward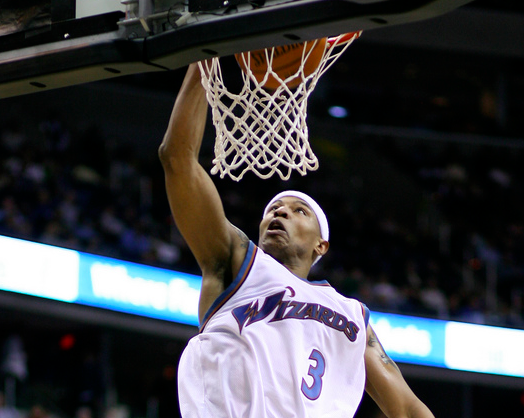 This offseason, the first order of business for the Clippers was to add a quality small forward, something the team had been lacking in recent years after guys like Tim Thomas, Al Thornton, and Rasual Butler didn't exactly pan out. With Tayshaun Prince quickly off the market at the beginning of the free agency period (the Pistons re-signed him to a four-year contract), the Clippers snatched up Caron Butler without hesitation.
During his time with the Wizards, Butler (seen left) made the All-Star team on a couple occasions. He was quicker and much more explosive back then, but Butler can still score. He's just not as comfortable attacking the basket, and for the Clippers, that may very well be a good thing. It should be noted that Butler underwent season-ending knee surgery last year, but he swears his knee is fine.
Throughout his career, Butler has proven that he can hit the mid-to-deep range two-point jump shot (16 to 23 feet) with consistency. If Butler can continue to be reliable from that spot, that should enable the Clippers to space the floor and once again, prevent teams from double-teaming Griffin in the post.
A potential danger, however, with the Butler signing, is that he might shoot too much. The same could happen with Billups, but for the Clippers, the problem of having too many capable scorers is definitely a problem they'd like to have, considering how short-handed the team was offensively last year. Oftentimes, Eric Gordon and Blake Griffin had to carry the team.
More likely than not, Butler will take fewer (and smarter) shots, given that he is now the third or fourth offensive option. I also expect Billups to be a little more strategic with his shot attempts. With that said, both guys will still be expected to score for the team. It's just that they must pick their spots more strategically than they're used to doing in the past.
Great Expectations
Regardless of the immense talent that the Clippers possess, expectations must be tempered, at least a little bit. I say this because this amalgam of players has never played together (two preseason games does not count). In fact, 60 percent of the team's starting lineup was not with the Clippers last season. Billups also has not played shooting guard in many years. I don't think the position change will pose much of a problem, but when faced with such changes, players typically need some time to adjust. The Clippers will undoubtedly be good this season, but a championship may be a little too much to ask.
Chris Paul has already agreed to opt in for the 2012-13 season, so he and Blake Griffin will be together for at least two years. For this reason and the fact that the players are still getting acclimated to one another, the Clippers don't necessarily need to win the Western Conference or even appear in the Western Conference Finals for this season to be considered a success. The Clippers just have to continue to improve. If the team gets better over the next two seasons, and Paul grows confident enough in the team's future, then he and Griffin could be making beautiful music together until 2020. Who knows?
It's important to keep things in perspective. The Clippers finished 32-50 last season and have made the playoffs just four times in their 27 years in Los Angeles. I don't believe that the team is cursed, but it can take time for things to completely turn around.
Yes, last year's squad suffered its fair share of injuries and has now added a number of talented players, including the best point guard in the NBA, but be patient with this team. They are still learning to play with one another. Expect this team to be good, but again, give them time.
--------------------
Reach Aaron by email or follow him on Twitter here.
Best way to find more great content from Neon Tommy?
Or join our email list below to enjoy the weekly Neon Tommy News Highlights.