Arts+Culture
The Joffrey Ballet Presents A Sugar-Sweet "Nutcracker"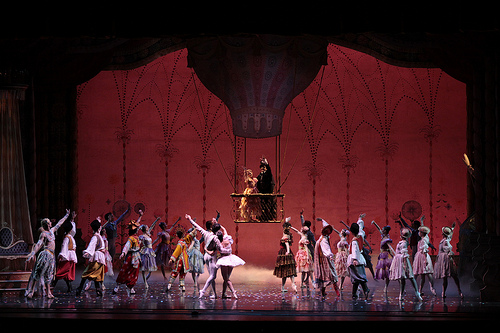 The near-full house of the Dorothy Chandler Pavilion auditorium stirred in anticipation as the room dimmed and the stage was readied for The Joffrey Ballet's opening night presentation of Pyotr Ilyich Tchaikovsky's "The Nutcracker" on Thursday evening.
The much-hailed pageantry of The Joffrey's classic holiday ballet has not been seen in Los Angeles since 1994, and from the first clipped notes of the overture, the story of the young girl who falls into a dream and is awakened to scenes of astonishing fright and wonder lives up to its illustrious reputation.
The company is small--employing a mere 42 members for nimbly keeping up with a touring schedule--but capable, with members performing as well as actors and storytellers as dancers.
The beginning of the first act, set in the parlor of the Stahlbaum home, is a tableau of Victorian glamour. The sets of prolific designer Oliver Smith, who passed away in 1994 at the age of 75, still do well throughout to frame the landscape and affect a mood while staying otherwise out of mind.
Anastacia Holden plays a delightful Clara, conveying sweetness and innocence that appears easy and genuine. Holden is a seasoned dancer and clearly older in age than the effervescent children who scamper about the skirts of rankled governesses in the first act's Victorian parlor set, but she is natural in the role, placing herself among the younger dancers as if she is happily one of them.
Clara's brother Fritz, danced by Gerald Arpino Award-winner Ricardo Santos, is comical as the leader of the troublemaking boys at the party, and is one of a few principal performers who return in later scenes as new characters--a mark of the company's economical structure and wide-ranging talent.
Dr. Drosselmeyer is decidedly not the creepy uncle in The Joffrey's "Nutcracker" rendition; rather, Michael Smith plays him as a mysterious but nurturing conjurer, a cape-flinging figure who elicits awe and bewilderment from Clara and the other party guests. It is the character of Drosselmeyer's nephew, danced by Los Angeles-native Dylan Gutierrez, who gently kisses Clara's hand and first inspires the possibility of romance. Tellingly, the nephew turns up again as the Nutcracker Prince, still played by Gutierrez.
As Clara, accompanied by Drosselmeyer, descends into the Kingdom of Sweets, her mother, father, and brother of the first scene act this time as the Snow Queen, King, and Prince. Danced by Fabrice Calmel and Kara Zimmerman, actors of Mayer and Mrs. Stahlbaum, and Ricardo Santos, the three demonstrate beautifully controlled and graceful performances. Calmel and Zimmerman are tender as a couple and nothing short of majestic as individual dancers; Calmel retained steadfast composure through a series of breathtaking lifts of Zimmerman, taking more than one tutu to the face, and Santos's solo dance garnered enthusiastic applause from the gallery.
The post-intermission act of segmented divertissements, set up like a holiday Wizard of Oz, make for a long second half, but by no fault of the Joffrey dancers. Act II is traditionally a little mind-bending for adults, but placing it in a Kingdom of Sweets ensures that children will like it, even if they don't quite get it.
Gracious, parental hosts and snowy royalty Calmels and Zimmerman put on yet another display, this time a serpentine, exotic work as "Coffee from Arabia." Zimmerman and Calmels sensuously loop around each other, with Zimmerman twice drawing gasps with a standing split in which her foot touched her nose; Calmels kindly helped her hold it there for a long moment each time.
Ricardo Santos and partner Abigail Simon charmed as "Tea from China," busily nodding and tip-toeing about the stage. The spring-loaded "Nougats from Russia," played by Erica Lynette Edwards, Derrick Agnoletti, John Mark Giragosian, and Alberto Velazquez, thrilled the audience, which settled into rhythmic clapping and cheering as the group danced.
Mother Ginger made no small children cry, as far as can be known. Designed by Big Bird creator Kermit Love, this stiff-armed, frozen-faced reeling puppet in fact endeared one youngster who cried, "No, don't go bye-bye" at the dancers left the stage at the close of the scene. The dancers who occupied Mother Ginger's dress skirt showed a great measure of skill, and for all their classical training, no lack of ham-it-up showmanship.
The final Grand Pas de Deux, the crowning glory of every "Nutcracker" presentation, is triumphantly slow, dreamlike in its own way. In the instance of this opening night performance, however, music director Scott Speck and the L.A. Opera Orchestra took on the culminating dance with dirge-like intensity. Victoria Jaiani as the Sugar Plum Fair and Dylan Gutierrez as the Nutcracker prince, to their credit, kept up a disciplined tranquility throughout, and it was only in the closing minutes did Jainai tremble lightly as she, while being rotated in a circle by Gutierrez, stood en pointe.
Tchaikovsky's music was a pleasure to listen to, played in a well-balance and sensitive manner. The horn section proved a glorious accompaniment to the stage performance during The Waltz of the Flowers, and the strings never strayed from their light touch. In an earlier interview, Ashley Wheater described a need to see and hear the shape of the music as much as the movement on stage, and the orchestra proved a solid and capable deliverer.
The Joffrey Ballet's "The Nutcracker" is worth its salt as a December tradition, and it has been too long since the esteemed dance company made it out to Los Angeles. This beguiling ballet is made even more mesmerizing by The Joffrey's masterful dancers and a polished live ensemble of musicians. Here's hoping that this tradition will stick, as it once did, and The Joffrey Ballet will return next year for more candy-themed holiday merriment.
The Joffrey Ballet presents "The Nutcracker" Saturday, December 3 at 2:00 p.m. and 7:30 p.m., and Sunday, December 4 at 2:00 pm. Find more information about ticket prices here.
Contact Reporter Leslie Velez here.
Follow Leslie Velez in Twitter here.
Best way to find more great content from Neon Tommy?
Or join our email list below to enjoy the weekly Neon Tommy News Highlights.