Los Angeles and Region
James Kim: Recent College Grad Feels Pain Of Uncertain Job Market
Faces of L.A.'s Jobless: A Neon Tommy Special Report >>>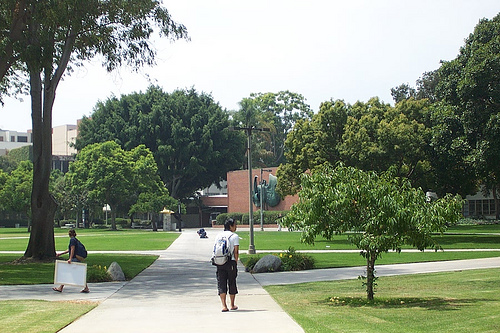 Just before graduation, James Kim thought he had mapped out his college path well, opting to minor – not major – in film, and settling on a degree in liberal arts as a "backup plan."
But once he received his diploma – a bachelor's degree in anthropology from Cal State Long Beach – he felt more angst than accomplishment.
"I wasn't satisfied with my degree. I don't know if that was foreshadowing something," Kim said.
Kim, 23, is one of the "Millennials"- a group defined by a 2010 Pew Research study as 18- to 29-year-olds who are mostly newcomers to the American labor force and who, more recently, have become the last hired and the first to lose their jobs.
According to the study that surveyed 50 million Millennials nationwide, only 4 out of every 10 participants said they had full-time work, and the unemployment rate among the group was 37 percent – the highest it had been in over 30 years.
As one of the Millennial graduates who did not receive a job offer, Kim decided to move back home with his parents in Downey, Calif. He became a seafood chef at a Whole Foods Market and found an internship with a film company that he hoped would later transition into a documentary filmmaking career. But as the summer continued, he found his internship was more about filling the office's glass water jugs and less about honing any professional skills.
"I panicked. I thought, 'I can't be doing this right now. I have my college degree. What am I doing picking up water jugs for people? And it's the same with Whole Foods- I'm cutting fish for people,'" he said.
He quit the job and the internship, and with each passing day of unemployment, he said he questions the value of his degree and the false sense of security that college gave him.
"I thought, 'Oh, there will be jobs, I can do whatever I want.' That's the American dream – no boundaries. That's how [college] gets you. The 'be what you want to be' [phrase] is a marketing tool in some way. I was a sucker and I totally fell for it," he said.
Because he invested four years into his degree, he still feels pressure to find some job that is applicable to anthropology. Living at home has not eased the pressure.
"My dad is always saying you should go back to school. It gets really annoying. You're already being very critical of your decisions and to have a family member – someone you care about – do it too, it becomes difficult to be positive about your decisions," he said.
Yet, if Kim is not offered either of the paid internships he recently applied for, his next step is to apply to graduate school but with a different agenda this time.
"I'm going to do more research to figure out what I want to do in grad school, to find the best suitable major for me that is lucrative. I didn't add that to the equation last time," he said.
"It's really sad, but I'm looking not in terms of if I'd enjoy the job. It's more of how many jobs are available and how much it makes," Kim said. "I still don't have a long-term goal except for two standards: become stable enough to buy my own house and be self-sufficient. I don't want to think past that because I feel it's too ambitious."
Kim will give himself the rest of the year to explore his options. In the meantime, he is honest about his experiences when he talks to friends who are still in college.
"You don't ever realize how bad the job market is until you actually get out there… Everything is on the line of looking for a job – [being] self-sufficient, living on your own - it won't happen unless you are so clear on what you want," Kim said. "There's no way of getting by with 'I hope.'"
Reach Paige here.