Arts+Culture
HIV-Positive From Birth, Joseph Kibler Stands Tall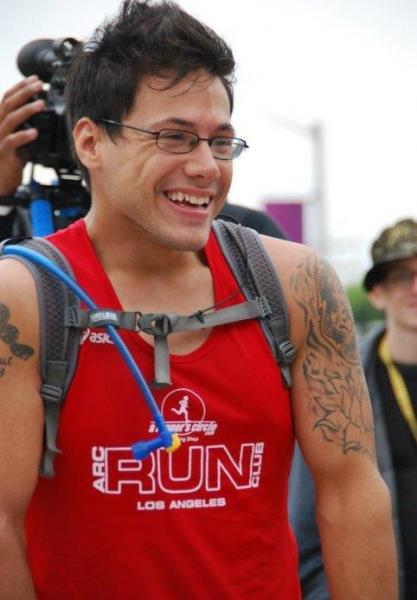 Joseph Kibler goes shoe shopping every three weeks. That's how often his black Airwalk tennis shoes have to be replaced because of the "massive holes" caused by the hobbling and feet-dragging when he walks.
But the frequent trips to Payless Shoes don't bother him. They are a symbol of how far he has come.
Kibler, a 22-year-old casting director, was diagnosed with HIV when he was only a year old. His body didn't develop normally. Doctors told his mother they didn't know how long her son would live, let alone whether he would ever be able to walk.
The first few years of Kibler's life were filled with doctor's visits, purple casts that covered his legs from toe to hip and lots and lots of pills. When he grew older and still couldn't stand or walk, he was put in a wheelchair.
At the time, Kibler believed he couldn't walk because of cerebral palsy, not HIV. His mother, who was also HIV-positive, had kept it from him because of the stigma surrounding the disease during the early '90s.
It wasn't until he was 12 years old and a doctor accidentally let his real condition slip that Kibler knew the truth.
"That ride home was a ride home that I won't forget," Kibler said of the day his mother explained to him how he had gotten HIV and what it meant to be positive.
She told him she hadn't known she was infected until he and his twin brother John, who died from the virus at the age of 15 months, were diagnosed.
He said he remembers feeling hurt, scared and confused.
"A lot of it had to do with the fact that my dad was the reason that my mom got infected and I hadn't really been close with my father," he said. "He wasn't around. He was there, but he was in and out."
Kibler's father cheated on his mother one week before their wedding and contracted the virus and infected her.
Then he was told he had to hide his condition from friends, from teachers, from everyone.
"For a good deal — seven or eight years — I kept it quiet and didn't talk about it, which was very hard being 15 or 16 (years old)," he said. "I didn't know how to talk to girls first off, let alone how to even approach the subject of HIV. Not even to my friends."
In high school, Kibler told a few close friends that he had HIV.
"I felt privileged that he trusted me enough to tell me the truth," said Tara Brown-Ogilvie, who went to school with Kibler. "I think that it really strengthened our friendship."
Brown-Ogilvie said Kibler used to tell her about the three- and four-hour trips he would take by taxi, bus and train to get to theater auditions when he first moved to Los Angeles from Florida.
"He still pushes through even on the roughest of days and has accomplished so much," she said. "Joe truly lives in the moment."
It wasn't until he was 18 years old that Kibler went public about the cause behind his disability. It was during an exercise at theater camp, where each student had to get on stage and tell the group something they had never told anyone before.
"I took it as my biggest opportunity and among 40 or 50 friends that I'd probably known about three weeks, I said: 'My name is Joseph Kibler and I'm HIV-positive.'"
The camp was a turning point in Kibler's life. He felt the weight of his condition lifted. The outpouring of support he received from friends gave him the encouragement to continue fighting against his condition.
By that time, Kibler had advanced from a wheelchair to crutches after years of physical and occupational therapy. Toward the end of camp, one of the directors presented Kibler with a cane that had been signed by students and faculty.
"That really gave me the motivation to get to where I could walk with a cane," he said.
Later that year, he took his first steps with his cane and today he jokes about losing it just like anyone else would misplace their keys.
"I spend 15 minutes sometimes looking for it in the morning," said Kibler, whose furniture is arranged so that he can navigate his apartment without a cane. "The cane is always getting away from me."
Kibler said his greatest accomplishment was last year when he completed the 6.2-mile AIDS Walk Los Angeles course, the farthest distance he had ever walked.
"I had trained and spent an entire month getting to that point," Kibler said. "I didn't feel (the strain on my legs). I didn't feel the fatigue. There were so many people believing in me."
He had attempted the walk in 2009, but a fall forced him to drop out and put him back in a wheelchair for several months to recover.
Kibler, who graduated from the Los Angeles Film School last December, used the walk as the centerpiece for a documentary he is making about HIV and AIDS awareness and his personal struggle with his diagnosis and disability.
His initial plan was to create a short public service announcement about the virus, but Mark Bashian, who taught Kibler at the film school, had a different idea on how to spread awareness.
Bashian said he felt that Kibler's story was so personal and touching that it could be a lot more powerful as an 87-minute documentary than a 10-minute commercial. He signed on to direct "Walk On" and became a self-proclaimed HIV statistics guru.
"If we end up helping one person to be more educated about HIV and AIDS, we'll have done our job," Bashian said.
Kibler's mother refused to be interviewed for the documentary and doesn't like to talk about her condition. However, Bashian flew her to California to see her son cross the finish line at the walk last year.
"She lived in Florida and she couldn't come out to see even though she really wanted to, or at least that's what she told me," Kibler said. "She was there at the finish line and that was probably the best part of it — the fact that she could share that and could be there for it."
These days, Kibler takes eight pills a day to contain the virus and visits his doctor every three months. He gets up at 6 each morning to work on the documentary and spends his afternoons working on different casting and producing projects.
For the most part, he lives his day-to-day life as anyone else would, just with a few more falls.
"It's a privilege to fall for me," he said. "If I can fall and then get back up, that is something I couldn't do 12 years ago. I would rather do that every single day than go back to being in a wheelchair."
"Walk On" is set to premier in December. For more information or to make a donation, visit www.Walkondocumentary.com.
Best way to find more great content from Neon Tommy?
Or join our email list below to enjoy the weekly Neon Tommy News Highlights.